There were no other opponents left, no other challengers to the throne -- just Bebe and Mistake, former teammates vying to reclaim the throne. Only one team would reach it, making all prior camaraderie and loyalties nonexistent until the end of this final best-of-five set.
It was time to put every card on the table.
TAIPEI ASSASSINS VS TAIPEI SNIPERS
GAME 1
Taipei Assassins
Taipei Snipers
Kills
Turrets
Gold
Gold
Turrets
Kills
21
5
83.7K
90.0K
10
20
Lineup
Top
Achie (Shyvana)
Zonda (Mundo)
Top
Jungler
DinTer (Nunu)
Winds (Vi)
Jungler
Mid
Morning (Gragas)
OhReal (Riven)
Mid
AD
Bebe (Lulu)
GodJJ (Sivir)
AD
Support
Jay (Leona)
MiSTakE (Annie)
Support
Jay's Leona has been a stand-out success this season, and the first game aptly demonstrated his skills. The highly unorthodox Lulu/Leona support duo lane boasted a massive amount of crowd control, allowing the duo to take possession of the early game in commanding fashion. Yet despite their early lead and frightening lock-down capabilities, their tricks proved insubstantial against Zonda's tanky Mundo.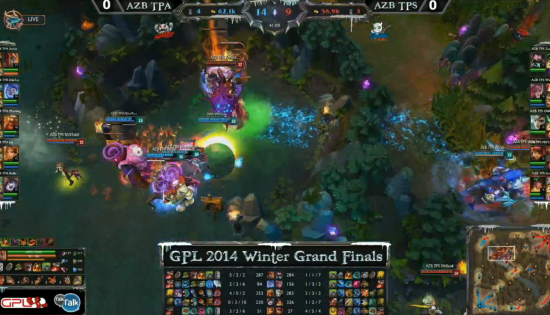 A late-game Mundo against a team comprised primarily of magic damage dealers is nigh-unstoppable. By the end, Zonda was capable of zoning out the entire enemy team on his own, especially after he picked up his secondWarmog's Armor. His Teleport to Baron Nashor, synchronized with MiSTakE's sacrificial Tibbers play, hammered in the last nail in TPA's coffin.
GAME 2
Taipei Snipers
Taipei Assassins
Kills
Turrets
Gold
Gold
Turrets
Kills
17
4
62.4K
72.2K
10
19
Lineup
Top

Zonda (Shyvana)

Achie (Mundo)

Top
Jungler

Winds (Nunu)

DinTer (Elise)

Jungler
Mid

OhReal (Ziggs)

Morning (Gragas)

Mid
AD

GodJJ (Vayne)

Bebe (Caitlyn)

AD
Support

MiSTakE (Thresh)

Jay (Annie)

Support


Achie's Mundo wasn't nearly as devastating as Zonda's, due entirely to the Snipers' team composition and itemization. With Vayne and Shyvana packing Blade of the Ruined King, in addition to their abilities that deal percent-health damage, Achie's inclination towards stacking health was more of a liability than asset. But he did his job well enough and set up Bebe to heroically carry the day.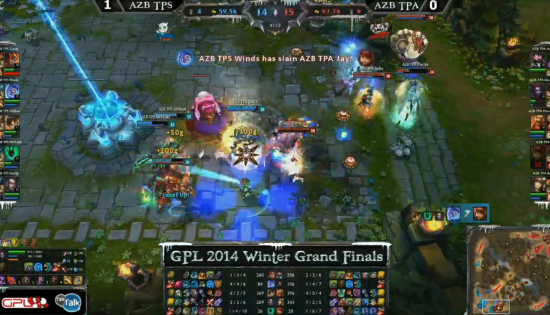 Team captain Bebe proved himself still worthy of respect as one of the best players in his role. His Caitlyn benefited enormously from the Snipers' willingness to play a drawn-out game, as well as a lack of reliable ways to close in on him. The final siege at the Sniper's base demonstrated MiSTakE's technical prowess on Thresh, with three Death Sentences in a row against the Assassins, but Bebe was judge, jury and executioner, gunning down the Assassins from behind the safety of his team's front line to secure the game.
GAME 3
Taipei Assassins
Taipei Snipers
Kills
Turrets
Gold
Gold
Turrets
Kills
21
7
61.2K
55.0K
4
16
Lineup
Top
Achie (Mundo)
Zonda (Jax)
Top
Jungler
DinTer (Elise)
Winds (Olaf)
Jungler
Mid
Morning (Fizz)
OhReal (Gragas)
Mid
AD
Bebe (Sivir)
GodJJ (Lucian)
AD
Support
Jay (Leona)
MiSTakE (Annie)
Support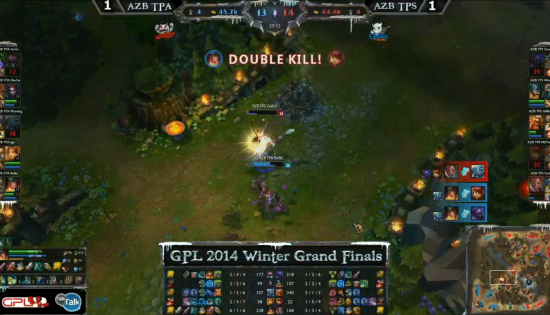 The game started out promisingly for the Snipers, with a prolonged skirmish near bot lane that gifted OhReal a triple kill before the six-minute mark. They converted his advantage into a strong early lead, cemented with a free Dragon before 20 minutes, but it was blown away as the Assassins kicked into another gear. They suddenly struck for Baron, taking it before the Snipers even realized they'd given up control over it, and the ensuing fight went heavily in the Assassin's favor. Bebe's triple-kill in that fight sent their snowball rolling far down a steep hill, crashing against the Snipers' nexus to give the Assassins game point.
GAME 4
Taipei Snipers
Taipei Assassins
Kills
Turrets
Gold
Gold
Turrets
Kills
19
10
55.8K
33.5K
1
1
Lineup
Top
Zonda (Shyvana)
Achie (Mundo)
Top
Jungler
Winds (Vi)
DinTer (Nunu)
Jungler
Mid
OhReal (Gragas)
Morning (Fizz)
Mid
AD
GodJJ (Sivir)
Bebe (Vayne)
AD
Support
MiSTakE (Lulu)
Jay (Nami)
Support
The gloves came off in Game 4. Though the Assassins were gunning for a fast outer turret with Nunu, DinTer let his aggression get the best of him, chasing Zonda deep into the lane only to get unceremoniously removed by Winds and Zonda for first blood. Worse yet, GodJJ and MiSTakE didn't even need jungle help to quickly take the outer bot turret, providing the Snipers with a powerful advantage early in the game.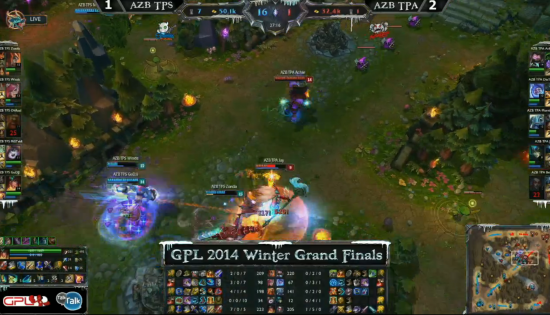 After two games of Bebe hogging the spotlight, GodJJ fought back with a vengeance. His On The Hunt coupled nicely with OhReal's Explosive Casks, allowing the Snipers to capitalize on the Assassins' errant positioning. Such was the totality of their control that it took the Assassins over 27 minutes to secure their first kill of the game -- and also their last.
GAME 5
Taipei Assassins
Taipei Snipers
Kills
Turrets
Gold
Gold
Turrets
Kills
14
9
70.6K
61.4K
4
11
Lineup
Top
Achie (Jax)
Zonda (Shyvana)
Top
Jungler
DinTer (Elise)
Winds (Olaf)
Jungler
Mid
Morning (Ziggs)
OhReal (Gragas)
Mid
AD
Bebe (Ezreal)
GodJJ (Jinx)
AD
Support
Jay (Annie)
MiSTakE (Nami)
Support
At 2-2, the showdown between sibling teams had been dramatic, but there could only be one winner, and the Assassins were hungry for a return to glory.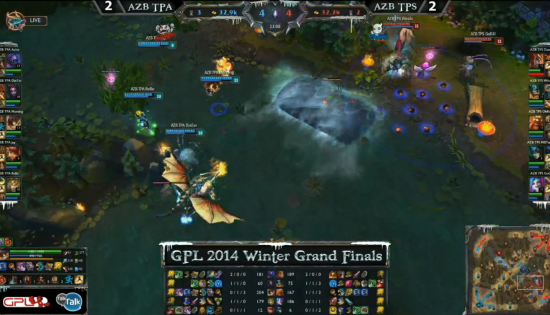 Morning got off to a rough start, especially after giving up first blood to Winds' Olaf, but he was nonetheless crucial to the Assassin's siege strategy. His Mega Inferno Bombs helped recover lanes at risk of being shoved down and maintained pressure where the Assassins had the advantage.
Mostly, Morning killed people: though his attempt to flank top lane was spotted out by OhReal, the crowd control between him and Achie pinned Gragas down for a painful death by explosives. His Hexplosive Minefield was also hard at work, successfully sealing off the entire jungle ramp between the Sniper's jungle and Dragon, cementing the Assassins' map control. His long-range map presence helped seal the deal, taking down a fleeing Winds to trigger the final fight in mid lane. Morning's 1v1 victory over Zonda was just the icing on the cake as the Taipei Assassins reclaimed the GPL championship title!
You can check out our VIDEO LIBRARY for the recorded streams of the GPL 2014 Winter Season Finals
Original article can be found on: http://na.lolesports.com/articles/taipei-assassins-wins-gpl-winter-2014