Just as expected the first week turned out the way most would have predicted. Both of Taiwan's teams: Azubu Taipei Assassins (AZB TPA) and AHQ e-Sports Club (AHQ) are at the top of their respective groups, joining them are the two Vietnamese teams Saigon Jokers (SAJ) and Saigon Fantastic Five (SF5) who have been performing quite well since last Spring Season. More notably is SF5 who many were still asking the question if their improvements will continue to show, with their strong first week performance this maybe a sign that they will be sticking around in the upper bracket of the league by the very least. Both SAJ and SF5 have yet to face-off with the Taiwanese powerhouses AZB TPA and AHQ who are looking in very good shape so far, if they can somehow beat these teams they will definitely be deserving of the first place spots on their respective groups.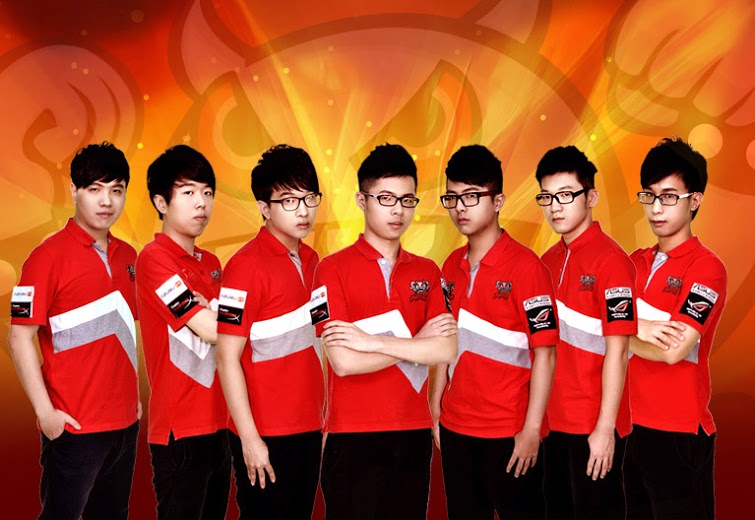 In the middle of the pack are teams AHQ Fighter (AHQ F) and Insidious Gaming Legend (IGL) for Group A, while in Group B we have Machi e-Sports(MAC) and Neolution E-Sports Full Louis(NFL), each picking up both a win and a loss. AHQ Fighter lost to AZB TPA while Machi lost to AHQ in their first games. For Machi though it was a complete disaster as they had lost their original mid laner GuruCat and with this sudden change they decided to move Machi Ender to the mid lane and recruited a new top laner Machi Golem. With this very recent changes they struggled against the veteran AHQ and were completely shut down to the point that they were not able to pick up a single kill in the game. AHQ Fighter on the other hand was simply outclassed by reigning GPL Champions AZB TPA. IGL and NFL both lost to the current top teams and simply were in better shape than the other two teams they beat who are currently at the bottom of the standings.
The Imperium Pro Team (IPT) and Bangkok Titans (BKT) filled the bottom slots of group A, while in Group B we have Wargods (WG) and Insidious Gaming Rebirth (IGR). Both Philippine teams IPT and Wargods were wiped off of their tracks by the top 2 Vietnamese teams in the league with Vietnam's SF5 being given an instant win based on 25% gold differential. The next IPT and Wargods matches of the week were against the Taiwanese powerhouses AZB TPA and AHQ but lost their matches due to better rotations and plays coming from these veteran Taiwanese teams. BKT continues to struggle at the bottom of the league and even though they are very dominant in their home turf, they just can't seem to transition their dominant play style against other regions. IGR is very similar to Wargods as they are also a very new and young team with the exception of their team captain ly4ly4ly4 being the only veteran in the GPL scene. Similar to the other new teams in the league they are still learning to adapt to play against the other teams in the region.
Here are the links to the replays of the first week matches:

Week 1 Day 1
Saigon Jokers vs Imperium Pro Team
ahq Fighter vs Azubu Taipei Assassins
Machi eSports vs ahq e-Sports Club
Saigon Fantastic Five vs Wargods

Week 1 Day 2
Saigon Fantastic Five vs Neolution eSports Full Louis
Neolution eSports Full Louis vs Insidious Gaming Rebirth
Bangkok Titans vs Insidious Gaming Legends
Imperium Pro Team vs Azubu Taipei Assassins

Week 1 Day 3
Saigon Jokers vs Bangkok Titans
ahq Fighter vs Insidious Gaming Legends
Machi eSports vs Insidious Gaming Rebirth
Wargods vs ahq e-Sports Club
Upcoming matches to watch out for:
With the first week behind us, things look as if they will continue go the way they are expected to be unless some teams decide to shake things up. None of the current teams tied for first will be facing each other just yet, but nonetheless we will have to see if the new Taiwanese teams (Machi and ahq Fighter) can challenge the Vietnamese top teams. Both games will be happening on the first day of the second week with Machi going up against SF5, while AHQ Fighter will be up against the Saigon Jokers.
On day two this week, it will most likely be a Taiwanese sweep as AZB TPA, AHQ and AHQ Fighter will be going up against more or less underdog teams in the league. Surely these games will get exciting if any team could even make any of these teams kneel even for just a bit similar to what IPT almost did last season to AHQ in their first encounter. Another notable game to watch out for is IGL due to their team captain being a former member of SGS who were a long-time rival of AZB TPA way back in the GPL 2013 Season. Maybe with his experience and knowledge, he may be able to formulate a strategy and lead his team to a victory against the heavily favored AZB TPA.
As the coming week closes IGL will have another tough match against SAJ who have been very strong yet inconsistent in the previous seasons. If anything IGL may be able to shake that inconsistency if they want to pick up some more wins. Other than that the bottom teams have their work cut out for them and they really need to bring their A game this week if they want to climb up the standings. It is still quite early in the season but if they want to make it to even the qualifiers it is very critical that they start winning some of their games.
WEEK 2 SCHEDULE
Date
Match No.
Blue Team
Red Team
Result

June 18, 2014

1 - 18:00

Machi E-Sports

vs
Saigon Fantastic Five



2 - 19:00

Imperium Pro Team
vs
Bangkok Titans

3 - 20:00

ahq Fighter
vs

Saigon Jokers

4 - 21:00

Wargods

vs

Neolution E-sports Full Louis

June 19, 2014

1 - 18:00

Neolution E-sports Full Louis

vs

ahq E-sports Club

2 - 19:00

Azubu Taipei Assassins

vs

Insidious Gaming Legends

3 - 20:00

ahq E-sports Club

vs

Insidious Gaming Rebirth

4 - 21:00

Imperium Pro Team
vs

ahq Fighter

June 20, 2014

1 - 18:00

Bangkok Titans

vs

Azubu Taipei Assassins

2 - 19:00

Insidious Gaming Legends

vs

Saigon Jokers

3 - 20:00

Insidious Gaming Rebirth

vs

Saigon Fantastic Five

4 - 21:00

Wargods

vs

Machi E-Sports
---
Jay is League of Legends PH's resident shoutcaster/analyst for the Garena Premier League and Pro Gaming Series.
You can follow him on Facebook:

www.facebook.com/GarenaPhJay