The action continues in the GameX Pro Gaming Series as the country's top League of Legends face each other once more in yet another week of endless eSports action!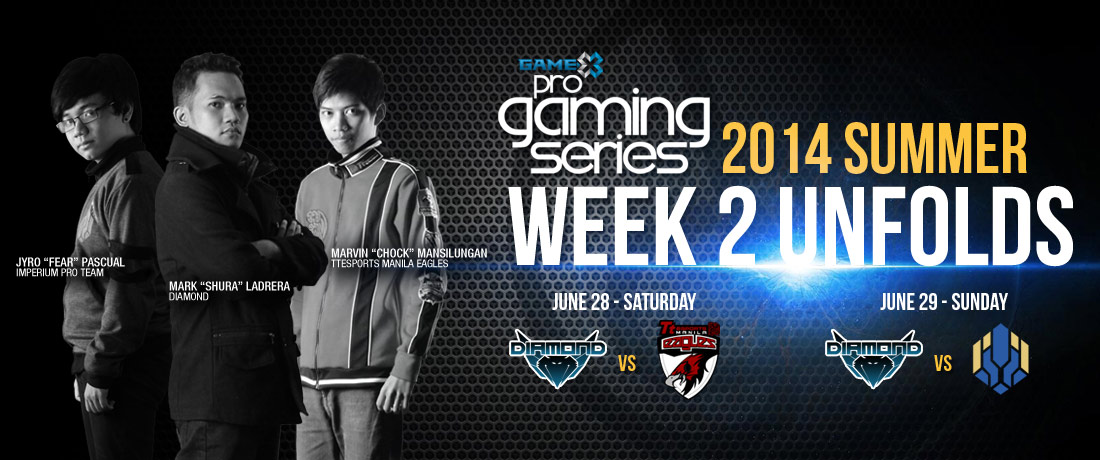 JUNE 28 (SATURDAY) - DIAMOND VS MANILA EAGLES
WEEK 2 - DAY 1 SCHEDULE
Date
Match No.
Blue Team
Red Team
Result

June 28, 2014

1 - 17:00

TteSports Manila Eagles
vs
Diamond

BLUE WINS

2 - 18:00

Diamond
vs
TteSports Manila Eagles

RED WINS
PGS Day 1 victorious team TteSports Manila Eagles face off with the current leader in the league standings Diamond for the first time this season. Can Diamond shine brighter and secure their lead for yet another week or can the Eagles snatch the top stop from them with their sharp talons?
JUNE 29 (SUNDAY) - IMPERIUM PRO TEAM vs DIAMOND
WEEK 2 - DAY 2 SCHEDULE
Date
Match No.
Blue Team
Red Team
Result

June 29, 2014

1 - 17:00

Diamond
vs
Imperium Pro Team

BLUE WINS BY DEFAULT

2 - 18:00

Imperium Pro Team
vs
Diamond

RED WINS
On this week's Day 2, Diamond faces yet another worthy opponent as they go head to head with GPL 2014 Summer season's Imperium Pro Team. One question remains: is Diamond ready to take on the former 2014 Spring champions?
The Pro Gaming Series matches will be streamed live via the Garena PH eSports Twitch TV with HD recordings uploaded on the Garena PH Youtube channel.