Written by Alex Manisier
You'd be hard-pressed to find someone who wouldn't agree with the following statement: Korea is the strongest region for competitive League of Legends. Following SK Telecom T1 K's victory at the Season 3 World Championship, Korean teams have gone on to dominate international competition. The cutthroat competitive environment of Korean League of Legends has driven much change in the past year, with a new pantheon of elite teams replacing seasoned champions.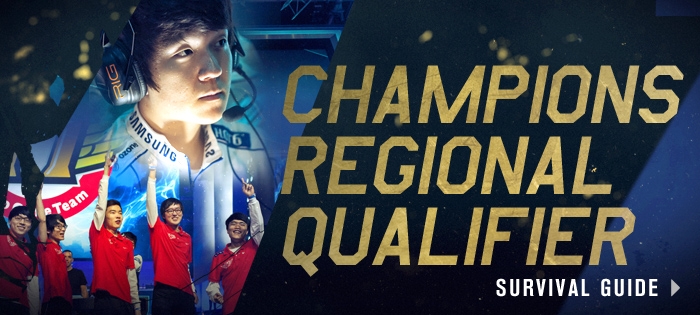 And now, Korea turns its eyes to the League of Legends 2014 World Championship. In a tumultuous year of League of Legends that has turned the Korean competitive landscape upside-down, one thing has remained constant - the region expects nothing less than a second Worlds victory.
BRACKET OVERVIEW

Korea's qualifying method for the World Championship is markedly different from most other regions, as circuit points - not an individual tournament - are used to determine Worlds representatives. Circuit points are accrued via performance in premier tournaments. Specifically, OnGameNet's Champions and NiceGameTV's League of Legends Battle award points to competing teams based off their finishing position, with the former tournament doling out the most points.
Across this season's three splits, Samsung Galaxy Blue has topped Korea in circuit points, owing largely to their grand final appearances in Champions' Spring and Summer iterations. As such, they have locked up Korea's first seed for the World Championship, ensuring that they will not face the top seed of any other region (bar Southeast Asia) in the Group stage.
The Regional Finals will be played from August 28 to August 30, in a bubble bracket format. The sixth-place KT Rolster Bullets will face fifth-place NaJin White Shield on August 28. The victor of that match will then face the fourth-place KT Rolster Arrows on August 29, and the winner of that match will then play the loser of the Samsung Galaxy White vs SK Telecom T1 K tiebreaker match  [NOTE: This information will be determined on August 27. An update will be required--either Samsung Galaxy White or SK Telecom T1 K] ïƒ  on August 30 for Korea's third seed at the World Championship.
Although this may seem confusing, remember that obtaining a higher position in Korea's circuit points ranking only means that a team will have to play fewer games to qualify for the World Championship. Every series in Korea's Regional Finals will be best-of-five, with Games 1-4 being draft pick. In standard Korean fashion, Game 5 will be blind pick in order to remove inequalities in Champion Select.
HISTORY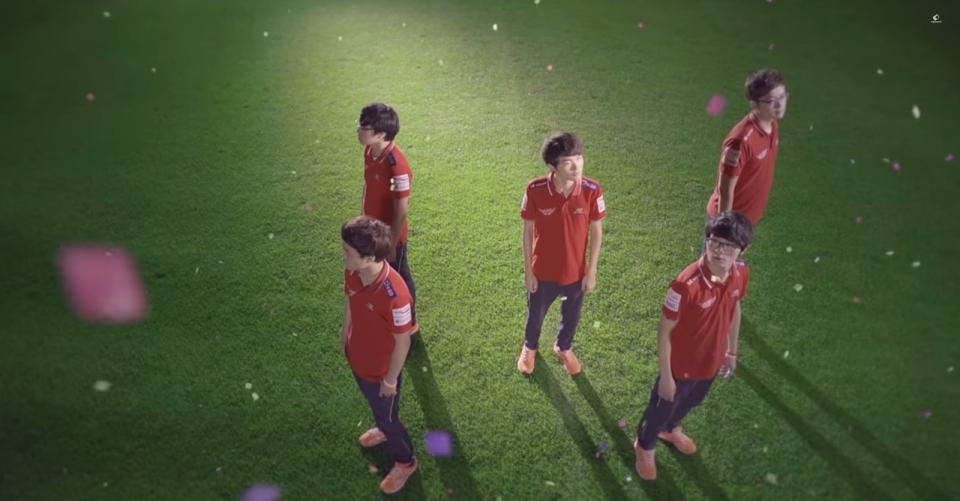 To examine the history of Korean teams at the World Championship, it is important to be aware of one fact that has not changed since Season 2 - Korean teams are expected to win. Not just by their own countrymen, but by the entire world. And when we look at the results, it's easy to see why. Korea has made it to to more Final matches than any other region, with Azubu Frost's second-place finish in Season 2 and SK Telecom T1 K's first-place finish in Season 3.
At the Season 2 World Championship, Korea sent two teams: NaJin Sword and Azubu Frost. Azubu Frost, the top Korean contender, was sent to Group A to do battle with Counter Logic Gaming Prime, Invictus Gaming, and SK Gaming, while NaJin Sword found themselves in Group B against Counter Logic Gaming EU, Saigon Jokers, and Team Dignitas.
The outcome of these matches was what most people expected, as both Korean teams swept their respective groups 3-0. Seeded on opposite sides of the bracket, the stage was set for an all-Korean Final. Fans watched on in anticipation as NaJin Sword faced the Taipei Assassins in their first best-of-three match of the tournament.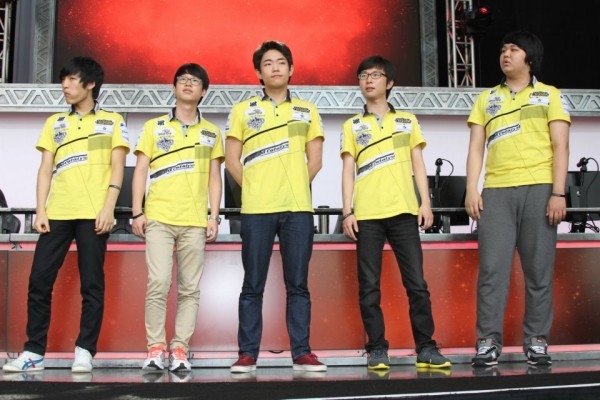 Disaster struck almost immediately. For all their aggressive dives and high-octane rotations, NaJin Sword could not find their pace against the Taipei Assassins, as Wang "Stanley" June Tsan dominated NaJin frontman Yoon "MakNooN" Ha-woon in the top lane. Meanwhile, TPA mid laner Kurtis "Toyz" Lau evaded gank after gank to dispatch of Sword, without a single death to his name. TPA would go on to defeat tournament favorite Moscow 5, earning a Final berth.
While NaJin Sword's World Championship campaign came to an abrupt halt, Azubu Frost rampaged through the bracket stage as they took out North America's top seed Team SoloMid in two convincing games (and extending TSM's woeful record against Korean teams). In their second match, Frost faced Counter Logic Gaming EU in a rematch of Champions Summer 2012. Having won the last encounter 3-2, Frost experienced another close shave, winning the set 2-1 and establishing superiority over the European squad.



---
SAMSUNG OZONE HAD A TUMULTUOUS HISTORY TO SAY THE LEAST, BUT THEIR SHOCKING VICTORY OVER CJ ENTUS BLAZE IN CHAMPIONS SPRING 2013 CATAPULTED THEM TO THE INTERNATIONAL STAGE.
---
Korea's last test was the Taipei Assassins - a team that had already brought down one top Korean squad. Game 1 was taken narrowly by Azubu Frost, with Jung "RapidStar" Min-sung playing a stellar game on Karthus. That game would be their last victory of the season. In the following games, TPA mid laner Toyz earned his reputation as the most feared Orianna player in the world and the Taiwanese took home the Summoner's Cup.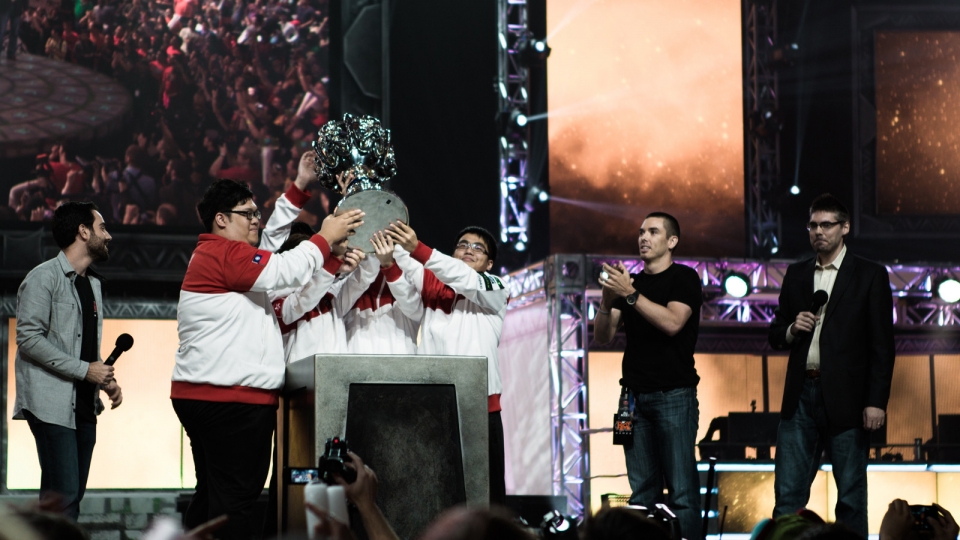 It was not until the IEM World Championship at Hannover that the Korean region began to hit its stride once again. Three Korean teams qualified - CJ Entus Blaze, CJ Entus Frost, and SK Telecom T1 - all of which finished in the top four. Blaze would eventually be the victors over their sister team, due in part to the breakout performance of Lee "Flame" Ho-jong in the top lane.
With the introduction of the LCS, international competition took a backseat to regional development. Korea did not miss out on this, with two now-famous names rising to the forefront of Korean League of Legends: MVP Ozone and SK Telecom T1 K. For Ozone, their journey to the Season 3 World Championship was one that should have been impossible. The squad had a tumultuous history to say the least, but their shocking victory over CJ Entus Blaze in Champions Spring 2013 catapulted them to the international stage.

SK Telecom T1 K took the fight to rivals KT Rolster Bullets in two consecutive best-of-five matches - first in Champions Summer 2013, then in the Regional Finals. Victorious on both counts, the rookie team that had been around for less than a year would punch their ticket to the World Championship, while NaJin Black Sword's victory in Champions Winter 2012-13 did the same.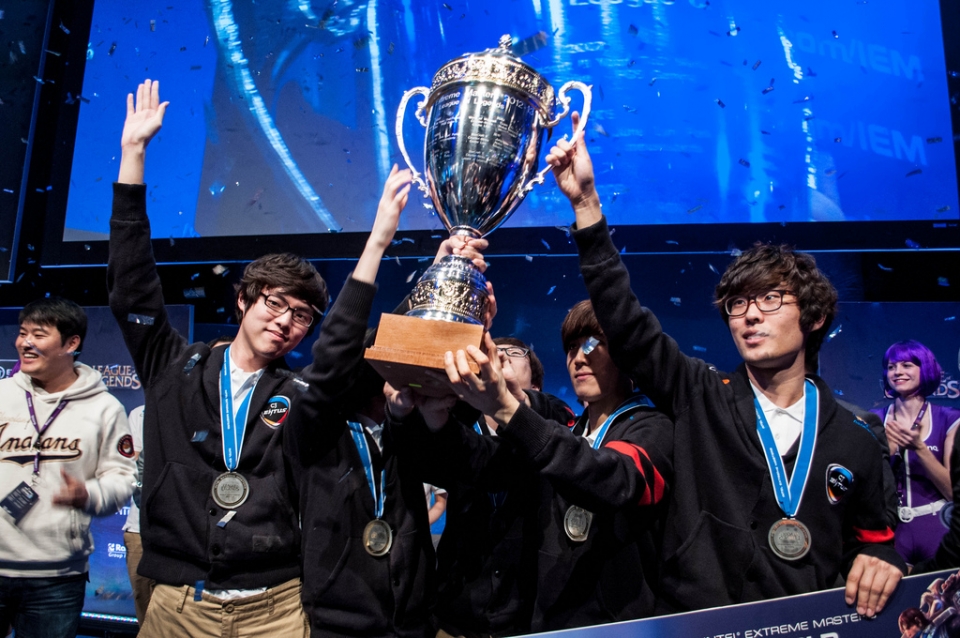 The World Championship was underway, and Korean fans would immediately re-live the painful experience of watching a popular team bomb out. Shaken by patch changes, sponsorship issues, a new top laner, and the loss of their coaching staff, the newly branded Samsung Galaxy Ozone failed to make it out of the Group stage, falling at the hands of Gambit Gaming in a tiebreaker.
SK Telecom T1 K, on the other hand, rampaged through the Group stage, logging only one loss, to Chinese powerhouse OMG (attributed to top laner Jung "Impact" Eon-yeong's maladjustment to American food). An effortless 2-0 win over Southeast Asian champions Gamania Bears claimed a bit of revenge for Season 2, while NaJin Black Sword disposed of Gambit Gaming in an uncomfortably close 2-1 series. This set the two Korean teams up for a semifinal matchup, much to the chagrin of fans, who preferred that the two best teams in the tournament meet in the Final instead..
Though many spectators expected the weaker NaJin Black Sword to fold easily, mid laner Kim "Nagne" Sang-moon would not be defeated easily, as his Gragas play pushed SK Telecom superstar Lee "Faker" Sang-hyeok to his limits. Ultimately, it was SK Telecom T1 K that emerged victorious. SK Telecom T1 K went on to crush China's Royal Club in the Final, with a perfect 3-0 victory.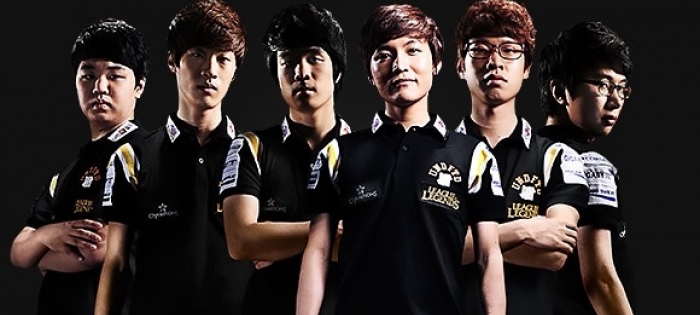 Korean teams have had two major international outings in the 2014 season - IEM Katowice and All-Star Paris. They have yet to register a single loss. To compound matters, both victories were achieved by slumping teams - the KT Rolster Bullets were at their lowest at Katowice, with jungler Choi "inSec" In-seok returning to the roster after a terrible performance in Masters, while SK Telecom T1 K had been proven mortal by their loss to Samsung Blue in Champions.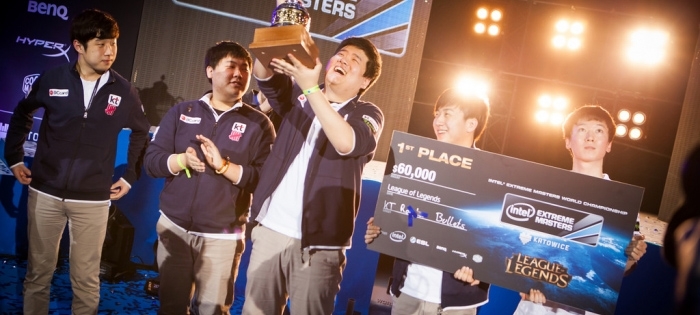 For our potential Korean representatives at the World Championship, there are no excuses left. No administrative issues, no last-minute roster changes, no unlucky bracket draws. It will be up to the Korean teams to take the crown that they believe they deserve.
PLAYSTYLE

Once a region of followers, Korea adopted strategies from foreign teams and refined them to a lethal edge. Now, Korea is a leader of innovation in League of Legends strategy. Most teams owe their strategic development to the efforts of Korean teams, to the point where Korean coaches have been imported in order to bolster teams' development. Whatever the case, it is undeniable that the Korean playstyle is an influential one.
TEAM SYNERGY


The above clip may well be the single greatest League of Legends sequence of all time. It is the definition of team synergy, something drilled into Korean teams from their inception. From 11 minutes, SK Telecom T1 K pushes down four buildings via a sequence of well-timed kills and flawless tower-aggro juggling. Where does this kind of synergy come from, and how is it developed?
Korean teams place a major emphasis on teamplay - it is often said that a good League of Legends team is five teammates playing as if they were one person. Korean teams function as teams outside of the game, as they live, eat, and train together in highly structured gaming houses. Yet, this is not a dynamic unique to Korea, as most professional teams utilize gaming houses in their training.


Rather, it is the authoritative structure of their training houses that serve to develop such smooth teamplay. Each Korean team defers control to its support staff, with head coaches overseeing the development of the team. Roster decisions are made with teamplay in mind, and players that do not get along will never play together. As sappy as it sounds, the best teams in Korea have family-like bonds between their players.
CHAMPION SELECT
The second aspect of Korean League of Legends that distinguishes Korean teams from foreign teams is their mastery of Champion Select. Although not the most glamorous aspect of the Korean playstyle, the ability of Korean teams to perceive win conditions during Champion Select is deceptively significant.


Observe Samsung Galaxy Blue's first pick. It goes without saying that Kassadin is a monstrously powerful champion in the right hands, to the extent that he is banned out by the purple side team in most games. Yet, Kassadin's strength is offset somewhat by his weak laning phase. As a melee champion, Kassadin is extremely vulnerable to ganks prior to Level 6 - and indeed, the KT Rolster Arrows are cognizant of this.
By drafting Ryze and Kha'Zix, the Arrows have an immediate response to Blue's Kassadin - early ganks. The raw damage of those two champions, combined with a guaranteed snare in Ryze's Rune Prison results in a hard time for any enemy mid laner. Yet, Ryze and Kha'Zix are not particularly threatening to backline champions, due to their limited initiation range. Blue's response, therefore, is to draft Nami and Kog'Maw, an immensely powerful (but vulnerable) duo that is capable of destroying the late stages of the game.
This is just a taste of how Korean teams are capable of reacting during Champion Select. In two draft rotations, Blue have already set for themselves a win condition - the late-game combination of Kassadin and Kog'Maw. On top of that, they have put the Arrows in an uncomfortable position. It is this kind of mastery of the draft that other regions will have to match, lest they enter each game with a disadvantage.
TEAMS

SAMSUNG GALAXY BLUE - NO. 1 SEED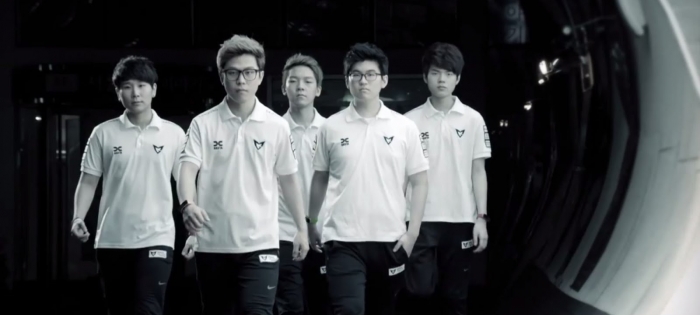 Throughout 2014, no team in Korea has performed as well as Samsung Galaxy Blue. For a long time, Blue suffered in the shadow of their sister team White. Their surge to the top, however, began in Korea's qualifiers for the World Cyber Games, where they took out world champions SK Telecom T1 K in a 2-0 rout.
Since then, they've steadily climbed the ranks in Korea, and their journey culminated in a victory over NaJin White Shield in the grand final of Champions Spring 2014. Poised to take a second title in the summer iteration of Champions, Blue fell at the last minute to a ferociously strong KT Rolster Arrows.
SAMSUNG GALAXY WHITE - NO. 2 SEED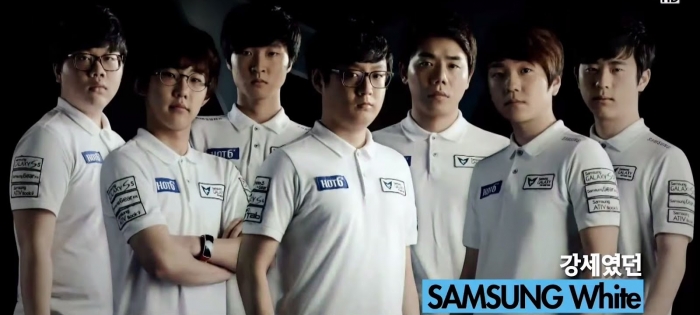 Perhaps one of the most consistent teams in Korean history, Samsung Galaxy White have been a top contender ever since their historic victory over CJ Entus Blaze in Champions Spring 2013. That said, their World Championship history is not pretty, with an incredibly disappointing performance in the Season 3 Group stage.
The core of Samsung Galaxy White is jungler Choi "DanDy" In-kyu, who has maintained a reputation as one of Korea's best junglers since his debut. His uncanny ability to perceive the movements of the enemy jungler based off the behavior of enemy lanes has propelled White to many early game leads. However, overconfidence is certainly this team's biggest weakness, and this could be a killer in Korea's Regional Finals, or even the World Championship. White must take care to not throw away the leads they so easily accrue.
The core of Samsung Galaxy White is jungler Choi "DanDy" In-kyu, who has maintained a reputation as one of Korea's best junglers since his debut. His uncanny ability to perceive the movements of the enemy jungler based off the behavior of enemy lanes has propelled White to many early game leads. However, overconfidence is certainly this team's biggest weakness, and this could be a killer in Korea's Regional Finals, or even the World Championship. White must take care to not throw away the leads they so easily accrue.
SK TELECOM T1 K - NO. 2 SEED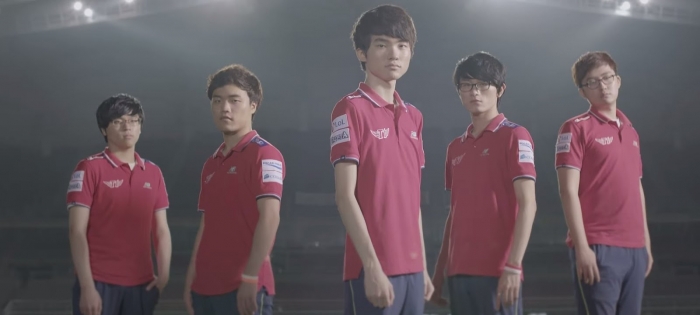 A team that needs no introduction, SK Telecom T1 K are looking to return to the World Championship, searching for a second victory. But since their triumph in Champions Winter 2013-14, T1 K seems to have lost their edge. This fall seems to have begun when support Lee "PoohManDu" Jeong-hyeon stepped down momentarily for health reasons, and since then, the only first-place finished they have achieved is that in NLB Summer 2014, Korea's secondary tournament.
That said, Faker has been on a roll recently, playing some incredible games to carry his team through a dark stage in their career. AD carry Chae "Piglet" Gwang-jin is still T1 K's second threat, and his intense work ethic should pay dividends in the lead-up to Korea's Regional Finals. The biggest concern for T1 K at the moment is easily PoohManDu, who has been unable to reach the level of play seen in seasons past.
Against Samsung Galaxy White, T1 K will have to dig deep and find a way to maximize Faker's overwhelming strength. Should they fail to qualify directly to the World Championship, T1 K will still have a hurdle to overcome in the Regional Finals, with rivals KT Rolster Arrows in the mix. Their path to the World Championship will not be as easy as last year's, but if they can overcome it, there's no telling what they could do.
KT ROLSTER ARROWS - NO. 4 SEED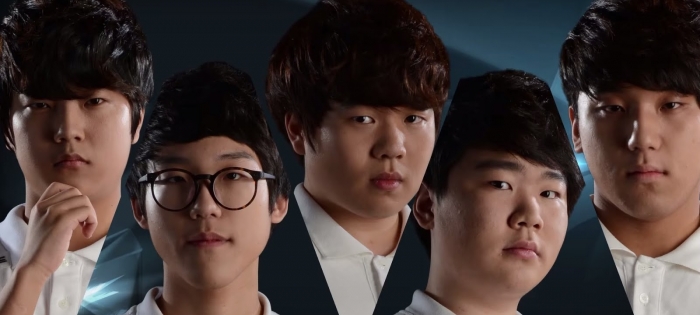 Coming off a win in Champions Summer 2014, the KT Rolster Arrows can legitimately claim to be Korea's strongest team at the moment. An amalgamation of rookie talent and grizzled veterans, the Arrows have one of the greatest understandings of the early game in all of League of Legends. Even scarier, they are still an unrefined, imperfect team. The potential in this team is incredible, and there is much more to be tapped into for the Arrows.
The Arrows have been known to drop games that should not have been lost, due to their reckless play. This was especially apparent in their Summer semifinal match against SK Telecom T1 S, in which two games were lost to overall poor decision making.
Lee "KaKAO" Byung-kwon is the Arrows' lynchpin, being the main driving factor behind their impeccable early game play and arguably the world's best jungler. Any success the Arrows find in snowballing a lead can be owed to KaKAO's superb eye for initiation possibilities, as well as his methodical, no-nonsense style of ganking. Top laner Kim "ssumday" Chan-ho is a long-time teammate of KaKAO, and combines with him well in all aspects of the game.
NAJIN WHITE SHIELD - NO. 5 SEED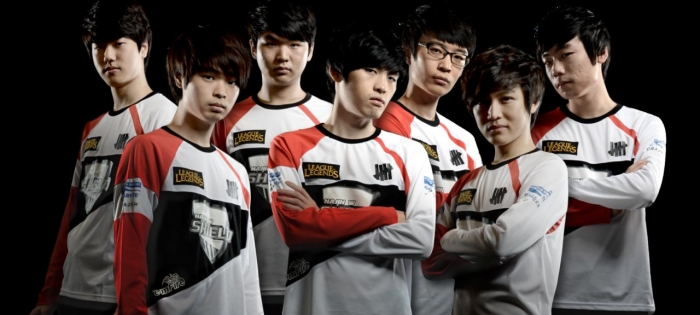 NaJin White Shield hit their stride in 2014, making it to the grand final of Champions Spring 2014. However, their play has stagnated as of late, as they seem unable to move past their typical split-push style. As CJ Entus Blaze top laner Flame has mentioned, teams seem to have figured out Shield's playstyle, which may account for their recent lethargy as a team.
Nevertheless, Shield's threats have not become less threatening with metagame shifts. Top laner Baek "Save" Young-jin remains one of Korea's best in the position, with a near-perfect understanding of the split push strategy. Additionally, jungler Cho "Watch" Jae-gol brings some much-needed experience to the team, as a two-time World Championship participant with NaJin (Black) Sword.
The pieces are there for NaJin White Shield, and realistically speaking, their match against the KT Rolster Bullets should be an easy one. However, since falling out of Korea's top tier, they have not had much success breaking back in. The Regional Finals will be another chance.
KT ROLSTER BULLETS - NO.6 SEED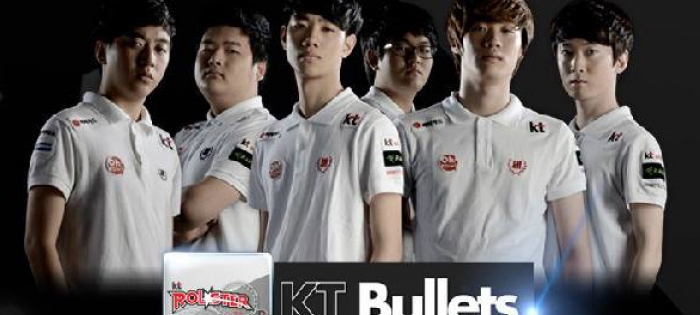 If there was a single team in Korea's Regional Finals that was atypical of the Korean mold, it would be the KT Rolster Bullets. Scraping into the World Championship qualifiers off a decent performance in Champions Winter 2013-14, the Bullets have since undergone multiple roster changes, including the removal of veterans Ryu "Ryu" Sang-wook and Won "Mafa" Sang-yeon from the core roster.
Stepping into the jungle will be ex-Quantic player Yoon "Prime" Du-sik, while solo queue recruit Lee "Destiny" Jae-hoon will fill the support position. The Bullets have not had too much success with their new roster, dropping out of NLB to the relatively weak Jin Air Falcons. Yet, there is still some grit in this team, with mid laner Nagne being able to claim past victories over Faker as part of his World Championship experience. Captain and AD carry Go "Score" Dong-bin is one of Korea's more consistent (and creative) players, and it will be essential for the Bullets for him to perform well.
Things don't look great for the Bullets, but there is a light at the end of the tunnel - they have Korea's champions to practise against. With enough quality practice against the Arrows, they may be able to put up a fight.
---
HOWEVER KOREA'S BRACKET PLAYS OUT, IT'S A CERTAINTY THAT THE THREE TEAMS THAT EMERGE WILL BE AMONG THE MOST FEARED IN THE GROUP STAGE. THE GAMES BEGIN ON AUGUST 27, WHEN SAMSUNG GALAXY WHITE AND SK TELECOM T1 K VIE FOR THE SECOND SEED, AND CONCLUDE ON AUGUST 30, WHEN THE LOSER OF THAT MATCH PLAYS WHICHEVER TEAM EMERGES FROM KOREA'S GAUNTLET. AND WHAT A GAUNTLET IT IS.
---