Written by Kelsey Moser
It ain't easy being second place. As China came down off StarHorn Royal Club's runner-up finish in the Season 3 World Championship, the region seemed to have fallen into a state of stagnation. Many powerful rosters from the 2013 Season were downgraded when legends like Pun Wai "Wh1t3zZ" Lo and Yu "Misaya" Jingxi retired. Teams in the Spring Split began to flounder in search of an identity, and they failed to take games off Korean teams at both the IEM World Championship and 2014 All-Stars Paris.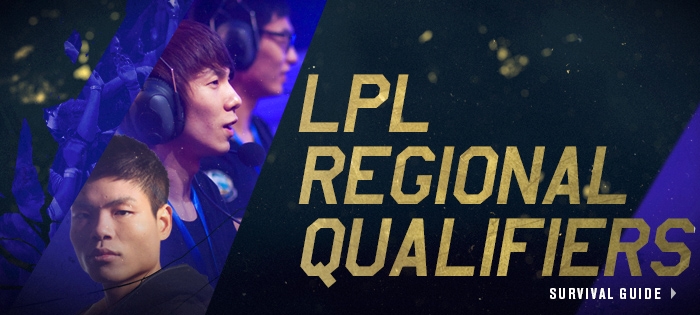 But just before the Summer Split, an initiative began to catch up to high-level Korean strategy and make a splash at Worlds. Their tactics for doing so have ranged from wide-spread roster tinkering as well as importing both Korean coaches and players. When all is said and done, even if China doesn't take out teams from the undisputed best region in the World, they'll make it obvious that they're not to be discounted.
BRACKET OVERVIEW

Chinese League of Legends teams made one of their first notable appearances on the international stage in 2012, at the IEM Season VI World Championship. It did not go well. The qualifying team, EHOME, failed to make it out of the Group stage, losing four of its five matches. They ended the tournament tied for last place with Millenium.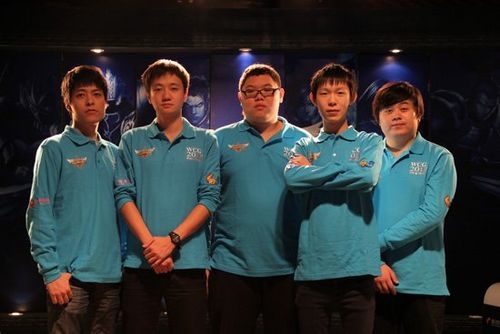 Despite a lackluster debut, Chinese League of Legends teams sought more international competition and were able to improve their game by engaging in Battle Royal tournaments with teams from the developing Korean scene. At the time, back-and-forth competition was common between Korean and Chinese teams, with squads like Invictus Gaming triumphing in close sets over the likes of MVP Blue.

Team World Elite began to find a certain amount of success at this time. They were invited to attend the 2012 Azubu Champions Summer. Though they were knocked out by Counter Logic Gaming EU shortly after making the round of eight, World Elite took the experience in stride and looked to pick up Ming "Clearlove" Kai and Feng "Fzzf" Zhuojun.

This would complete the World Elite roster that went into the Season 2 World Championship, alongside rivals Invictus Gaming. Even despite having some success against Korean favorite Azubu Frost leading up to the World Championship, both teams barely finished top eight, with iG losing to Moscow 5 and WE being taken out by CLG.EU.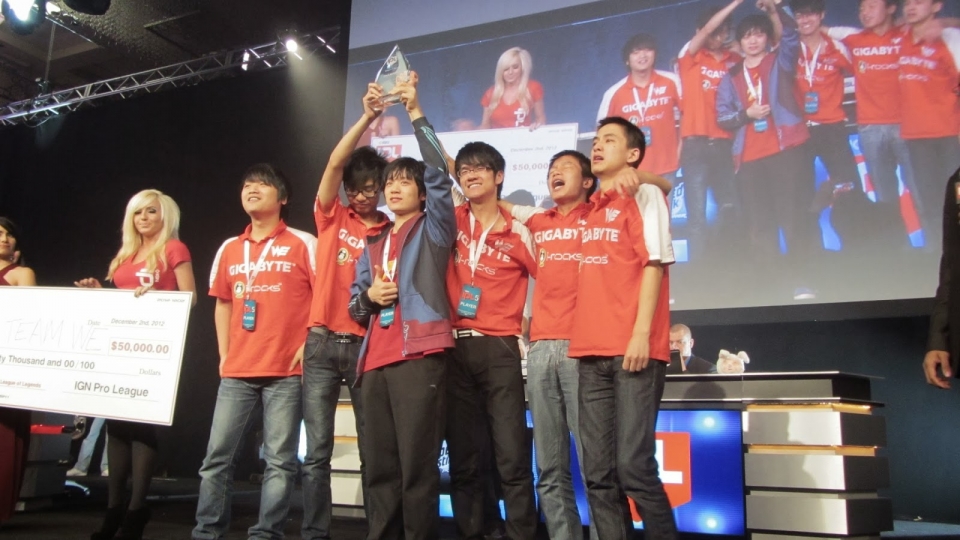 Team World Elite hit their international stride at IPL 5, shortly after the Season 2 World Championship. WE crushed through the group and bracket stage, besting teams like Azubu Blaze, Fnatic, and Moscow 5 before taking the title. This would spell the dawn of a new era for WE, as they began to win every "best of" series they entered, both domestically and abroad. Their reign would eventually come to an end at the hands of other Chinese teams, namely Invictus Gaming and upstart OMG.
When the league system was implemented in China, North America, and Europe, many eyes strayed from China. World Elite continued to falter, and their long-time rivals, iG, rose to take their place. They took first place in the first ever LPL regular season, but a brand new team, OMG, previously Noah's Ark, began to make their mark. When fourth place seed Positive Energy knocked iG from the playoff bracket, it cleared the way for OMG to take the first LPL Playoff title.
OMG then surprised fans by changing their roster mid season, moving star support player, Yin "Lovelin" Le, to the jungle role, but the roster turned out more successful during the regular season than the former. His synergy with the team's mid laner, Yu "Cool" Jiajun, would prove a boon in their quest to dominate the Summer Split. Other rising talent began to soak up the limelight, including Royal Club's Jian "Uzi" Zihao and Positive Energy's impressive bottom lane, Zhu "NaMei" Jiawen and Li "Sicca" Haoyu.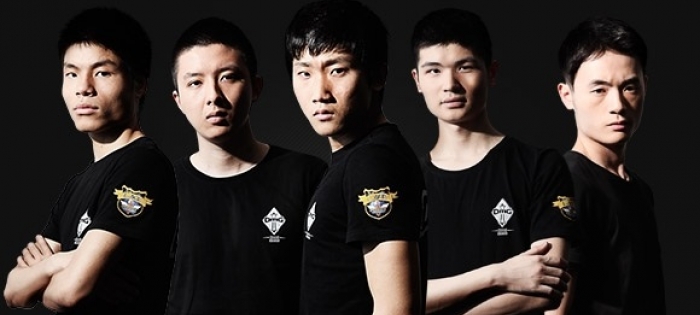 Despite sentiments that World Elite might actually still be the stronger team, Royal Club managed to skate through the 2013 World Championship qualifiers with an upset. They secured themselves the first Chinese seed over the rest of the competition, and OMG would have to battle it out in the bracket stage.
At the Championship, OMG became a second powerful force in the same bracket as SK Telecom T1 K. They split even with the Korean favorites in groups, but managed to lose out in quarterfinals once again to Royal Club. Royal Club would then make it past Fnatic in the semifinals, only to be swept by SK Telecom T1 K in the Final.

DESPITE FANS BEGINNING TO TOUT EDG AS A POTENTIAL ANSWER TO THE KOREAN THREAT, IT WAS CLEAR THE CHINESE WOULD NEED TO MAKE DRASTIC CHANGES TO THEIR APPROACH IF THEY WANTED TO TAKE HOME TITLES


After many teams' rosters changed, including the split of the once-powerful World Elite, 2014 LPL Spring began. Despite Cool temporarily taking the bench due to health concerns, OMG remained a dominant force, losing only three games in the Spring. At All-Stars, however, OMG once again lost convincingly to SK Telecom T1 K, and European and North American teams even managed to unseat WE and iG at the IEM World Championships in Katowice. Then, in the Playoffs, OMG were knocked to third place by Invictus Gaming, and the new Edward Gaming, formed from remnants of WE and Positive Energy's star AD carry, NaMei, took first place.
Despite fans beginning to tout EDG as a potential answer to the Korean threat, it was clear the Chinese would need to make drastic changes to their approach if they wanted to take home titles. During the offseason before 2014 LPL Summer, teams imported new Korean talent as both coaches and players. For some teams, like StarHorn Royal Club, a middling split saw a burst of success at the end, but teams like World Elite found little improvement with Korean replacements and failed to even qualify for the 2014 Season World Qualifier.
With OMG still a force to be reckoned with, EDG looking like the favorite, and other drastically improved Chinese teams heading to the Regional Qualifier, eyes are on China to see if they can make the international splash they've been craving since WE's hayday.

PLAYSTYLE

If there's one thing everyone knows about China, it's that they're aggressive - right? The phrase "Chinese aggression" has been used so frequently that it's unclear whether it still holds meaning. The Chinese have traditionally taken a proactive approach to their games, but whether they've overcommitted when they shouldn't have or executed calculated dives often varies. With improved vision control, focus has shifted more toward the latter, but the most important thing to note is that the influx of different aspects of strategy from abroad has added the spice of variety to LPL, and the playstyle you get often varies in surprising ways.

TEAM FIGHTING

The calling card of Chinese teams outside the notion of aggression has long been in the 5v5s. Regardless of other elements of play, Chinese teams have to have proficient team-fighting skills to succeed in a region where the average number of kills per game is over 30. Chinese teams fight over almost any objective available.

Yet the proficiency with which Chinese teams fight is worth noting. Often, skills stack on top of each other seamlessly, and the targets with the most gold are put in a position where they can have the most impact. The region has extremely talented AD carry players, and their teams form cohesive units to complement them in a way that suits their style. With a new sense of vision in their arsenal, team-fight preparation has advanced to a new level, and no choke point is safe from spilled blood.

SPEED

Rather than saying Chinese teams are aggressive, it might convey more information to say that they like their games fast-paced. Exceptional mid laners make the map their own, and keeping them in lane is sometimes more challenging than predicting their trajectory. Chinese teams often force fights if they can identify an early game power spike and snowball a lead off something as small as an extra Doran's Blade and a jungler with tower-diving capabilities.

Not all Chinese teams will take the game into their hands so proactively early on, but they utilize speed in a different way. As soon as they spot a pick on the map, the game switches on, and shifts of power happen so quickly you could miss them if you turn away from your screen.

VARIETY

With different teams adopting different elements of strategic improvement from either their new Korean teammates or their experiences playing against them, LPL has erupted into a new range of playstyles. Some teams prefer to farm passively in the laning phase, sometimes giving up potential leads in order to prepare for the team phase. Other teams have shifted away from 5v5s and tried to adopt skirmish and pick compositions all their own. The ward coverage often varies from game to game, sometimes from flashes of brilliance in gating Baron and deep warding enemy camps to complete darkness of the non-Nocturne kind. When you watch Regionals, don't expect the same kind of game every time and embrace the playstyle medley.

TEAMS

EDWARD GAMING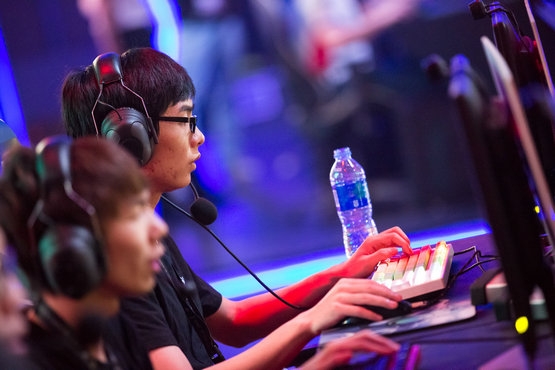 Edward Gaming's formation may be one of the most interesting storylines in League of Legends this season. Clearlove and Fzzf followed the team's coach Aaron to join the Edward Gaming group. With the additions of Koro1; U; and NaMei, a powerful AD carry many argued was better than Uzi at the time of last year's World Championship, many long-standing WE fans were upset with EDG.

EDG slowly won members of the fanbase over after an impressive Spring Split, where they dropped only seven games and managed to take out OMG in the International Esports Tournament. They then managed to convincingly win Spring Playoffs and take the regular season Summer Split title in a final 2-0 over WE--a game that also knocked their rivals out of Playoffs and out of contention for Worlds.

Much of the season, EDG has had moments of inconsistency. They lack roaming pressure from both their jungler and mid laner early on and have focused almost exclusively on late game team fights and stalling out. Yet when Clearlove has a good game, early kills happen in the bottom lane, and NaMei is snowballed ahead. In both the Spring Playoffs and Summer Playoffs so far, Clearlove has shown he can flip his switch under pressure. And if he stays on point, EDG are definite favorites to find the first Worlds seed for China.

OMG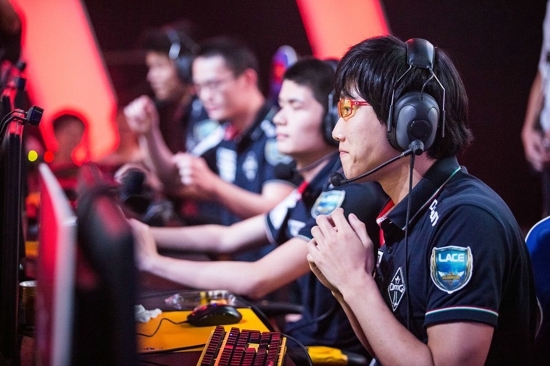 Despite OMG's roster resembling the same lineup we saw at the Season 3 World Championship, they have gone through their fair share of changes. During the 2014 season, Drug, previously known as Allen and Lovelin, has swapped roles twice, and Cool, the team's powerhouse mid laner, has been slowly returning to form all Summer after a split of health-related time off. They had some internal conflicts with their starting Summer support player, and have had to swap him out for Dada7, who appeared at the last World Championship as comA.

OMG's confidence has taken a noticeable hit, perhaps partly as a result of EDG's rise. OMG has dropped more games this recent split than they have in any other LPL split. Part of this can be attributed to improvements in the competition, but OMG's inconsistency in their support role has left them looking shaky.
Just like with EDG, however, OMG's recent performance in the Playoffs has made it apparent that they can perform under pressure. After extensively preparing his Yasuo, Cool went 20/1/8 in a single game against StarHorn Royal Club in the Summer Playoffs. Unlike with most Chinese teams, OMG's top, jungle, and mid laners are their stars, and OMG might have the strongest players in each of those roles. OMG plays to these strengths by pulling out more pick-oriented compositions than any other team in China, and when their confidence is up, and they're on point, no one is safe from their charms.

STARHORN ROYAL CLUB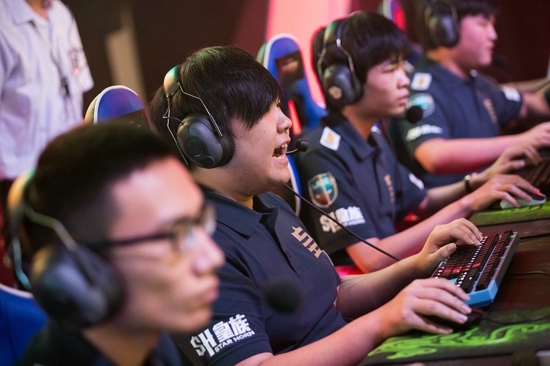 Coming in third place in the LPL regular season, Royal Club has struggled with communication. It's no surprise, considering two of their players didn't begin the split with the ability to speak Chinese. inSec and Zero joined StarHorn Royal Club from Korea's KT organization, and they've stated that they are only interested in remaining in China if the team can perform well at Worlds.

SHRC has a tendency to abandon caution and engage on the nearest moving target. At the start of the split, Uzi and inSec would often go into a fight without backup and wrack up the death toll. SHRC has started to truly succeed only after agreeing to follow the lead of their jungler and AD carry, relying on their coordination to rule the day.

Another force that has transformed SHRC has been the development of their mid laner, corn. Corn's devastating Orianna and Fizz play has created another carry force for the team that can hold down the fort if Uzi gives up his presence early in the fight. As a result of his improvements, trust and communication has seemingly spread through the team, and with it, a little more kill gold in the coffers of the solo laners. The extra damage threats could make SHRC, but some of their riskier plays and less developed strategy will break them.

LGD Gaming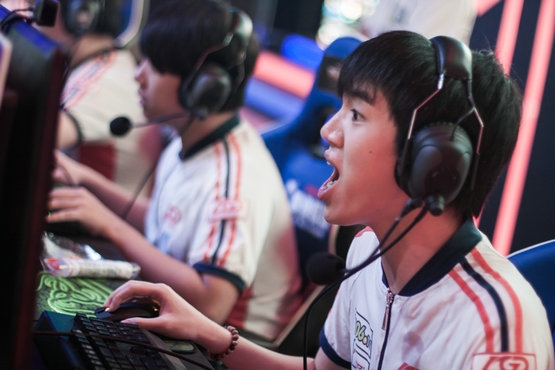 Few expected LGD Gaming to advance to the Playoffs after they began to lose indiscriminately halfway through the split. LGD struggled to keep their heads above relegation, settling at sixth place somewhat early on. Yet World Elite's pains once again proved useful to a rising team in need of the limelight, and LGD pushed through the end of the season 2-0'ing WE and YG, and taking a game off EDG. When EDG then 2-0'd WE, a tie breaker based upon game time ushered LGD into their first Playoff.

LGD is new to LPL this season, and their roster has changed considerably from their debut. New mid laner, We1less has proven he's a contender as a top two LPL mid laner, and his innovative force has brought Spirit of the Spectral Wraith builds to LPL. He will often both outfarm and outroam his lane opponents, and despite having a reputation of going "too hero," his efforts have won his team maps.

LGD's other stars are in their bottom lane. XQ is part of a new generation of AD carries that could well upset the established order of WeiXiao, Uzi, and NaMei in the future. Pyl is a veteran of Chinese League of Legends since 2011 and a master tactician for the team. Despite glaring weaknesses in top and jungle, Pyl's strategies focus more on split-pushing and making rotations than fighting head on, making them a bit of an anomaly in LPL.

INVICTUS GAMING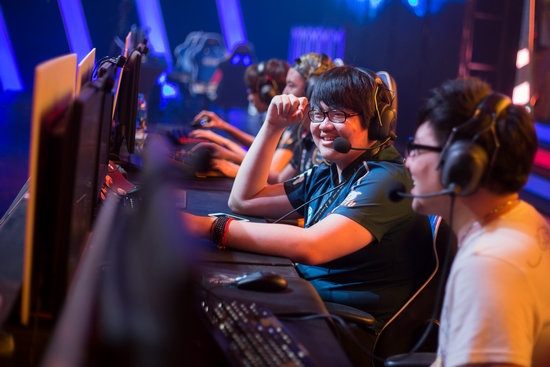 Invictus Gaming picked up their invitation to the Regional Qualifier by coming in second in the 2014 Spring Playoffs. They barely made fourth seed and managed to dethrone OMG in the semifinals with a 2-1 victory. In the finals, EDG summarily cleaned house.

This season, iG is one of two teams to appear in Regionals with a Korean addition. The team lost their star top laner, PDD, to retirement, and replaced him with YongSoo from Mook Comet. YongSoo has made advances this split as a top laner, but his playstyle varies drastically from PDD's. The team struggled to find an identity after changing their shotcaller twice as well as no longer having a reliable top laner to consistently win his matchup.

The mythos of Invictus Gaming is that they will always show up when it counts. Despite a weak split, iG has recently bested EDG 2-0 in a third party tournament, X Championship Series. The lights will be dark for some time on iG's preparations, as they are not participating in the 2014 Summer Playoffs. This could hamper iG if they're cut out of high-level practice, or it could prove a strength if no one can predict their X Factor.

iG has had some of the most interesting champion picks this split, with the new revolution of Zilean and a handful of Lux and Skarner selections. Their mid laner and shotcaller, Zzitai, has been a staple of the Chinese scene, and he and two members of his team appeared previously in the Season 2 World Championship. His experience is a boon for iG just as his young age could very well negatively impact his judgment.

It's impossible to count out any team in the LPL Regionals, thanks to the wide variety of styles they bring to the table. Whether you're betting on the unpredictable team or the patient, methodical team-fighting squad, Chinese Regionals are sure to be packed with action.

STAY TUNED TO ESPORTS.GARENA.PH FOR UP TO DATE CHINA NEWS AND INFORMATION