Posted on September 9, 2014 by RiotNickAllen on lolesports.com

We recently posted a blog explaining why the 2014 Group Draw would be conducted privately and confidentially. We wanted to share an update to give everyone as much transparency as possible into our process, tackle some common questions from the community, and talk about some of the changes we will be making to group draws going forward, including adding a professional third-party witness to future group draws.


2014 GROUP DRAW

On August 7, a small group of League Operations officials executed the Worlds 2014 Group Draw at Riot HQ in Santa Monica, CA. It was completed in advance of the August 14 deadline to provide plenty of time to organize travel plans, including visas, to get all 16 teams from their home countries to their respective group stage locations.
The group draw was recorded and we will release the video immediately following the Group Reveal Show, which will occur on September 8. The video is a raw feed of the entire Group Draw process. It was meant for internal use only so it won't look like what we normally produce but we will release it to the public to further validate the results.
Given that in past years we've done the draw privately without issue, we felt that continuing that process was the best option for 2014. Every individual who knows the Group Draw results represents a potential liability and carries an enormous amount of trust and responsibility. As such, no third-party with a potential conflict of interest could be entrusted with such sensitive information. We wanted to protect the information from getting out to avoid creating a situation in which a team had an incentive to lose a match in order to seed into a perceived "easier" group and potentially ruin the competitive integrity of the qualifying tournaments.
DEEP DIVE INTO THE GROUP DRAW PROCEDURE

In the interest of being as transparent as we can, what follows is the official procedure that was used in the 2014 Worlds Group Draw.
First, all of the draw conformed to the Group Draw Structure outlined in this article.
Before actually drawing the groups, each of the groups had a "sister group" it was paired with based on which groups will meet in the bracket stage. Group A was paired with B, and C was paired with D. This ensured that teams facing each other in the quarterfinals had an equal amount of time to prepare between their group stage matches and the bracket stage. The pairs were placed in Taiwan or Singapore at league officials' discretion after the groups were drawn, but pairs could not be split up, as that would affect the bracket stage matchups .
To prepare for the draft, 16 cards with seeds (#2 SEA, #1 IWC, #3 CN, etc.) were laid out alongside 16 envelopes numbered 1 through 16. "#1 IWC" represents the Gamescom International Wildcard Tournament winner, and "#2 IWC" represents the PAX equivalent. The envelopes were stuffed with the seed cards, and throughout the process were selected by a random number generated by a Visual Basic script. It's important to note that a pool doesn't need to deplete before moving on to the next pool - any number can be chosen at any time. Additionally, because we used a random number generator that doesn't exclude previously drawn values, it was possible to draw a value that's already been drawn - if and when that happened, the redundant value was simply ignored and the figurative die was rolled again.
As numbers were drawn and envelopes were opened according to those numbers, a few technical constraints were observed. The groups were arranged from left to right in alphabetical order (A, B, C, D). When a number was drawn, the corresponding seed was placed in the leftmost available spot. For instance, if #2 CN was drawn, but #3 CN already inhabited Group A and #1 CN already inhabited Group B, #2 CN was placed in Group C (provided Group C has "Pool 2" space still available for CN #2). Note that in this example, #2 CN could not be placed in Groups A or B because of the "no more than 1 team per region per group" constraint.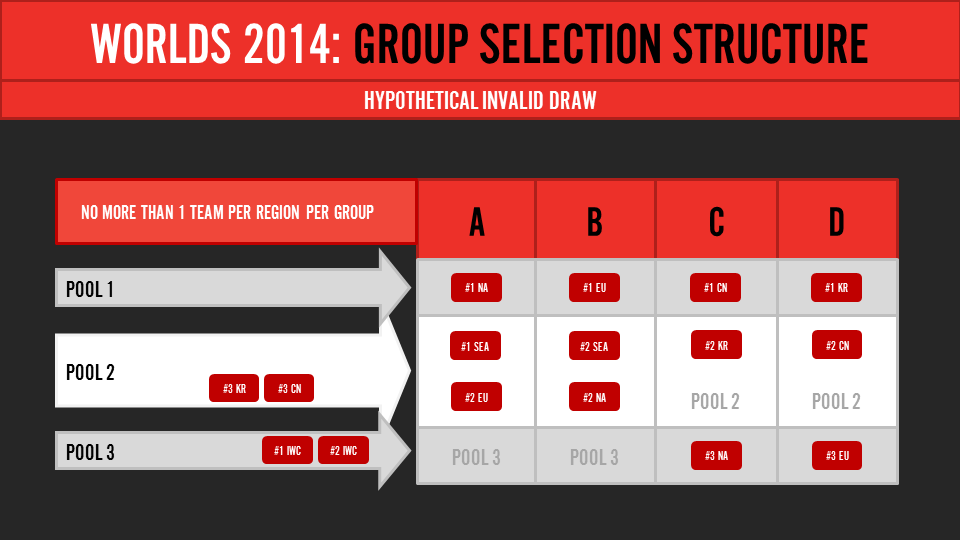 Note that using this procedure, there could have been cases where a draw could not be completed given the constraints in the group draw structure article. We've displayed a hypothetical example of that dilemma in the image above. In this example, there's no way to complete the draw according to the specified procedure - #3 KR and #3 CN have nowhere to go. Theoretically, there are a few such scenarios in which the group draw structure "breaks." If such a scenario were to arise, the entire draw would have been immediately restarted from scratch with the camera still running.
FINAL THOUGHTS
Looking forward to the future, we're working closely with all of the regional leagues to align our schedules and build in more time between the regional qualifiers and Worlds. This will help minimize the constraints that were unavoidable this year, provide more practice times for teams, and allows us to providing a transparent and exciting live group draw for fans that commemorates the start of Worlds.
Based on best practices from professional sporting leagues and community feedback, we plan to use an impartial witness such as a global audit firm to help us validate the results of any future draws - public or private.
We look forward to sharing with you the official results packed with in-depth analysis on the upcoming Worlds matchups on the Group Reveal Show on September 8. Stay tuned for more details.
RELATED ARTICLES:

World Group Stage Structure
World Championship 2014 Schedules