August was defined by Regional Qualifier tournaments. The five primary regions, as well as a host of International Wildcards, battled it out in inter-league play to determine who would represent their divisions during the international portion of the League of Legends 2014 World Championship.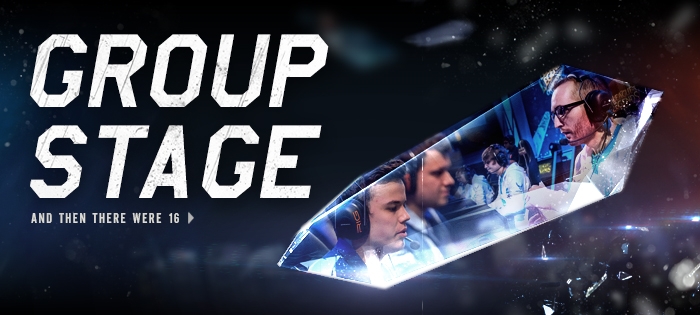 But we're not in August anymore. With September comes the Group Stage of the tournament, and that means the field has been narrowed to the 16 best teams in the world. Those teams?
NA LCS: TSM, Cloud9, LMQ
EU LCS: Alliance, Fnatic, SK Gaming
Champions: Samsung Blue, Samsung White, NaJin White Shield
LPL: Edward Gaming, [NOTE: CN #2, #3 to be determined no later than 9/7]
GPL: TPA, AHQ
International Wildcard: Dark Passage, Kabum
Read on to find out how this portion of the 2014 World Championship will play out.
WHAT ARE GROUPS?

The second phase of the Worlds tournament is referred to as Groups, and this year will be split between Taipei, Taiwan, and the city-state of Singapore. In this stage, the top two or three teams (depending on the region) compete in a Round Robin-style tournament. There are four groups in total (four teams in each group), and they're populated based on seeding from the Regionals phase.
Each team plays each other twice in the Group Stage. The top two teams from each group advance to the Knockout Stage - expect more on that as the Group phase winds down. Two groups will play in Taiwan from September 18 to September 21. Two additional groups will play in Singapore from September 25 to September 28.
WHAT HAPPENS DURING GROUPS?

Teams are randomly drawn into groups based on a specific procedure illustrated below. Teams will be sorted into each pool according to their regional seeding. Pool 1 is a "protected" pool of No. 1 seeds from China, Europe, Korea, and North America. Pool 2 will contain the No. 2 and No. 3 seeds from those regions, in addition to the GPL's top two teams. Pool 3 will be composed of the No. 3 seeds from North America and Europe as well as the International Wildcard tournaments.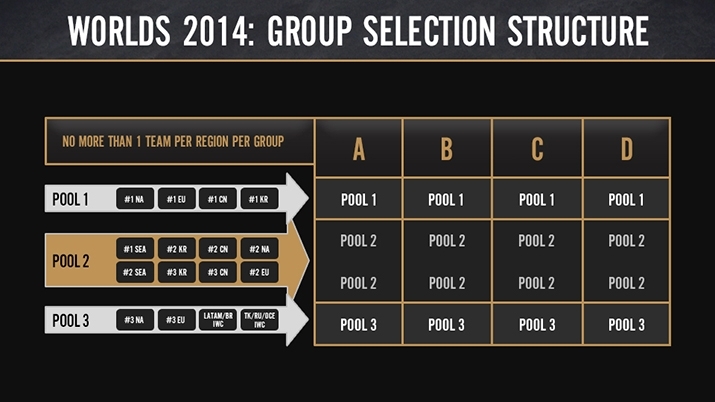 Each of the four groups will contain one team from Pool 1, two teams from Pool 2, and one team from Pool 3. Teams will be drawn randomly from the pools into groups. There is a "region limit" governing the composition of the groups: No two teams from the same region can inhabit the same group.
You can find the full Worlds 2014 Group stage selection results here.
WHAT'S ON THE LINE?

Teams will earn prize money based on their finish in the Group Stage. While every team gets something, the better you place, the more you get. Simple, right?
For the teams that make the Knockout Stage, their finish in Groups will impact who they play. Teams who finish No. 1 in their group will play a team who finished No. 2 from another group. This means that by finishing higher in a group, you will play teams who finished below you in their groups.
WHEN IS THIS HAPPENING?

Check out the LoLeSports.com schedule page for more information on when you can watch the games live.