By James ''Obscurica'' Chen - Thu 09/18

How do you begin the final showdown of the year between the world's greatest players in League of Legends?
There are dozens of storylines converging upon the city of Taipei this week. Samsung White looking for redemption from last year's embarrassing failure to advance; TSM bearing the full weight of the North American hopes and dreams as they seek their first Worlds playoff spot since 2011; both Taiwanese teams aching for the chance to prove themselves and their region worthy of respect from the greater international community.
But the central storyline that winnows through all of their individual dramas is that of rivalry. The 2014 World Championship kicked off today by embracing a contest bigger than any individual player or team, and much older than any organization - China vs Korea.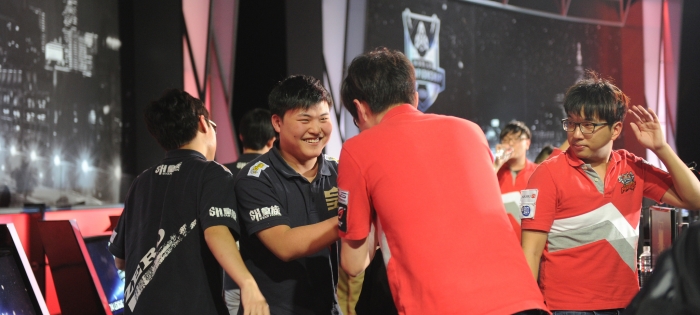 EDWARD GAMING VS SAMSUNG WHITE



Though the game seemed initially unpromising for the Chinese team, with Koro finding Looper's unexpected Rumble pick to be a near-perfect solution to EDG's Maokai strategy, mid laner U forced an opening 13 minutes in with a game-turning double-kill off DanDy and PawN. But Edward Gaming's eagerness to exploit that window was stymied 22 minutes in: an overconfident attempt at setting a trap at Baron gets flipped upside down as Mata drowns three under his Tidal Wave, setting up Imp for a devastating ace against the top Chinese contender.
DARK PASSAGE VS AHQ



Dark Passage did not do enough homework – as veteran viewers of the GPL scene can attest, you're only going to make things a lot harder for yourself if you don't keep Thresh out of GreenTea's hands, or Fizz out of Westdoor's. But it was definitely GreenTea that deserves the most accolades – though Westdoor racked up an impressive kill count, he was enabled heavily by the endless percussion of that meaty "chunk" when GreenTea hooks yet another helpless victim, like he did at 31 minutes in to set up a free Baron for AHQ.

TAIPEI ASSASSINS VS STAR HORN ROYAL CLUB



TPA vs SHRC was a heartbreaker set for local fans, as it seemed to dominantly favor their hometown heroes in the first half of the game. Winds was in full command, such as during his devastating bot lane gank at 14:20, picking up a triple kill at the expense of Korean rival InSec to kickstart what seemed like an inevitable march to victory. But UZI's habit of burning Ace in the Hole at every opportunity knocked them off the rails – the massive chunk of damage would send a player fleeing back to base, forcing a 4v5 situation that allowed Royal Club to steadily take command of the game.

DON'T TOUCH THAT DIAL
All that was just Day 1, and there is much, much more to come. Thus far, the standings are as follows:
Group A
Samsung White: 2-0
AHQ Esports Club: 1-1
Dark Passage: 0-1
Edward Gaming: 0-1
Group B
Star Horn Royal Club: 2-0
Team Solomid: 1-1
SK Gaming: 0-1
Taipei Assassins: 0-1
The A and B group stages continue with Taipei Assassins facing off against SK Gaming, starting at 2 AM PDT/11AM CEST.