By James ''Obscurica'' Chen - Sat 09/20


We're past the halfway point for Groups A and B, and the pack leaders have separated from the stragglers. Thus far, there have been few surprises: both Chinese and Korean teams are performing at the level expected, and their punishing pace has exhausted the efforts of their fellow group stage rivals. Samsung White, in particular, has proven capable of stunning perfection against Dark Passage, Turkey's reigning kings – a feat that stands as a challenge to the Chinese competitors.
But Imp was hardly the only AD carry bedeviling the field. Uzi, too, was firing on full auto, as in the second game of the day.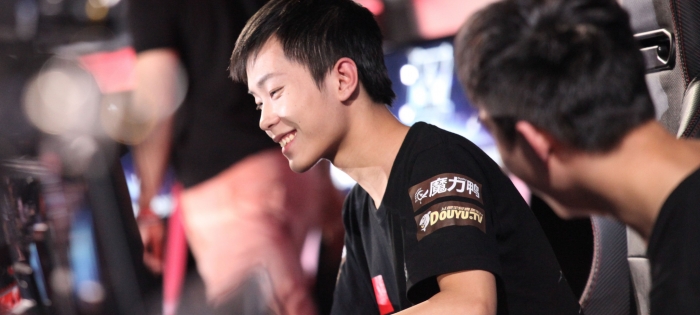 STAR HORN ROYAL CLUB VS SK GAMING



Star Horn Royal Club could smell the quarterfinals from where they stood, undefeated in Group B, and SK Gaming stood directly in their way. A Janna/Orianna composition for Zero and Corn offered as much control as they wanted – such as in a 20-minute Dragon fight, where Monsoon was used to separate Svenskeren from the rest of his team, and a jaw-dropping Shockwave tore through SK Gaming's ranks. Not only did they secure Dragon, but SHRC continued on to lock down Baron, taking down CandyPanda in the process.

AHQ E-SPORTS CLUB VS SAMSUNG WHITE


It's been a rough week for ahq E-Sports Club, and facing a seemingly invincible Samsung White in the aftermath of Dark Passage's overwhelming defeat at the start of the day surely filled them with trepidation. But if there's one thing you can be sure of out of the Taiwanese team was that they would not surrender easily – Samsung White was going to be forced to play well for their victory, and the South Korean team tackled that challenge with gusto.
Perhaps more gusto than they should have, even as DanDy uncharacteristically died twice in a row taking down Prydz. But it hardly mattered when Mata's Thresh was so brilliant – such as in a 15-minute siege of the second bot lane turret, where he snuck up on ahq's flank to secure a three-man Flay that fed Looper a double kill.

DARK PASSAGE VS EDWARD GAMING


Edward Gaming might be considered a weaker team than Samsung White, but that's like saying Kilimanjaro's a shorter mountain than Everest. Either way, the path to conquering either are strewn with the bodies of the defeated, and Dark Passage is no exception: even as Dark Passage managed to scratch EDG more than they did against White, their attempts at fighting on equal grounds were stymied by EDG. 11 minutes in, Dark Passage's attempts to defend the outer bot lane turret was converted into a total rout as Touch and Holyphoenix were taken down, and Naru's tenacious attempts to defend them turned into a kill as well. FabFabulous had finally joined his team – only to eat a lethal Death Sentence after his Teleport. With this defeat, Dark Passage guarantees their 4th place finish.

ONE MORE TIME
Only one day left to the Taipei group stage, and the leaders are now clearly established. The only real question that remains is this: now that Edward Gaming's gotten their warmup, and a taste of what Samsung White has to offer, how well will they perform in the rematch?
Thus far, the brackets are as follows:
Group A
Samsung White: 5-0
AHQ Esports Club: 1-3
Dark Passage: 0-5
Edward Gaming: 3-1
Group B
Star Horn Royal Club: 4-0
Team Solomid: 3-1
SK Gaming: 1-4
Taipei Assassins: 1-4
The last day of the Groups A and B matches commences with the rematch of Team Solomid and Star Horn Royal Club, starting at 2 AM PDT/11AM CEST.