By James ''Obscurica'' Chen - Sun 09/21

Typhoon Fung-Wong descended upon Taipei on the last day of the first week of group stages, bringing with it turbulence and chaos. The dramatic, slashing winds and rains was the perfect backdrop, setting the mood for a final confrontation between the teams of Groups A and B. Even as relative skill and capabilities were established in the days prior, there were still surprises in store – not the least of which was North American esports' unexpected strength this year.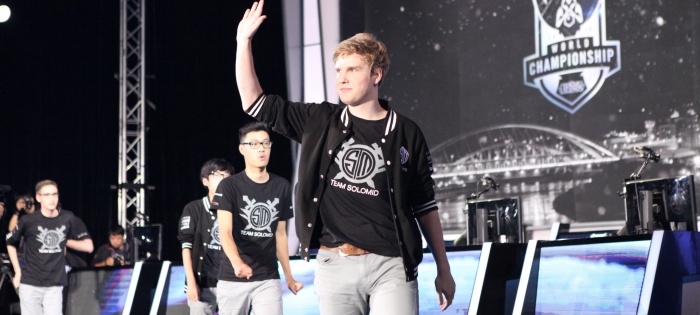 TEAM SOLOMID VS STAR HORN ROYAL CLUB - DANCING ON COALS


TSM was determined to get that prestigious #1 seed, and the first step towards achieving it was knocking down rivals Star Horn Royal Club at least once. Amazing's Lee Sin performance capped off Solomid's strong group stage run with a dynamic dragon theft out from under Royal Club's noses near 18 minutes in, triggering a fight that feeds WildTurtle a triple kill and ace.
The real star of the match, however, is definitely Dyrus. The Equalizers from his Rumble were anything but equal, dropping on top of Star Horn Royal Club like a wave of bricks while Lustboy and Bjergsen worked to keep Royal Club pinned down in the fight.

AHQ E-SPORTS CLUB VS EDWARD GAMING - FORCE OF A TYPHOON


AHQ might be on the verge of getting knocked out, and facing China's top-seeded team was a challenge even for the seemingly invincible Samsung White back on day one. But the Taiwanese club dogged determination won respect, admiration -- and even a little fear.
Things looked bad for AHQ as EDG attempted to siege their way onto their top lane inhibitor. But then, GreenTea's Death Sentence homed in on NaMei, and both Prydz and Naz capitalized instantly. Three minutes later, he does it again, winning two fights in a row to shatter EDG's will and take the game, eventually forcing a midnight hour tiebreaker amid the storms and surges of Typhoon Fung-Wong. Though they ultimately fell short of advancing past to the quarterfinal stages in Busan, AHQ e-Sports Club proved themselves among the worthiest adversaries of week one.

SK GAMING VS TEAM SOLOMID - WHAT COULD HAVE BEEN


Though SK Gaming's chance to advance through Worlds was effectively nil thanks to an incident that took Svenskeren out of contention in their first three games, the jungler made a very convincing statement against TSM, proving that though the American team had proved their mettle, they were lucky that SK was not in position to challenge them this year. Svenskeren's Kha'zix was a bewildering threat -- a constant, creeping menace to WildTurtle in particular. Even when TSM seemed on the verge of victory, as with their rush for the SK-side nexus turrets 49 minutes in, they were far from safe. Svenskeren safely survived Bjergsen's Unleashed Power, doubled back, and slammed the door on Lustboy and Amazing to lead SK towards a last-minute ace. SK pushed through mid and took the game.
Svenskeren's parting gift for TSM: destroying their hopes for a tiebreaker set against Star Horn Royal Club and guaranteeing their quarterfinals match against the terrifying threat of Samsung White.

ONWARD TO SINGAPORE
The dramatics of the last day of the Taipei Group Stage were but a preview of what's to come. Groups C and D, commonly considered the most competitive of this year's World Championship tournament, have yet to take the stage, and will surely be using the information gleaned from this week in their preparations. And most importantly: they'll be adjusting their crosshairs for the survivors of Groups A and B as well as each other.
The end-of-week brackets are as follows:
Group A
Samsung White (qualified): 6-0
AHQ Esports Club: 3-4
Dark Passage: 0-6
Edward Gaming (qualified): 4-3
Group B
Star Horn Royal Club (qualified): 5-1
Team Solomid (qualified): 4-2
SK Gaming: 2-4
Taipei Assassins: 1-5
The first day of the Groups C and D matches commences with North America's LMQ and China's OMG, starting at 5 PM PH Time, on September 25th.