By Frank 'Riot Mirhi' Fields - Sat 10/04 from lolesports.com

While Cloud9 (C9) didn't go into this match as favorites, fans and analysts had high hopes for the North American team. After a dazzling Game One, it looked as though the North American juggernauts might actually be able to knockoff the former OGN Champions; but it wasn't to be. With resilience and great strategic play, Samsung Blue (SSB) advanced to the Quarterfinals over Cloud9 3-1.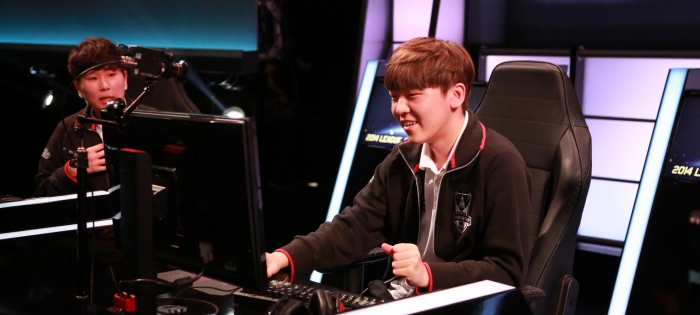 GAME ONE


The opening game started optimally for Cloud9. An early first blood fell into the lap of Hai at level one and great early pressure and outplays by Cloud9 in their side lanes gave them a great early game advantage. Their lead snowballed to the point of a five man dive bot lane, and great mechanical plays by all players resulted in a whitewash in favor of C9. From there it was just a matter of playing their superior advantage and ending the game shortly thereafter.

GAME TWO


Game Two started off relatively evenly, though it looked like Cloud9 might have earned the upper hand by outperforming Blue on a macro basis. However things changed when C9 misplayed bot lane and lost out four-for-one. They then tried to rush a dragon and got drawn into a second consecutive bad fight and got aced. While Hai tried one of the most clever backdoors we've ever seen, it ended badly in an ace and SSB ended the game immediately after.

GAME THREE


Cloud9's predictability came back to hurt them in Game Three. They attempted a jungle invade for the third consecutive game, only this time Samsung was ready for it and they earned an early advantage. Cloud9 was outmaneuvered in the mid game, which culminated in an ace by Samsung Blue to break the game open.

GAME FOUR


With Hai being forced onto Talon, and Dade getting his best champion (Yasuo), champion select looked dubious for Cloud9. A few early advantages again for Blue put them at a good lead. Cloud9 was able to break the game even again after two great team fights, including an ace-for-four and dragon after great plays by Sneaky and Balls. However a bad facecheck by Cloud9 into a Yasuo Steel Tempest whirlwind was C9's undoing.


The game was incredibly exciting down the stretch though, as Cloud9 managed three great pickoffs in a row, including on both carries. They decided in desperation to end the game, but came up just a little short.

LOOKING AHEAD
Sneaky was the player of the series, performing beyond expectations in every game, and earning Lucian respect bans after his brilliant performance Game One. Looking forward for Cloud9, a few improvements to Hai's champion pool and tightening up of individual positioning in skirmishes will go a long way to helping their chances next season.
For Samsung Blue, its a match against sister team Samsung White in their future. The two squads will clash for the third time in a major tournament semifinal -- Bluewon both previous encounters 3-1.