By Frank 'Riot Mirhi' Fields - Sun 10/05 from lolesports.com

In the battle between the LPL's best teams, there wasn't a clear cut favorite, but Star Horn Royal Club came in with all the momentum after their outstanding Group Stage. Meanwhile, Edward Gaming needed a tiebreaker against Southeast Asia team AHQ just to advance to the Quarterfinals. This match would highlight two of the best ADCs in the World, but as we found out, there is no match for Uzi.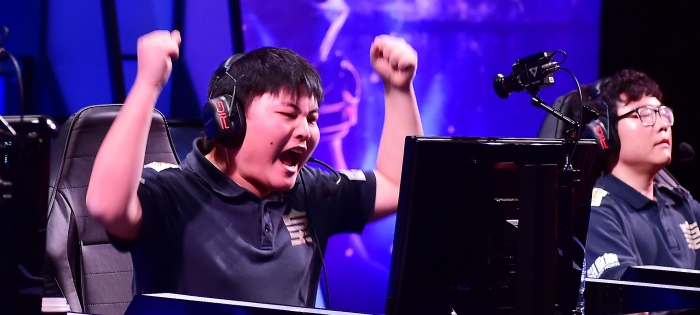 GAME ONE


The early game went in EDG's favor with a three-buff start and first blood for U. However, the game went in favor of Royal after Clearlove's LeeSyndrome got him killed and his team aced at Dragon. While EDG did fight back after Royal took an ill-advised Baron, Royal was still able to exert their will on the map. After taking all the outer towers, Royal was finally able to ace Edward Gaming after an incredible initiation and won the game.

GAME TWO


EDG controlled the early game in Game Two with aggression all over the map, including a tower dive to the inhibitor turret at eight minutes that resulted in a two-for-none fight. However the beginning of the end for EDG was when they over-chased bot lane and gave Uzi a quadrakill. Even after one slip up of another over-anxious Baron attempt, Royal maintained control of the game and Uzi dominated throughout.

GAME THREE


Once again in Game Three, EDG managed control over top lane and the overall early game, getting Koro's Ryze fed. EDG managed a series of well executed teamfights in the mid game and never gave up control. Royal managed to hold on through some great mechanical plays and Lee Sin kicks onto NaMei, but EDG's lead was nigh insurmountable.

GAME FOUR


Game Four started similarly to the previous with more top lane camping by EDG to get Koro rolling. The lane pressure led to towers all over the map and complete control for EDG. Uzi's Vayne pick was particularly unimpressive and he managed almost no contributions the entire game. The game was closed out relatively quickly after a three-for-one fight for EDG where they took Baron afterwards.

GAME FIVE


The deciding game was the closest of all -- fitting of a five game series. The two teams traded resources throughout the early game, with a few players getting ganked or caught out of position a few times. But still they maintained relative equilibrium. EDG started to lose control of the game after a team fight that went awry 23 minutes into the game. A 10 minute Baron dance finally ended when Royal picked off Koro's Rumble and they closed the game out shortly thereafter.

CHINA VS. KOREA -- THE DREAM

As we head to the last Quarterfinal match, the only thing that will stop a guaranteed Korea vs. China Final is a Korea vs. China Quarterfinal. OMG takes on NaJin White Shield for a right to play against Star Horn Royal Club. In a mismatch of styles, the aggressive and team-fight brawling OMG will hope to break through the strategic and methodical Shield.