By Frank 'Riot Mirhi' Fields - Mon 10/06 from lolesports.com

NaJin White Shield entered this match as heavy favorites after emerging from their group as the top seed. That was before OMG made a key change to their roster. They replaced the struggling Dada777 with Cloud -- a support who they had much more success with during the LPL season. In the end, OMG demonstrated absolute dominance and NaJin White Shield's players were exposed in key times. OMG's Gogoing was an absolute monster, leading OMG to a 3-0 thrashing of the Korean team.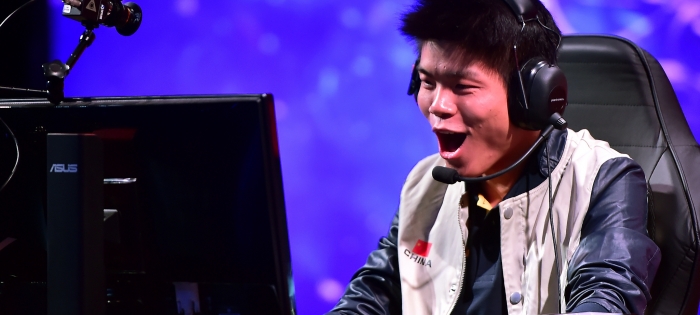 GAME ONE


The first match started off great for OMG, as a four person invade by both teams awarded them first blood. The early game was relatively even after this, but some great positional pickoffs gave OMG a lead in the mid game. Eventually, OMG found a substantial lead after a great Baron call took advantage of a hole in Shield's vision control. The game became assured after OMG counter-engaged and took Baron thereafter.

GAME TWO


OMG started off up huge in the second game. Early skirmishes, pickoffs, and objective and vision control put Shield on the back foot. OMG had beautiful initiations in the mid game, lead primarily by Loveling and Gogoing. The straw that broke the camel's back was a huge fight for OMG where they took out four members of Shield and their middle inhibitor.

GAME THREE


Shield was able to trade resources slightly better early on in the third game. But Cool's aggressive Zed play, coupled with Loveling's mastery over Watch in the jungle, ended up changing how Najin White Shield had to play in the mid game. Eventually, OMG's mechanical superiority at every position shone through as they punished Shield's lineup.

NOT WHO WE THOUGHT THEY WERE


OMG came out of this match a much better team than we initially thought. The difference between Cloud and Dada777 was visible from early on in Game One, and his play lead San to having successful series. Gogoing looked like the true best top laner in the world, completely subjugating Save. In addition, everyone on OMG stepped up: Cool returned to his Worlds 2013 form, Loveling exposed Watch's weaknesses, and San became the consistent ADC his team needed.
Looking ahead to the semifinals, Samsung will have a team kill while Star Horn Royal Club and OMG will play in yet another Best of 5 series. It's worth noting that while Star Horn Royal Club got the best of OMG in the Chinese Regionals, it was OMG who defeated Star Horn in two Best of 5 series in the LPL Summer Playoffs (3-2 each time).
The League of Legends 2014 World Championship action resumes next weekend with Samsung White vs. Samsung Blue on October 11 at 5:00 PM local time / 1 AM PDT / 10 CET.