The poll has ended and you have chosen the universities who shall get the chance to participate in the League of Legends Collegiate League's first season! It's now time to show off if you have what it takes to represent your alma mater by registering your teams for the LCL Online Qualifier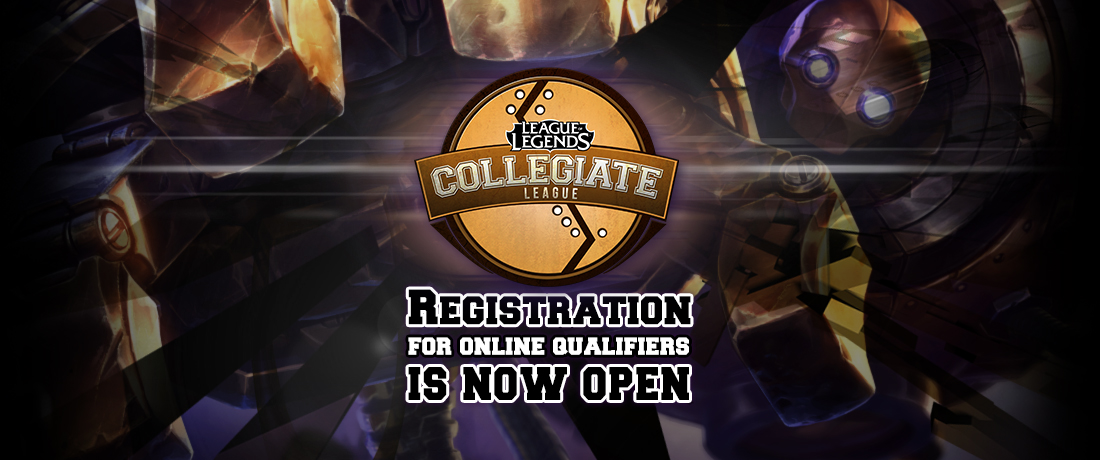 ---
How do I register my team?
---
In order to register for the League of Legends Collegiate League online qualifier, a team must have:
- Have a roster of minimum six (6) and maximum ten (10) players
- All members of the team should currently be college/tertiary-level students OR has been a student within the past six (6) months of any of the Collegiate League qualified NCR-based colleges or universities below (scanned copy of IDs and/or registration forms will be required during registration)
- Is currently not under any disciplinary sanction or suspension enforced by the university/college
- A player registered for a team will not be allowed to play for another team during the course of the qualifier (subject to disqualification)
- Post-Grads allowed (i.e. those taking masteral etc. can still join the Collegiate League)
To register, simply click on the logo below corresponding to the school you shall represent. Please make sure that you fully accomplish the registration form. Any registration with invalid or incomplete information will automatically be disregarded.


---
Form filled up! What's the next step?
---
Await further instructions to be posted on the Garena PH eSports website, LoL PH website and our Facebook pages for the list of qualified teams and specific instructions for the online qualifiers


---
What will the online qualifier be like?
---
As the name suggests, the qualifier will be completely online. You and your fellow aspiring teams who registered for the online qualifier will be placed on separate brackets based on the university/college you are representing (e.g. all those from School A will be on one bracket, all from School B together, and so on).
Once separated per university, the teams will then be placed randomly in a single eliminations format bracket and once we've given the go signal to start the qualifier, your teams will then have to fight your way to the top of your university's bracket (all matches are at best-of-one). Emerging victorious from your bracket will grant you the right to represent your alma mater in the regular season starting this December.



---
How can I be part of the Collegiate League even without a team?
---
Aside from throwing in your support for your alma mater's representative team, you can also be part of the Collegiate league by helping us run the day-to-day internal workings of the league by applying as a League Coordinator. If you're interested to know more information on what the responsibilities as well as perks of a League Coordinator is, you can CLICK ON THIS LINK

Should you have any further inquiries or concerns, feel free to post the on the LCL Inquiry Thread found on the official LoL Collegiate League Forum Section

Update as of 11/10/2014 12:58 PM
- Registration period will be extended until November 17, 2014 01:00 PM

Update as of 11/17/2014 05:36 PM
- Registration period will be extended until November 20, 2014 01:00 PM