All roads lead to the Annex Event Area, SM North EDSA on December 13 & 14, 2014 as months of action-packed League of Legends eSports action culminates in the TNC Grand Finale.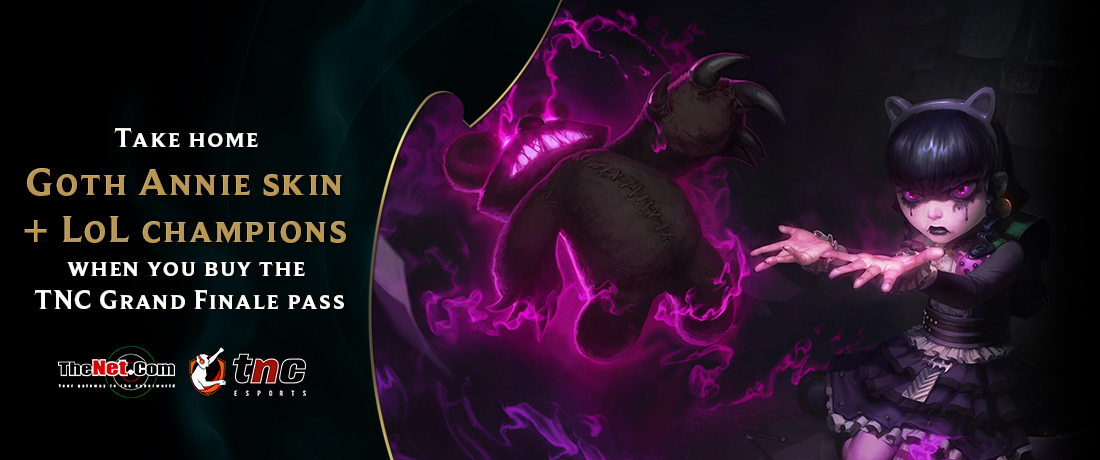 You can watch as the best League of Legends teams in the country compete in two days of non-stop eSports action. ADMISSION IS FREE but you may avail of the TNC Grand Finale PREMIUM PASS for only PHP 150 which would include the following freebies:
- Limited Edition TNC Lanyard
- Limited Edition TNC Ballers
- Limited Edition Philips Clappers
- Free Monster Energy Drink
- League of Legends Promo Code containing Goth Annie skin and champions (Annie, Ahri, Sona, Ashe, Brand, Caitlyn, Darius, Fiora, Garen, Katarina, Master Yi, Miss Fortune, Teemo, Tryndamere)
- Plus chance to win Steelseries gaming gears and other premium items in the raffle!
You can purchase the TNC Grand Finale Premium Pass from any of the following TheNet.com branches:
The-Net.Com(Padre Noval) click here to view map
The-Net.Com(R. Papa) click here to view map
The-Net.Com(Lerma) click here to view map
The-Net.Com(Intramuros) click here to view map
The-Net.Com(Recto) click here to view map
The-Net.Com(Legarda1/NTC) click here to view map
The-Net.Com(Legarda2/Arellano) click here to view map
The-Net.Com(Lagro) click here to view map
The-Net.Com(Cubao) click here to view map
The-Net.Com(Pasig) click here to view map
The-Net.Com(N.Roxas/Laong Laan) click here to view map
The-Net.Com(Headquarters/Main Office) click here to view map