Summoners! It's about time for you to join the most anticipated tournament in Manila this coming February 15, 2015 in Wargods Morayta! Check the information below! Prepare yourselves and be Legendary!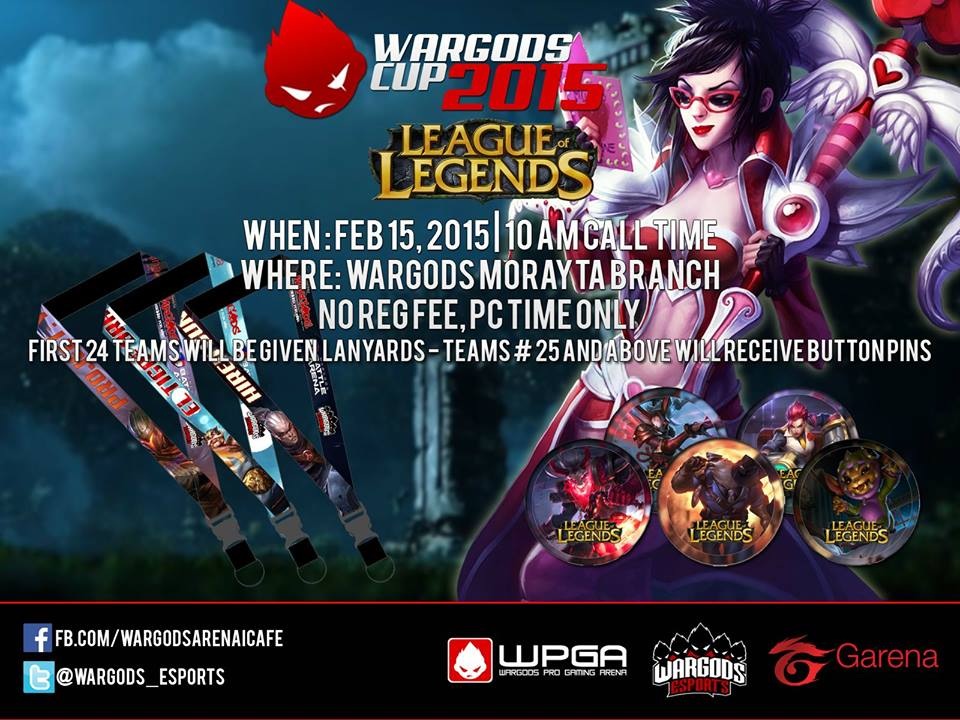 SHARE AND LIKE THESE EVENT TO WIN COOL PRIZES

TO JOIN:
1. like their page Wargods Arena Gaming Cafe
2. share saying: "LEAGUE OF LEGENDS WG CUP 2015 FEB. LEG WG MORAYTA"
3. comment tag 5 of your friends

3 LUCKY WINNERS WILL BE ANNOUNCED ON FEB. 14, 2015. SO WHAT ARE YOU WAITING FOR? JOIN NOW AND YOU GET A CHANCE TO WIN WARGODS ITEMS

WHAT : LEAGUE OF LEGENDS WARGODS CUP 2015 (FEB. LEG)

WHERE : WARGODS MORAYTA

WHEN : FEB 15, 2015 (SUNDAY)

TIME : 10AM (START REGISTRATION)

WARGODS LANYARDS FOR 1ST 24 TEAMS
WARGODS BUTTON PINS FOR 25 AND UP

No Registration - PC Time Only: Php 20.00

RULES:
TYPE: DOUBLE ELIMINATIONS
SEMIS-FINALS : SINGLE ELIMINATIONS

PRIZES:
1st Place: Php 3,500.00 + 5pcs. Exclusive Champion Ballers
2nd: Php 1,500.00
3rd: Php 1,000.00

**NO DISQUALIFICATION = PRIZES CAN NOT BE CLAIM THROUGH DISQUALIFICATION**

Point System:
1st -30pts.
2nd -25pts.
3rd -20pts.
4th -15pts.
5th -10pts.
6th- 5pts.
7th -5pts.
8th -5pts.