Here's yet another chance for Summoners from Mindanao to take a step towards being part of the Pro Gaming Series. Join the Challenger Circuit: Mindanao to be held this coming February 28, 2015 at the Dawn Bringer Net Cafe. Check below for more info.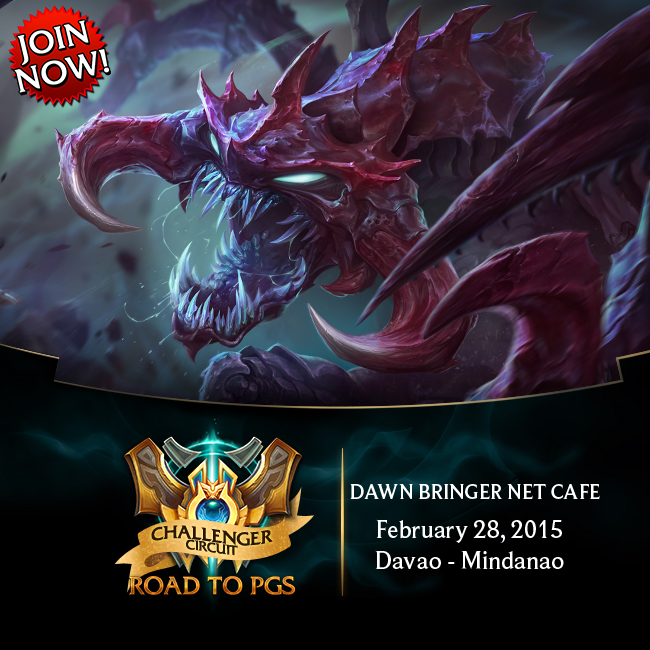 Date: February 28, 2015 - Saturday
Location: Fairlanes Bowling Compond F Torres Street Corner JP Laurel Avenue (Formerly Dimsum Diner Building) Davao City
Available Team Slots: Open to 32 teams
Call time: 12NN - 1PM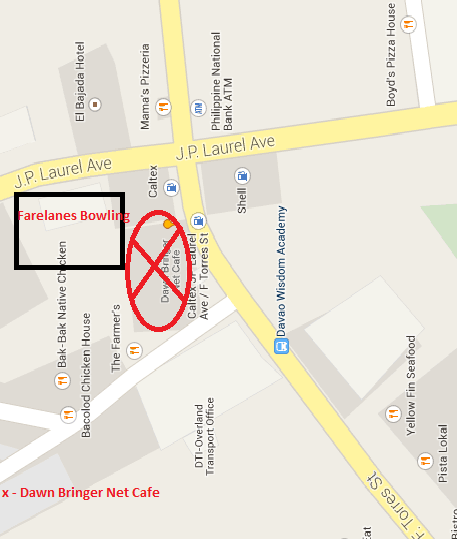 Register Online to this link and secure your registration slot by visiting the Cafe with P100/team as your reservation fee and PC rental fee. Excess of the Reservation Fee will be returned back to teams during the tournament.
Look for any Dawn Bringer Net Cafe staff for the placement of your team reservation fee consumable of PC use on or before March 26, 2015.
The following teams are not allowed to join:
- Naga eSports
- J2 eSports Betrayal
- Mineski.Globe
- WG.PID Diamond
- Pacific eSports
- Imperium Pro Team
- Imperium Pro Team Blue
- GameX.Wargods

CHAMPION: PHP 8,000 cash + 5 LoL Tshirt + 450 RP per player
2nd Place: PHP 4,000 cash + 300 RP per player
3rd Place: PHP 2,000 cash + 200 RP per player
4th place: PHP 2,000 cash + 200 RP per player
5th to 8th Place: PhP 1,000 cash + 50 RP per player
9th to 16th Place: 50 RP per player

CHAMPION: 15 points
2nd Place: 10 points
3rd and 4th place: 5 points each
5th to 8th place: 2 points each
The team with the highest points in Mindanao by a cut-off date (to be announced) will get a chance to compete with similar teams from across the country for a slot on the 2015 Summer Season of the Pro Gaming Series. For more info on PGS, you can check out the PGS Website - http://esports.garena.ph/pgs/ for updates.