Summoners! It's about time for you to join the most anticipated tournament in Manila this coming February 15, 2015 in Wargods Morayta! Check the information below! Prepare yourselves and be Legendary!
WHAT : LEAGUE OF LEGENDS WARGODS CUP 2015 (FEB. LEG)
WHERE : WARGODS PASIG
WHEN : FEB 22, 2015 (SUNDAY)
TIME : 10AM (START REGISTRATION)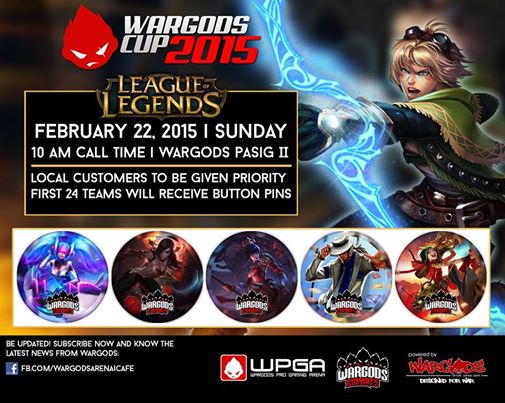 WARGODS LIMITED BUTTON PINS FOR THE 1ST 24 TEAMS
No Registration - PC Time Only: Php 20.00
RULES:
TYPE: DOUBLE ELIMINATIONS
SEMIS-FINALS : SINGLE ELIMINATIONS
PRIZES:
1st Place: Php 2,500.00 + 5pcs. Exclusive Champion Ballers
2nd: Php 1,500.00
3rd: Php 1,000.00
**NO DISQUALIFICATION = PRIZES CAN NOT BE CLAIM THROUGH DISQUALIFICATION**
Point System:
1st -30pts.
2nd -25pts.
3rd -20pts.
4th -15pts.
5th -10pts.
6th- 5pts.
7th -5pts.
8th -5pts.