Summoners from across the country, it's your chance once again to participate in the most anticipated league in the Philippines, the Pro Gaming Series 2015 - Summer Season. In order to do so, you have to earn points by joining the Challenger Circuit - Online/Offline tournament. The points accumulated before end season will be announced on September 2015. Bracket will be separated into 3: Luzon, Visayas and Mindanao brackets which will have their own Point system.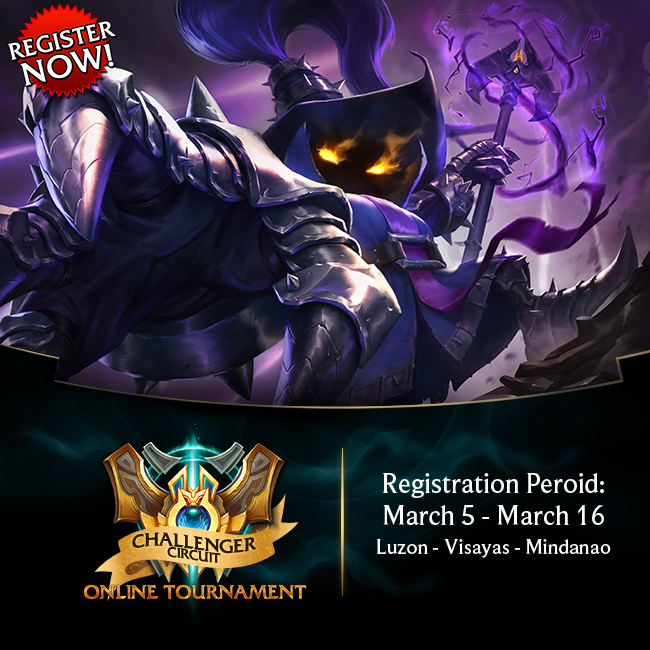 Check out the details below on how to register:
REGISTRATION
Registration for the online tournament will start on March 5, 2015 (Thursday) and will close on March 16, 2015 (Monday) at 12:00nn.
- At least five (5) members with Level 30 LoL Summoners Accounts
- Clan tags are NOT required
- Must be resident from each region: Luzon, Visayas and Mindanao
- Teams may consist of 5-6 team members (5 main & 1 reserve).
- Teams and Players from current season of the Pro Gaming Series are not allowed to join. CLICK HERE
- Players are required to provide their real names and User ID.
- STRICTLY NO CHANGING OF SUMMONER NAME DURING THE EVENT (even before your prizes has been inserted)
- Take note that summoners who are interested to participate in the LAN or Online Tournaments do not need to be in the Challenger Tier in order to join.
- Only registered players are allowed to participate.
- Both teams must post their agreed date and time of match on the designated match thread posted on the LoL forums.
REGISTRATION PROCESS
STEP 1: Like the Garena Philippines eSports Facebook page: https://www.facebook.com/gphesports/
STEP 2: Fill-up the Challenger Circuit - Online Tournaemnt registration form found here:
Luzon
Visayas
Mindanao
STEP 3: Team must wait for the official announcement bearing the list of confirmed participating teams by March 17, 2014 - 11:59 PM. The basis for the selection of participating teams will be on a first-come first-served basis with the date and time of when the registration was sent as the reference.
There will only be three(3) set of registration but the final 32 teams for each region will be grouped in just one bracket.
Matches are to be scheduled and results to be reported on the thread designated for your specific round and match found on the LoL Cyber League Forum.
PRIZES
Prizes for each bracket are as follows:
Champion : 500 RP per player
2nd place : 250 RP per player
3rd Runner up : 200 RP per player per team
4th Runner up : 200 RP per player per team
5th - 8th place : 150 RP per player per team
9th - 16th place : 100 RP per player per team
Register now and EMERGE VICTORIOUS!
If you have any concerns related to the League of Legends Cyber League, you can post here.
For more info about the Challenger Circuit Point System, clik

here

.