Originally posted on lolesports.com by Taylor ''Riot RoboTayCo'' Cocke and Leah ''SpiNN'' Jackson
"So, we were hoping to finish the series at Game 4."
Sounds about right. But for Won-seok "Pawn" Heo and the rest of Edward Gaming, a Game 5 victory was in the cards as well. After a back-and-forth series between Korea's No. 1 team, SKTelecom T1, and China's premier club, EDG emerged victorious at the inaugural 2015 Mid-Season Invitational.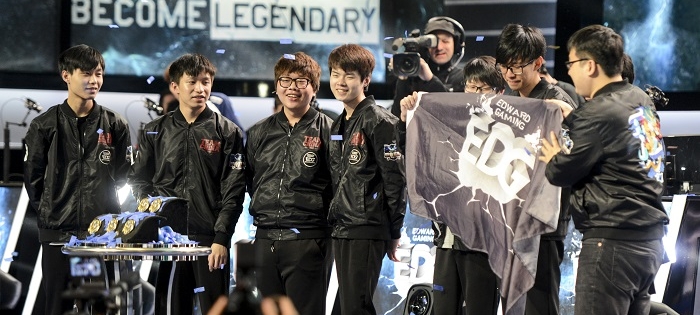 As Pawn tells it, though EDG lost Game 4 in a fairly lopsided way, his team felt good about taking the series to a fifth game.
"We had a positive mentality going into Game 5. And I think we did the best at bans and picks for Game 5."
That "best" involved giving Faker LeBlanc, a champion that he boasted a 12-0 win rate on. All part of the plan.
"We opened LeBlanc on purpose, hoping that Faker would pick [her], because I prepared Morgana as a counter-pick," he says. "Then he actually did pick Leblanc, so I was happy about that."
In fact, Pawn attributes the victory to this strong Picks and Bans phase, and not his own individual play.
"I didn't perform that well for the first two games. I played okay against Easyhoon in the third game. I was hoping to have a real advantage in Game 4, but I was kind of disappointed Faker was subbed for Easyhoon."
Despite that confidence, Pawn found himself at the mercy of Faker in Game 4. "In the fourth game, when I picked Azir, I didn't think Faker would have anything to pick, but he picked Kassadin, and I was kind of surprised."
But it didn't matter. Riding strong performances from Pawn, who went 7-2-15 on Morgana, as well as a shocking pick of Evelynn by MSI MVP Clearlove, EDG downed SKT in just over 37 minutes to earn their place at the top of the World. For now, at least.
"I'm still not satisfied!" said Pawn. "I'm going to win this year's World Championship as well, and be the first player to win three international tournaments."
Congratulations EDG!