We're back and we got buffed! The registration for the League of Legends Collegiate League 2015 Summer Split is now open. From 16 teams last split, we will now have 24 teams to battle it out to prove themselves to be worthy of being called the LCL Champions. Last season, the College of Saint Benilde managed to take the top spot to be the first ever holder of the LCL Championship title. Will they be able to defend the coveted title? Or will the other teams manage to take it away from them?
Polish your skills, take up your banners, and fight for your alma mater! Register now!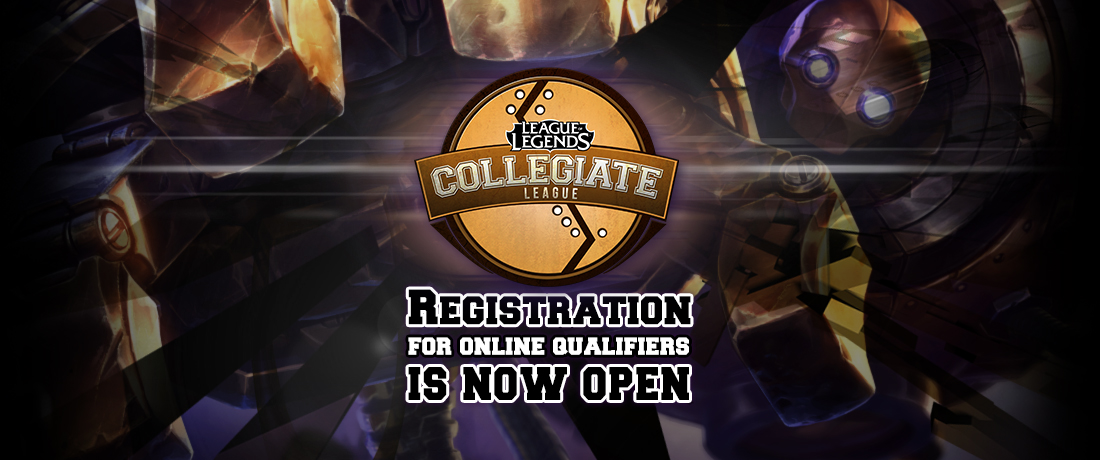 ---
League Expansion: From 16 to 24 schools!
---
Teams from different Universities/Colleges from the following locations can now register for the online qualifiers for LCL 2015 Summer Split:
- Baguio
- Bicol
- Cagayan de Oro
- Cebu
- Davao
- General Santos
- Iloilo
---
How do I register my team?
---
In order to register for the League of Legends Collegiate League online qualifier, a team must have:
- Have a roster with a minimum of six (6) and a maximum of seven (7) players
- All members of the team should currently be college/tertiary-level students of the SAME COLLEGE/UNIVERSITY. Graduates of the universities/colleges can also participate in LCL as long as they have graduated not more than six (6) months prior to the registration. (scanned copy of IDs and/or registration forms will be required during registration)
- Is currently not under any disciplinary sanction, suspension or academic probation enforced by the university/college
- A player registered for a team will not be allowed to play for another team during the course of the qualifier (subject to disqualification)
- All players on the roster should not be a part of the roster of any teams participating in the current season of the Pro Gaming Series
To register, simply click on the logo below corresponding to the school you shall represent. Please make sure that you fully accomplish the registration form. Any registration with invalid or incomplete information will automatically be disregarded.


If you're a student in a University/College in any of these locations, you can register your team by clicking on the images corresponding to your location below. Again, any registration with invalid or incomplete information will automatically be disregarded.
---
Form filled up! What's the next step?
---
Await further instructions to be posted on the Garena PH eSports website, LoLPH website, and our LoL official Facebook fanpage for the list of qualified teams and specific instructions for the online qualifiers.
Online registration will only be until noon of May 19, 2015 (11:59 AM). Registration would be immediately closed after the cut-off time.
Update: Online Registration is extended until Friday, May 22, 2015 (11:59 PM)!
---
What will the online qualifier be like?
---
As the name suggests, the qualifier will be completely online. You and your fellow aspiring teams who registered for the online qualifier will be placed on separate brackets based on the university/college/location you are representing (e.g. all those from School A will be on one bracket, all from School B together, and so on).
Once separated per university, the teams will then be placed randomly in a single eliminations format bracket and once we've given the go signal to start the qualifier, your teams will then have to fight your way to the top of your university's/college's/location's bracket (all matches are at best-of-one). Emerging victorious from your bracket will grant you the right to represent your alma mater in the regular season starting this June.
---
What are the prizes in competing in the Collegiate League?
---
Aside from the honor and fame that comes together with their rise in the Collegiate League standings, the teams will also be receiving the following prizes at the end of the season:
| | | |
| --- | --- | --- |
| | Cash Prize | Prize for the University/College |
| Champion | PhP 35,000 | PhP 20,000 (in cash or item donation) |
| 2nd Place | PhP 15,000 | PhP 10,000 (in cash or item donation) |
| 3rd - 4th Place | PhP 5,000 | PhP 5,000 (in cash or item donation) |
| 5th - 6th Place | PhP 2,000 | |
| 7th - 12th Place | PhP 1,000 | |
Players from each of the 16 Collegiate teams will also be receiving 500 RP incentive every month during the course of the LoL Collegiate League 2015 Spring Season.
---
How can I be part of the Collegiate League even without a team?
---
Aside from throwing in your support for your alma mater's representative team, you can also be part of the Collegiate league by helping us run the day-to-day internal workings of the league by applying as a League Coordinator. If you're interested to know more information on what the responsibilities as well as perks of a League Coordinator is, you can CLICK ON THIS LINK.

Should you have any further inquiries or concerns, feel free to post the on the LCL Inquiry Thread found on the official LoL Collegiate League Forum Section.