Vacation is almost over but the action still continues in eSports as the third leg of the TNC eSports Cup 2015 League of Legends Division happens this weekend - May 15 to 17.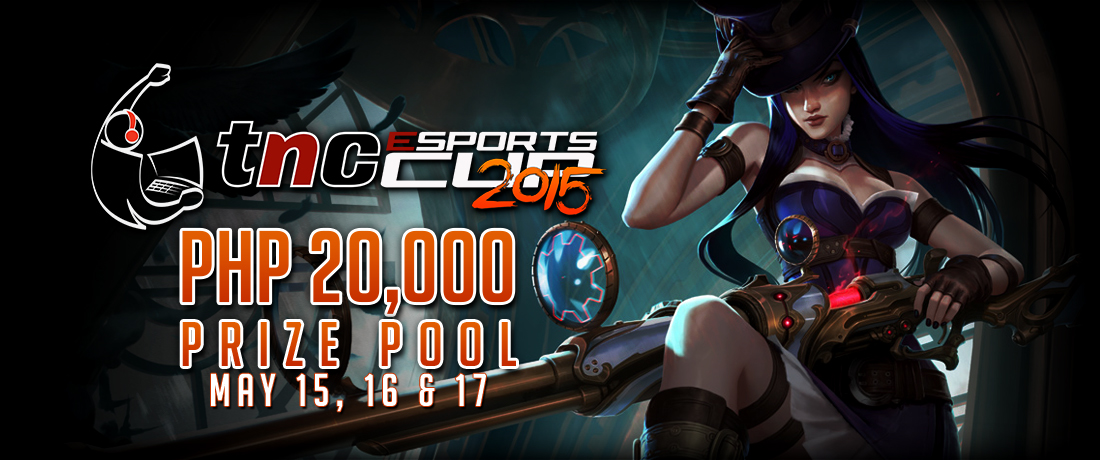 Registration Process
Online Qualifiers - May 15, 2015
Step 1 – Fill up the form found on this link
Please remember the following:
1. Incomplete information will make your entry invalid.
2. Multiple entries of a single team will make your entry invalid.
3. Make sure to submit your entries before the cut-off time.
4. Always check if you are on the right Month or Leg. Should you submit your registration to the wrong Month or Leg, your entry will be invalid.
5. All the members of the team should enter their own Facebook account. Should the organizer found out that a team is using a dummy account, the team will be disqualified.
Step 2 – After the registration, the team members or the team captain must join this group.
Link: https://www.facebook.com/groups/tncesportscup2015.leagueoflegends
This group will serve as the common channel where announcements, brackets, check-in threads, and match updates will be posted.

Registration for the Online Qualifiers will close on May 14, 2015 - Thursday at 8:00 PM
Check-in Time: May 15, 2015, 6:00 PM - 7:00 PM
Start time of Tournament: 7:00 PM

TNC Branch Qualifiers - May 16, 2015
Teams that will participate in the TNC Branch Qualifiers must register in the branch where they will be playing.
All Online Finals - May 17, 2015
The qualified teams for Day 3 or All Online Finals will be announced right after the Day 2 qualifier ends.


Prize Breakdown
Champion: P10,000.00
1st Runner-up: P5,000.00
2nd Runner-up: P3,000.00
3rd Runner-up: P2,000.00

For questions and concerns, you can message TNC Gaming at https://www.facebook.com/tncgaming.official