Originally posted on lolesports.com by Magus
As we begin the march towards the 2015 World Championships, we're excited to reveal the final seeds per region. Below is a breakdown of the regional seeding for the upcoming 2015 Worlds compared to the 2014 tournament: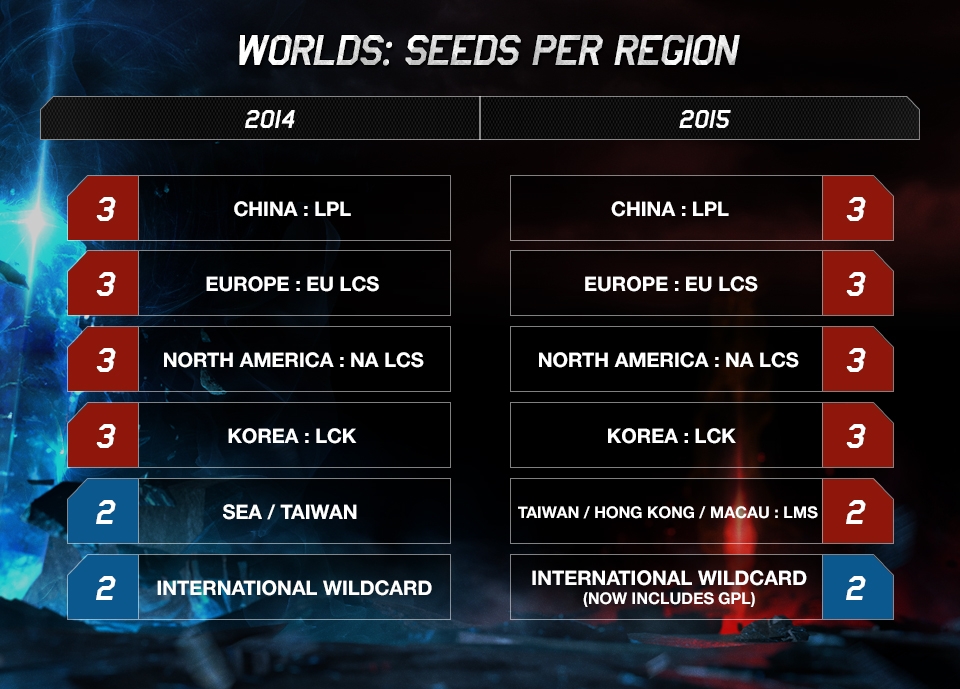 WHAT'S CHANGED AROUND SEEDING?
For the most part, the seeds per region haven't changed between 2014 and 2015 with the exception of Southeast Asia and Taiwan.
Southeast Asia: GPL and LMS
In 2014, the GPL included the top teams from both Taiwan and Southeast Asia. After the split of last year's GPL into the LMS (composed of the top teams in Taiwan, Hong Kong and Macau) and the current GPL (composed of teams representing the rest of Southeast Asia), we've transferred the league's two guaranteed seeds to LMS, while also giving GPL a qualification path to Worlds through an International Wildcard Qualifier.
Based on historical and recent performance, we feel that LMS merits the two seeds that it historically earned through the GPL, while the new GPL deserves a chance to compete for a spot at Worlds with other growing markets in the International Wildcard Qualifiers.
International Wild Card Regions and Qualifiers
Two new leagues, Southeast Asia's GPL and Japan's LJL, will join the fight to be a part of Worlds. They will participate along with Oceania, Latin America, Commonwealth of Independent States (CIS), Turkey, and Brazil in the International Wild Card Qualifiers. The top team from each IWC region will compete in two qualifier tournaments, each of which will qualify a single team to participate in 2015 Worlds:
Qualifier 1: CIS, Brazil, and Latin America
Qualifier 2: Southeast Asia, Turkey, Japan, and Oceania
The first IWC Qualifier tournament will be played in Chile and the second IWC Qualifier will be played in Turkey.
We'll share more information about the Group Draw as we get closer to Worlds, as well as following each region's progress as teams get closer and closer to the 2015 World Championship. Tune in along with us to see which teams will qualify to represent their regions at Worlds in Europe later this year.