The Garena Premier League Summer 2015 began its first set of explosive matches between the top teams of the Garena region last June 24, 2015. Among the countries who sent a total of 16 teams, the Philippines competes for supremacy through three hopefuls: GAMEX.Wargods, Mineski.GLOBE, and Imperium Pro Team. The tournament consists of three stages structured to slowly cut down the contenders to a mere four teams for the last clash. The champion takes $20,000 in prize money and the glory that comes with it.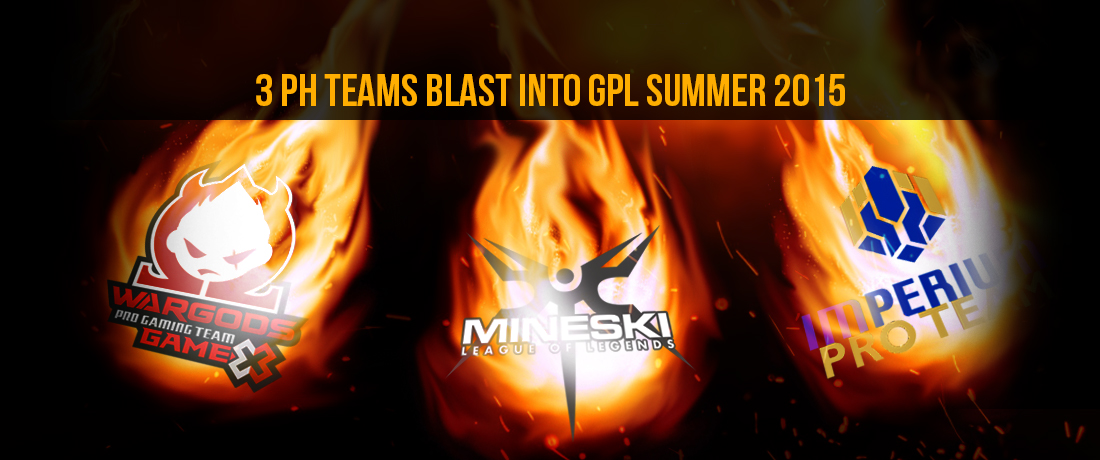 More details on the Garena Premier League Summer 2015 here.
That coveted top spot is what drives the country's best to move forward in both local and international eSports endeavors. Each of them has been recognized for their potential to showcase their power on the Rift. Now it's simply a question of which team can bring it and win it.
GAMEX.Wargods, the Summer Superiors
GAMEX.Wargods is the team that has become synonymous with victory. Their reign seems almost absolute as they continue to sit atop the eight teams in the Pro Gaming Series 2015 Summer Split. With just a week into the GPL, they have already made their mark with WG Stronger topping the boards for kill participation.

More on GAMEX.Wargods here.
Mineski.GLOBE, the Comeback
If there's a team that knows full well what it takes to make it to the world stage, it's Mineski.GLOBE. Their legend has inspired countless others to take up the call to pro play and their dream to return persists even today. Witness the start of their comeback with their first battle tonight.

More on Mineski.GLOBE here.
Imperium Pro Team, the Growing Force
The fresher team of the three, Imperium Pro Team shows that it's never too late to get started. Barely two years into the professional scene, IPT has already caught up with household superstars like Wargods and Mineski. Their ability to go head-to-head with Wargods on the GPL arena and coming out at 1-1 in the first week is sure to impress.

More on Imperium Pro Team here.
With these three top tier teams joining the ranks of the Garena Premier League Summer 2015, we are in for quite a show for the next months.
Catch it live every WED to FRI straight from our very own Garena shoutcasters at Garena eSports.