October marks the climax of every League of Legends Season: Worlds. As we get closer and closer to the 2015 World Championship, matches come in a flurry, and sometimes it's hard to keep track of what's happening. Many teams have played through Regionals and punched their ticket in the past few weeks, and we're here to help you catch up if you need a refresher.

WHO IS PLAYING AT WORLDS?
Top teams from Korea, China, Taiwan/Hong Kong/Macau, North America, and Europe receive direct invitations to Worlds, while squads from Wildcard regions qualify via an International Wildcard Tournament.
Three teams from North America, Europe, Korea, and China qualify, while two from Taiwan/Hong Kong/Macau qualify. Two teams from International Wildcard regions qualify.
The teams attending Worlds are:
Korea
SKTelecom T1

KOO Tigers

KT Rolster
China
LGD Gaming

Edward Gaming

Invictus Gaming
Taiwan / Hong Kong / Macau
ahq e-Sports Club

Flash Wolves
North America
Counter Logic Gaming

Team SoloMid

Cloud9
Europe
Fnatic

H2K

Origen
International Wildcard Qualifiers
Bangkok Titans

paIN Gaming
WHAT ARE THEY PLAYING FOR?
In addition to international pride and glory, teams are competing for the chance to be the 2015 World Champions, the Summoner's Cup, and a prize pool of over $2,000,000 USD. Teams will earn prize money based on their finish in the event.
* World Champion - $1,000,000 USD
* 2nd place - $250,000 USD
* 3rd / 4th place - $150,000 USD
* 5th - 8th place - $75,000 USD
* 9th - 12th place - $45,000 USD
* 13th - 16th place - $25,000 USD
TOURNAMENT FORMAT
Worlds is played out in two stages: A Group Stage followed by a Knockout Stage.
Group Stage
There are four groups comprised of four teams each, and a number of rules that dictate which teams can be in which groups.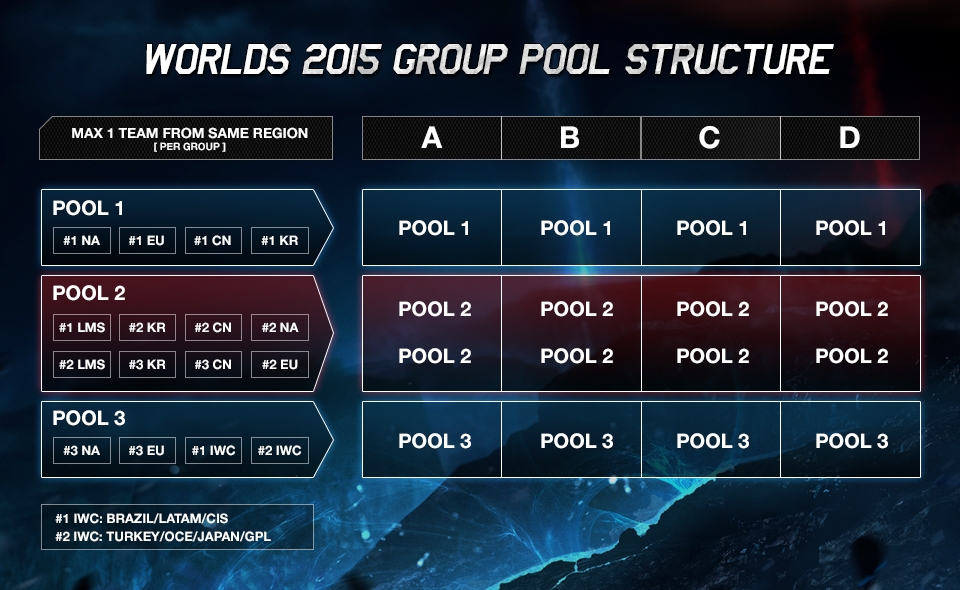 The above graphic illustrates the core policy about group distribution. Each group may only have one team from any given region (no two teams from the same region will play in Groups). The No. 1 seeds from NA, EU, CN, and KR will be in different groups, and other teams are distributed based on perceived and historical strengths.
The exact placements will be determined by random draw. The Group Draw Show will take place September 12, at 1pm (-5 GMT) Pacific Time or 22:00 (+1 GMT) Central European Time. You can find out exactly who your favorite teams will be playing in the Groups then.
The format of the Group Stage is a Best of 1, double Round Robin -- this means each team in a group plays all other teams in that group twice. The top two teams from each group will advance to the Knockout Stage, while the bottom two teams will be eliminated.
Knockout Stage
The Knockout Stage is also colloquially referred to as the Bracket Stage. At this stage, the event changes to a Single Elimination bracket. The top two teams from each Group are placed in the Quarterfinals based on their Group finish.
Additionally, in the Knockout Stage, the format changes to Best of 5 matches instead of the Best of 1s from the Group Stage. However, similar to the Group Stage, there are some rules that regulate which teams can play each other in the Quarterfinals and Semifinals.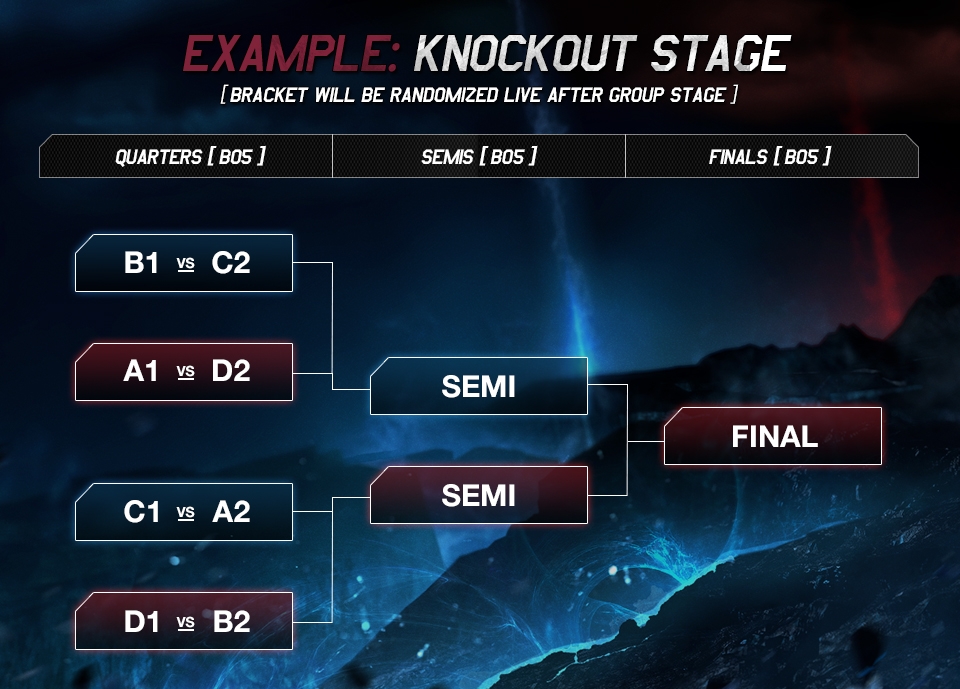 No two teams from the same group can be placed on the same half of the bracket (meaning, they would not play until the Finals). In addition, each Quarterfinal will feature one No. 1 seed and one No. 2 seed from Groups. This organization rewards the higher seeds for their performance in the Groups, and prevents rematches before the Finals.
Using this guide, the teams will be matched up randomly.
The winner of the Knockout Stage will be crowned our 2015 World Champion!
HOW CAN I WATCH?
The Group Stage is broken up over the course of two weekends. The Quarterfinals, Semifinals and Finals will all be held a week apart from one another. Tickets are sold out for now, but we will be releasing additional tickets for Worlds in the future. Check back to this post and lolesports for details. If you aren't able to grab a ticket and don't have one, it's okay! We'll still bring the event to you online throughout October.
Group Stage
Dates: October 1-4 and 8-11
Location: Paris, France
Le Dock Pullman, batiment 137, 50 avenue du Président Wilson, 93200 La Plaine Saint-Denis, France
Quarterfinals
Date: October 15-18
Location: London, England
SSE Arena Wembley, Arena Square, Engineers Way, London HA9 0AA, United Kingdom
Semifinals
Date: October 24-25
Location: Brussels, Belgium
Brussels Expo, Place de Belgique 1, 1020 Ville de Bruxelles, Belgium
Finals
Date: October 31
Location: Berlin, Germany
Mercedes-Benz Arena, Mercedes-Benz Arena Berlin, Mercedes-Platz 1, 10243 Berlin, Germany
Coverage begins on October 1, 2015 with Group Stage 1. You can watch streams in almost any language here on Lolesports.com. Also, stay tuned after the show for Worlds Tonight, a new 15-minute show that recaps the events of the day and gets you caught up to speed on the big takeaways. We'll of course also have PrimeTime League, coming to you from Paris, London, Brussels, and Berlin. Learn about the matchups, listen in on the Pros with Mic Check, and countdown the biggest plays of the 2015 Championship in The Penta!
Make sure you check back to Lolesports.com for all your 2015 Worlds information and content!
Check back to this post for more information about merch and other activities at Worlds.