Originally posted on lolesports.com by Leah "Spinn" Jackson
At last, we come to Group D.
Featuring the No. 1 Chinese seed along with three teams that each finished in 2nd place in their respective Summer Splits, this looks to be one of the toughest and most closely matched groups competing at the 2015 World Championship.
TEAMS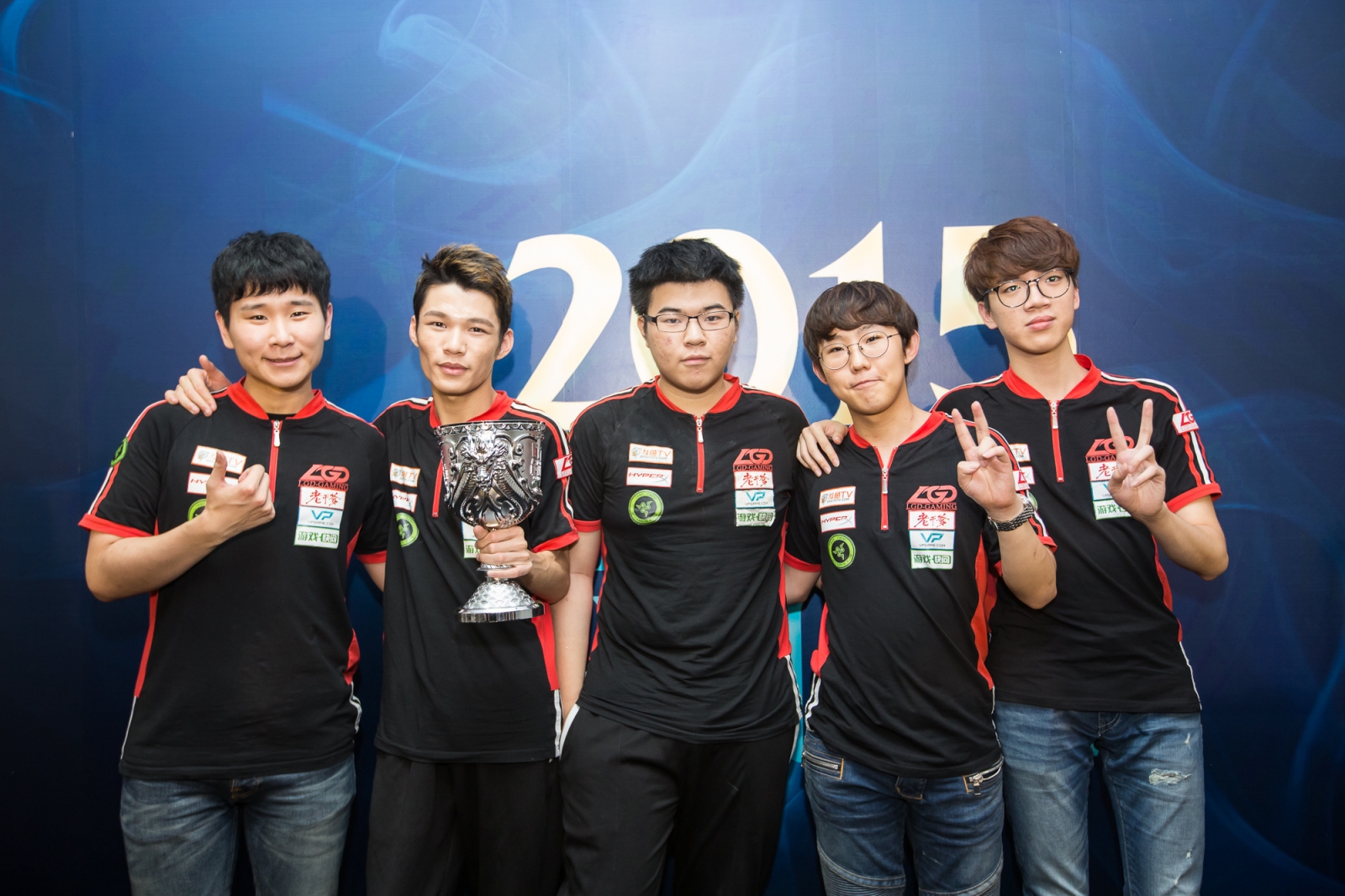 LGD Gaming
â–  Top: Cheon-ju "Acorn" Choi
â–  Jungle: Zhu "TBQ" Yongquan
â–  Mid: Zhen "GODV" Wei
â–  ADC: Seung-bin "imp" Gu
â–  Support: Chen "Pyl" Bo
LGD Gaming added two Korean rockstars to its starting roster for the 2015 LPL Spring Split: World Champion and former Samsung White AD carry imp and former Samsung Blue top laner Acorn. After faltering in the Regular Season and placing 6th in their first LPL Split together, LGD came back strong in the Playoffs. They finished with back-to-back 3-0s against OMG and Snake, before the Mid-Season Invitational champions Edward Gaming finally took them down 3-2.
The team faced some hiccups in the early part of LPL Summer when their starting support and captain Pyl was out for jaw surgery, and it took a while for them to gel when he returned. But once they did, LGD soared. In the Playoffs Semifinals they once again met up with Edward Gaming, and this time, LGD came out on top. In a dominant series, LGD swept Edward Gaming 3-0 before going on to win the Summer Finals against the Qiao Gu Reapers.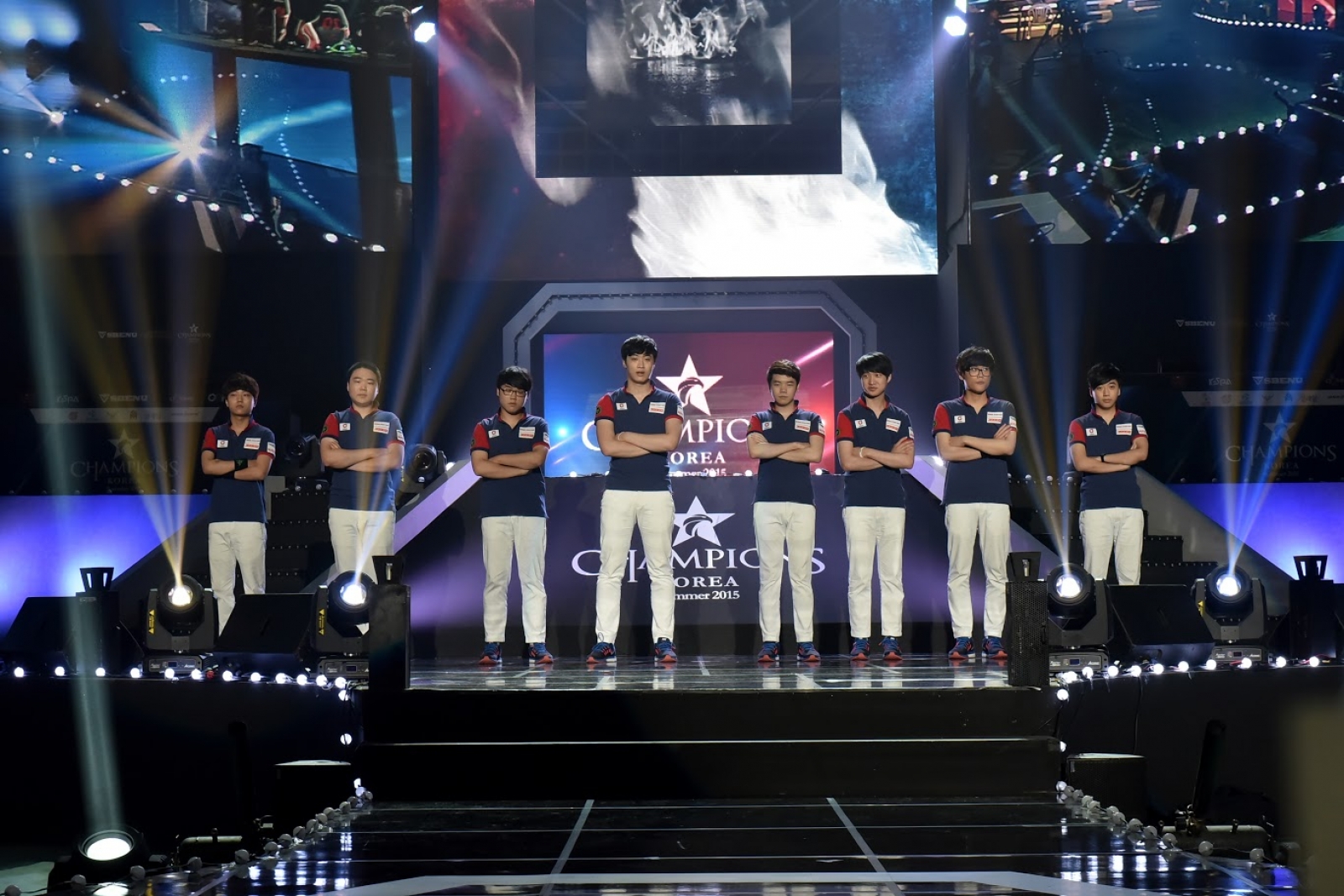 KT Rolster
â–  Top: Chan-ho "Ssumday" Kim
â–  Jungle: Dong-bin "Score" Go
â–  Mid: Sang-moon "Nagne" Kim
â–  ADC: Dong-hyeon "Arrow" No
â–  Support: Jong-beom "Piccaboo" Lee
After making it to the LCK Summer Finals three years in a row, KT Rolster are finally heading to their first World Championship. Yet the path wasn't easy for them. When the Spring Split started, KT struggled after losing stars KAKAO and RooKie to China's Invictus Gaming. And even with a late rush of victories in Spring, they still finished just outside of the Playoffs in 5th place.
Bolstered by the addition of support Piccaboo in the latter half of Summer, KT made a strong run through the second split of the LCK. Piccaboo was talkative, aggressive, and worked with jungler Score to set up vision and make plays around the map. They ended up all the way in the LCK Summer Finals against SKTelecom T1, where they swiftly fell 0-3. Down but not out, KT put a finish to the Jin Air Green Wings' run through Korea's Regional Qualifiers, coming out victoriously and -- at last -- punching a ticket to Worlds.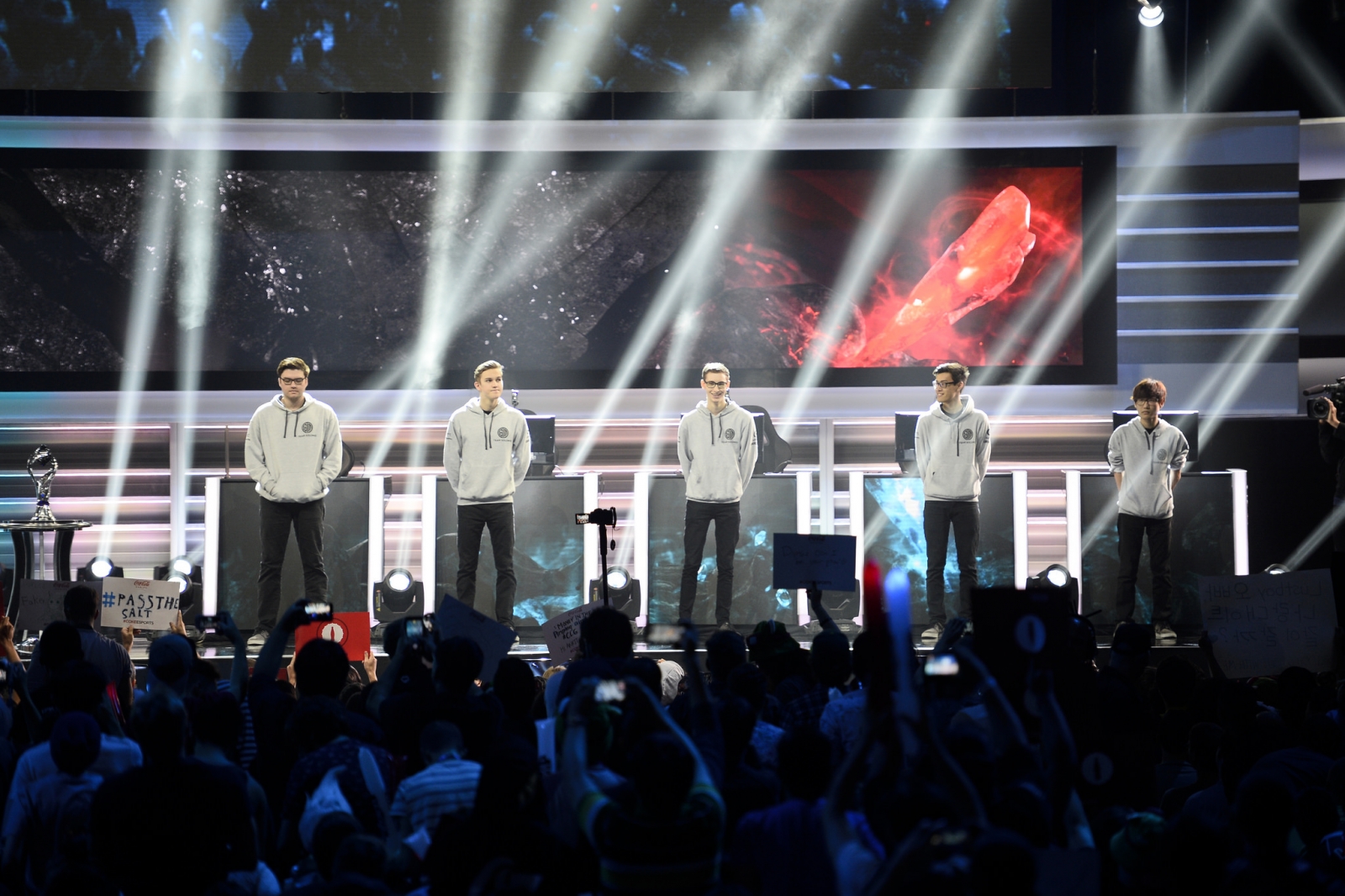 Team SoloMid
â–  Top: Marcus "Dyrus" Hill
â–  Jungle: Lucas "Santorin" Larsen
â–  Mid: Søren "Bjergsen" Bjerg
â–  ADC: Jason "WildTurtle" Tran
â–  Support: Jang-sik "Lustboy" Ham
This has been a year of ups and downs for Team SoloMid. They looked in top form back in March when they won the IEM World Championship. At the time, they relied largely on diverting their resources to get their star mid laner Bjergsen in a strong position to carry games. Leaning on this seemingly solid strategy, TSM went on to win the 2015 NA LCS Spring Split over Cloud9 the following month.
But a few weeks after TSM's back-to-back first-place finishes, their one-dimensional style was heavily exposed by the international competition at the Mid-Season Invitational, prompting TSM to spend the majority of the Summer Split revamping their one-dimensional strategy and developing into a more well-rounded team. While they've still managed to make it to their fifth World Championship, TSM is entering the tournament under a lot of pressure to perform after a crushing 0-3 loss from their rivals Counter Logic Gaming at the NA LCS Finals.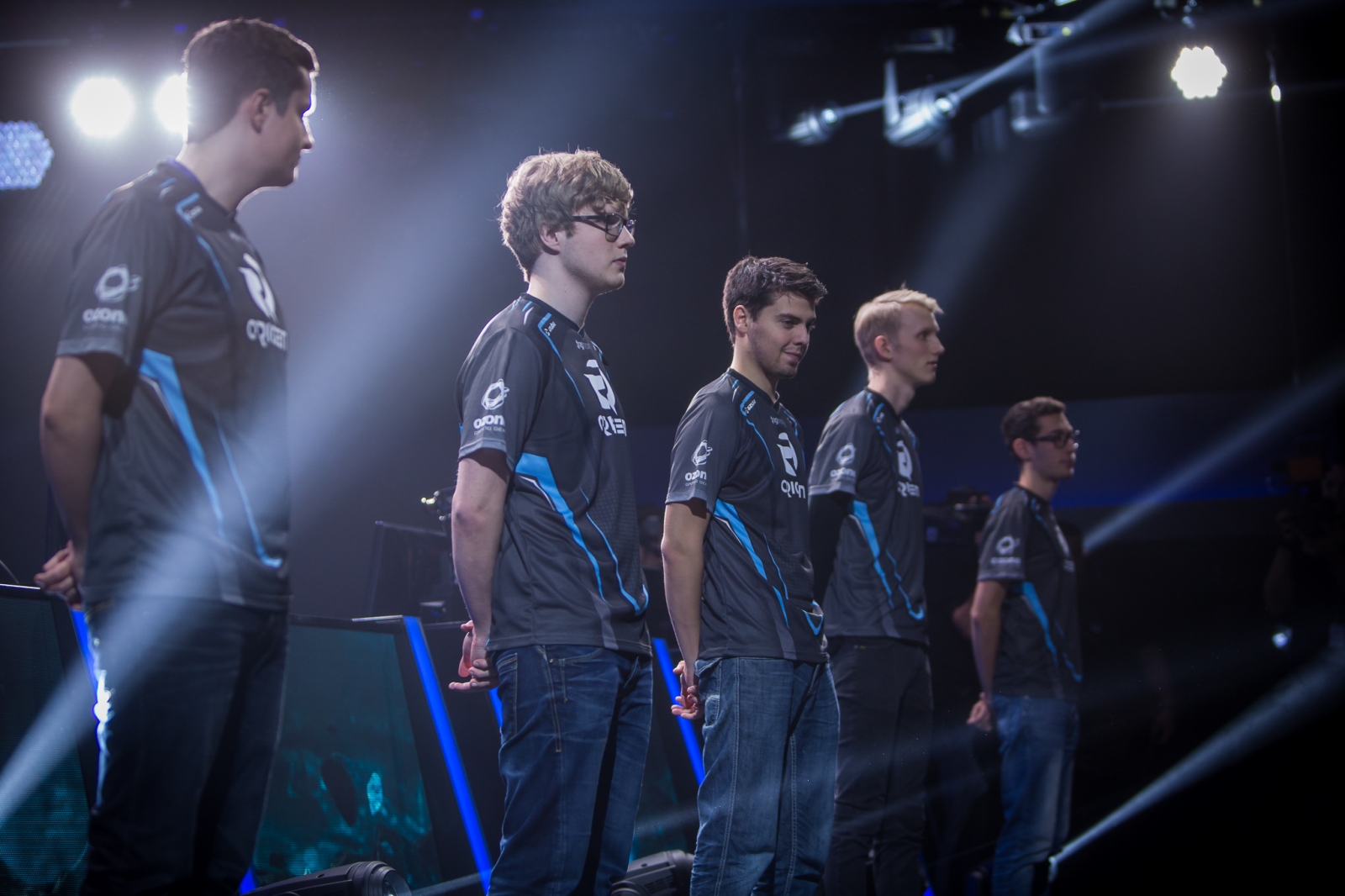 Origen
â–  Top: Paul "SoaZ" Boyer
â–  Jungle: Maurice "Amazing" Stückenschneider
â–  Mid: Enrique "xPeke" Cedeño Martínez
â–  ADC: Jesper "Niels" Svenningsen
â–  Support: Alfonso "mithy" Aguirre Rodriguez
Origen remarkably earned a trip to Worlds after having only participated in one LCS split. Hand-picked by World Champion xPeke, this squad of seasoned veterans and rookies alike quickly reached its goal of becoming an elite LCS team in less than a year.
Their road to Worlds was swift and impressive. Coming off a 9-1 record in the 2015 EU Spring Challenger Series to make their way into the EU LCS, Origen cruised through much of their debut LCS Split while avoiding many of the growing pains we've come to expect from new rosters. Relying on their three diverse carry threats of xPeke, SoaZ, and Rookie of the 2015 EU LCS Summer Split, Niels, Origen made it all the way to the Finals, where they snatched away Fnatic's undefeated record before falling to them in a heroic 3-2 series. Not content to give up so close to the finish line, they rose through the Regional Qualifiers and secured their spot at the World Championship.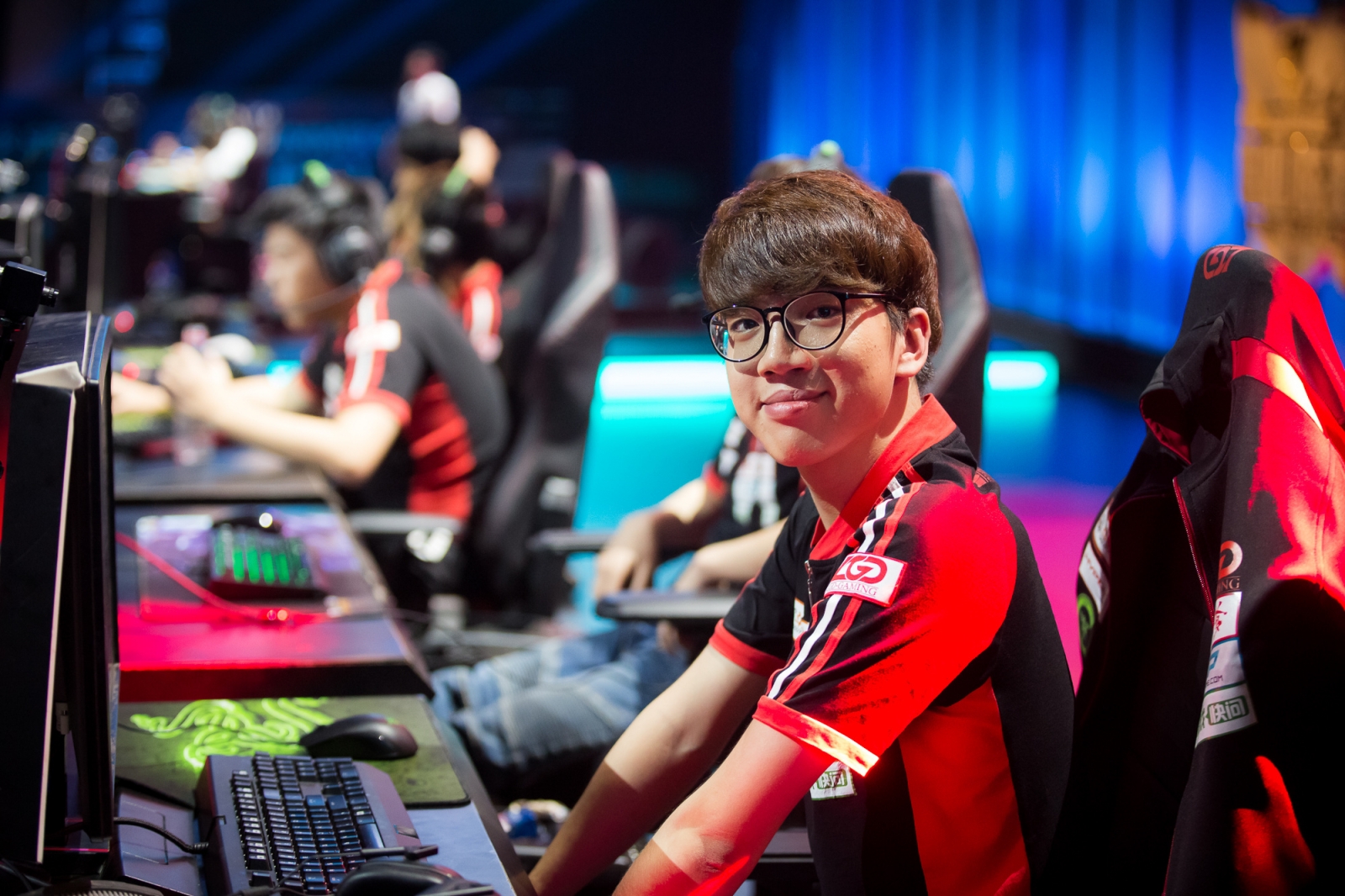 Group Dynamic
LGD Gaming is considered the heavy favorite in Group D and looks to be a strong contender to take the Summoner's Cup. Why? Because their confident, oppressive style, minion control, and strength at every position make them a nightmare at all stages of a game. They'll bring constant kill pressure regardless of who they're playing and take multiple objectives after they've put an enemy in the ground. While many of the teams in Group D often aim to scale up or split-push, LGD won't let them do either. Moreover, their technical prowess will make it hard for any team who tries to stand up to them.
Aside from LGD, the other teams in Group D are more evenly matched. Will Origen build around xPeke's Varus and poke? Will they bring global pressure with SoaZ's split-pushing Gangplank or Shen? Will they scale up around Niels' monstrous Kog'Maw or Vayne? It's all on the table. And while they could be exploited while trying to reach power spikes, Origen's got a nice variety of strategies to work with against every team in the Group.
KT and Origen have similar champion pools across the board, and we've seen them both excel with a split-push style. But at their best, the roaming duo of Score and Piccaboo are more adept at gaining advantages across the map for their team than their counterparts in Group D. The aggressive priority KT places on forward vision -- which we haven't seen as strongly from Origen or TSM -- also allows KT's laners to stay safe and quickly react to ganks. So if a team can keep Piccaboo in lane and slow down Score, they'll be able to expose a huge weakness in KT's strategy.
Team SoloMid could get overwhelmed by teams forcing early-game aggression if they stick to their timid, scaling style. And if Dyrus gets too far behind any top laners in Group D, he'll get punished. Every top laner here can carry, and Ssumday especially will push down top, then shift to split-pushing every lane if given even the slightest advantage. But what TSM has going for them is their excellent team fighting, which can't be discounted. If TSM's able to force the split-pushers to waste their Teleports around a late-game objective, it could provide them the opportunity needed to take a game-deciding fight. Dyrus has shown he can tip the scales of a fight with a slick Teleport flank, but against these seasoned teams, it will be a much tougher task.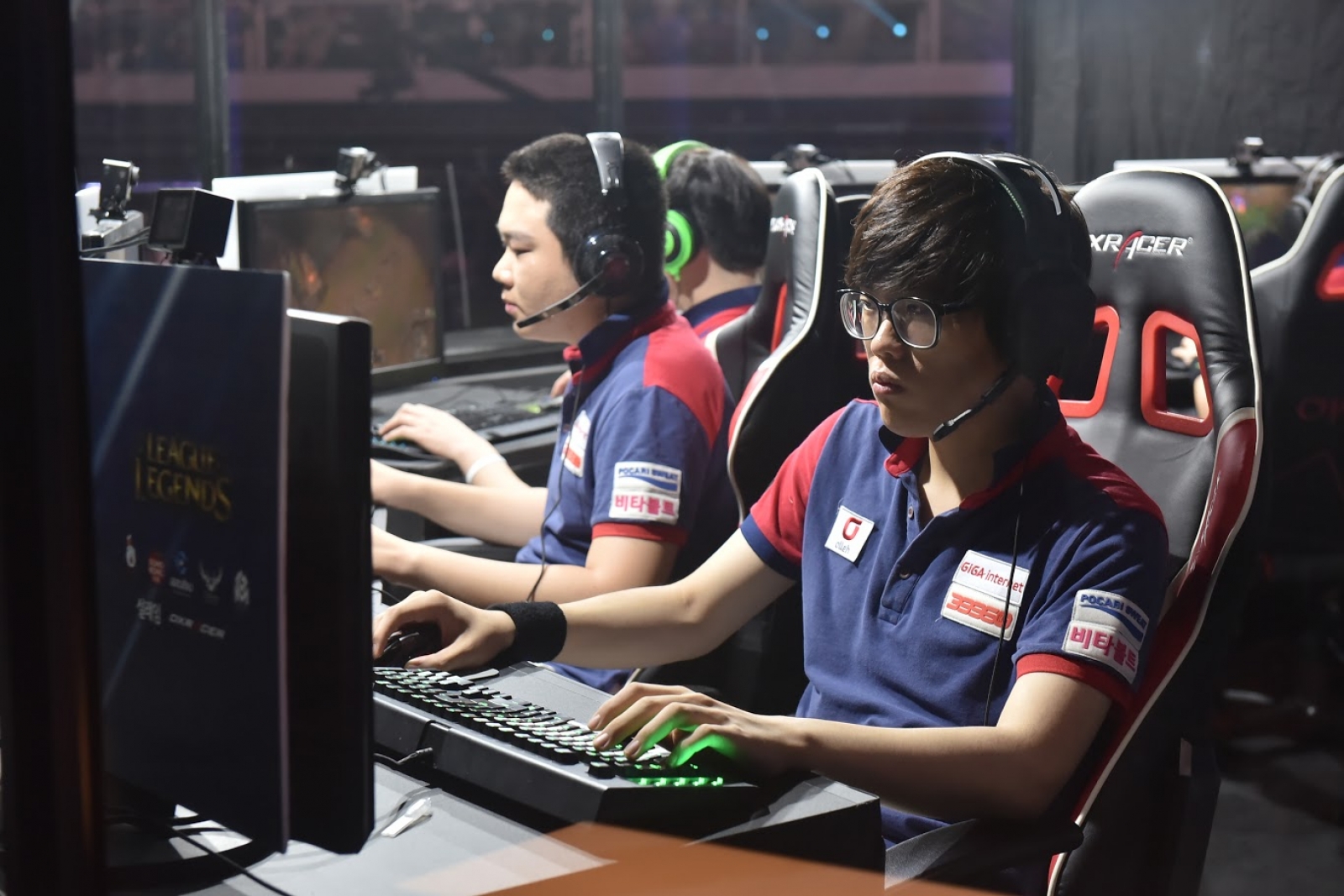 Playstyles
Aside from LGD, who seemingly emphasizes killing over all else, Group D is one of the closest in terms of play styles. We'll get to see how teams have prepared to dismantle the well-known styles of several squads, and if these squads have adapted to show off some new top lane carries. Overall, there are two main themes in the group, coming at you from the north and south of the Rift.
This is the group of top-lane studs. Ssumday, SoaZ, Dyrus, Acorn, and Flame, LGD's substitute top laner, have all shown their versatility with the ability to tank, carry, or split-push for their teams as needed. Now they'll be in the spotlight at a time when the top meta has shifted to add juggernauts and viable fighters to the mix, opening up even more opportunities for top laners to make an impact.
At the opposite end of the map, the supports of Group D aren't there to babysit their carries. Piccaboo and Pyl especially are more often in other lanes than their own, roaming in some cases for several minutes with their junglers. Opting into a 1v2 could be dangerous for every team. It would allow these supports to saunter away and create advantages in other lanes, dropping protective wards on their own side of the map and aggressive wards in the enemy jungle along the way. They're all known to do it, and that's something every team needs to watch out for.
Key Players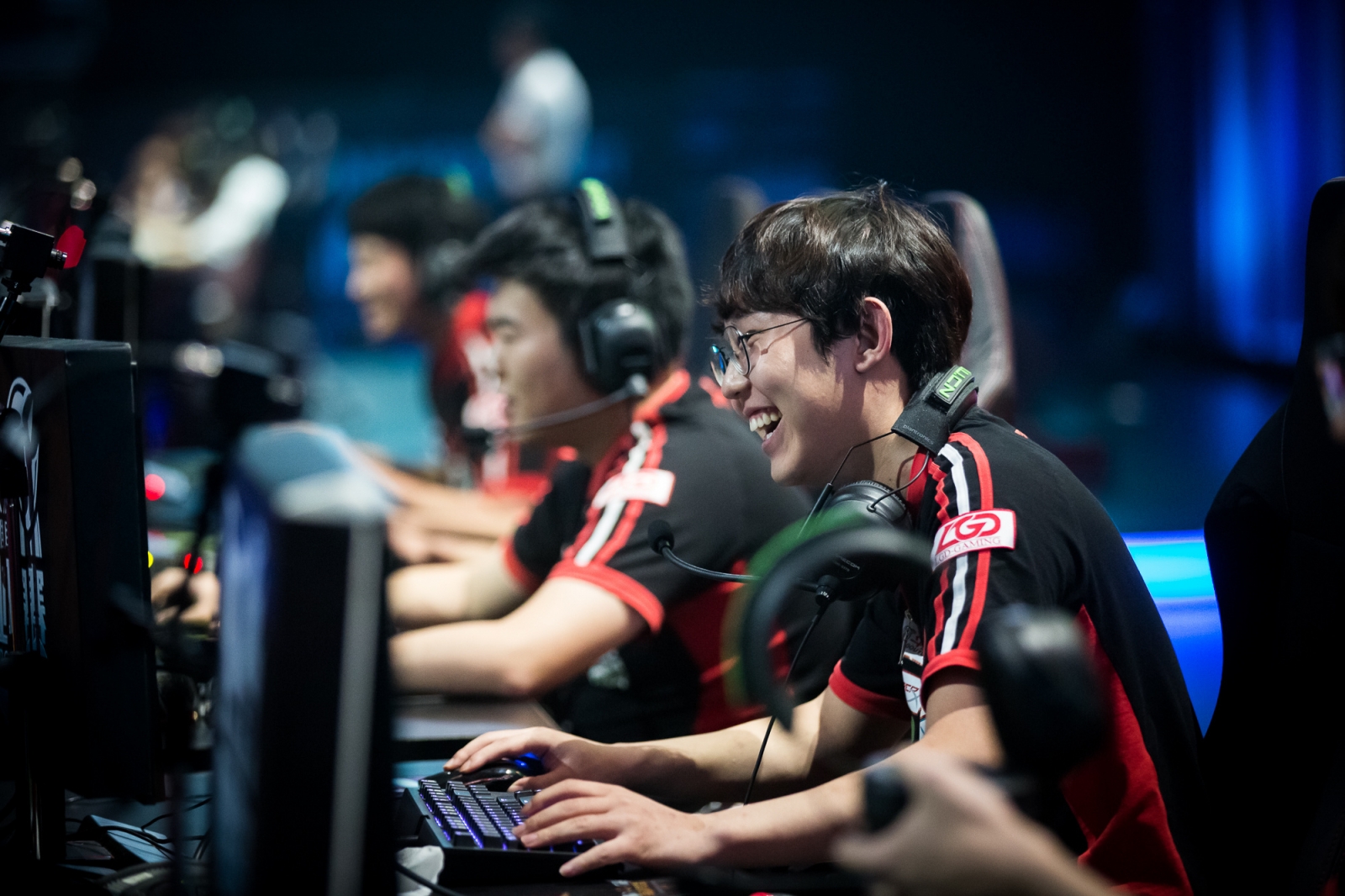 imp
Expect this World Champion to absolutely terrorize Group D. Attending his third Worlds in a row, imp is self-sufficient in lane and plays with the utmost confidence in his own superb mechanical abilities. He forces trades and aggressively Flashes to lockdown kills, then roams to sniff out and finish off mispositioned players. Whenever the option presents itself, prepare to watch imp punish opponents with perfect positioning and profound damage output. He's an outright bully with every champion in his deep pool. While he's fun to watch, he's not going to be fun to deal with for anyone in Group D.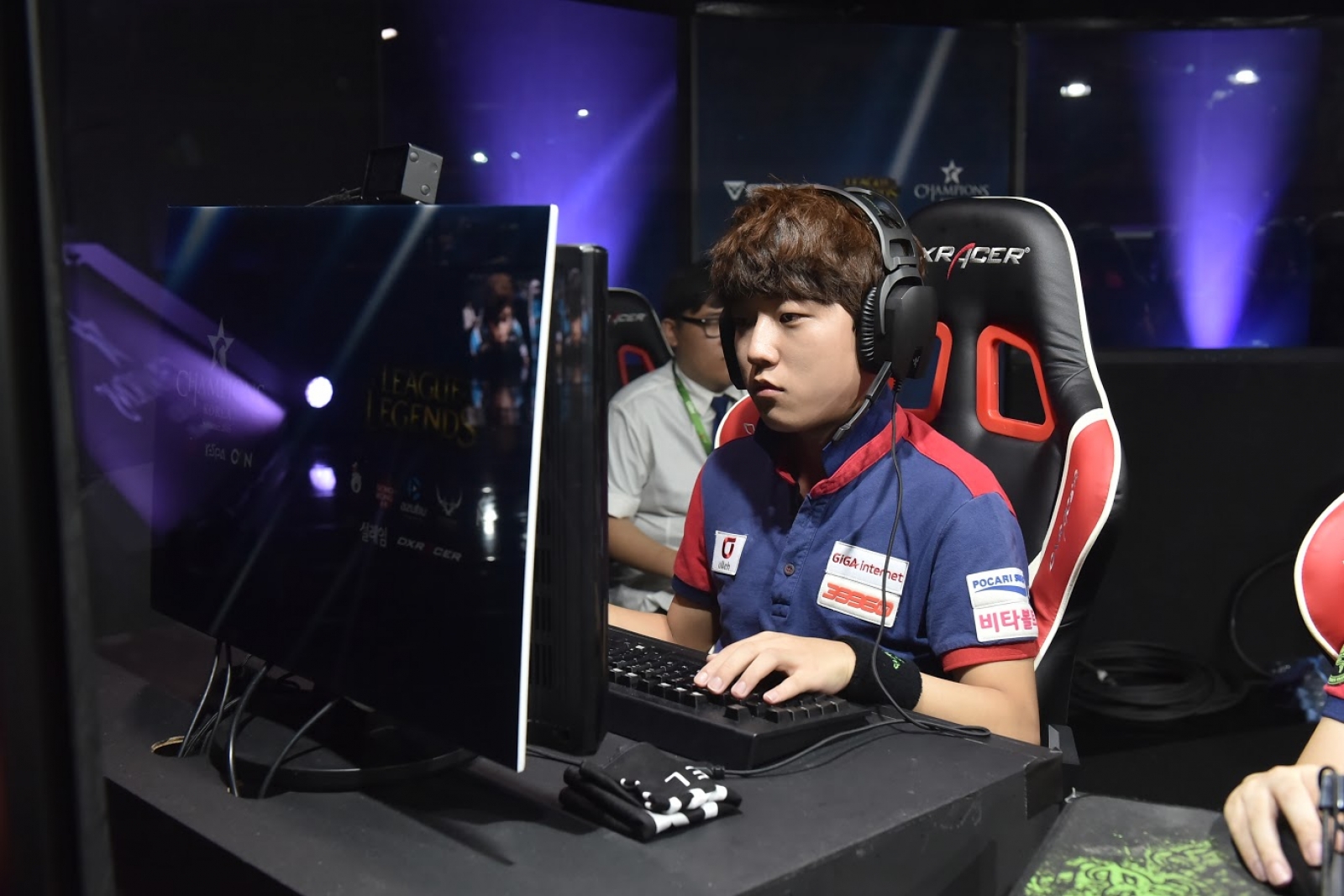 Ssumday
Ssumday was a troublesome split-pushing menace before the Juggernauts came along, and now he's going to have even more tools in his toolbox. Adept on tanks and carries, the LCK Summer Split MVP is able to beat down his lane opponent, then control the map with swift rotations, constantly moving to chip turrets down in different lanes. He's not as decisive with his Teleports as the other top laners in his group, but he makes up for it with his ability to make teams deal with his unrelenting pressure.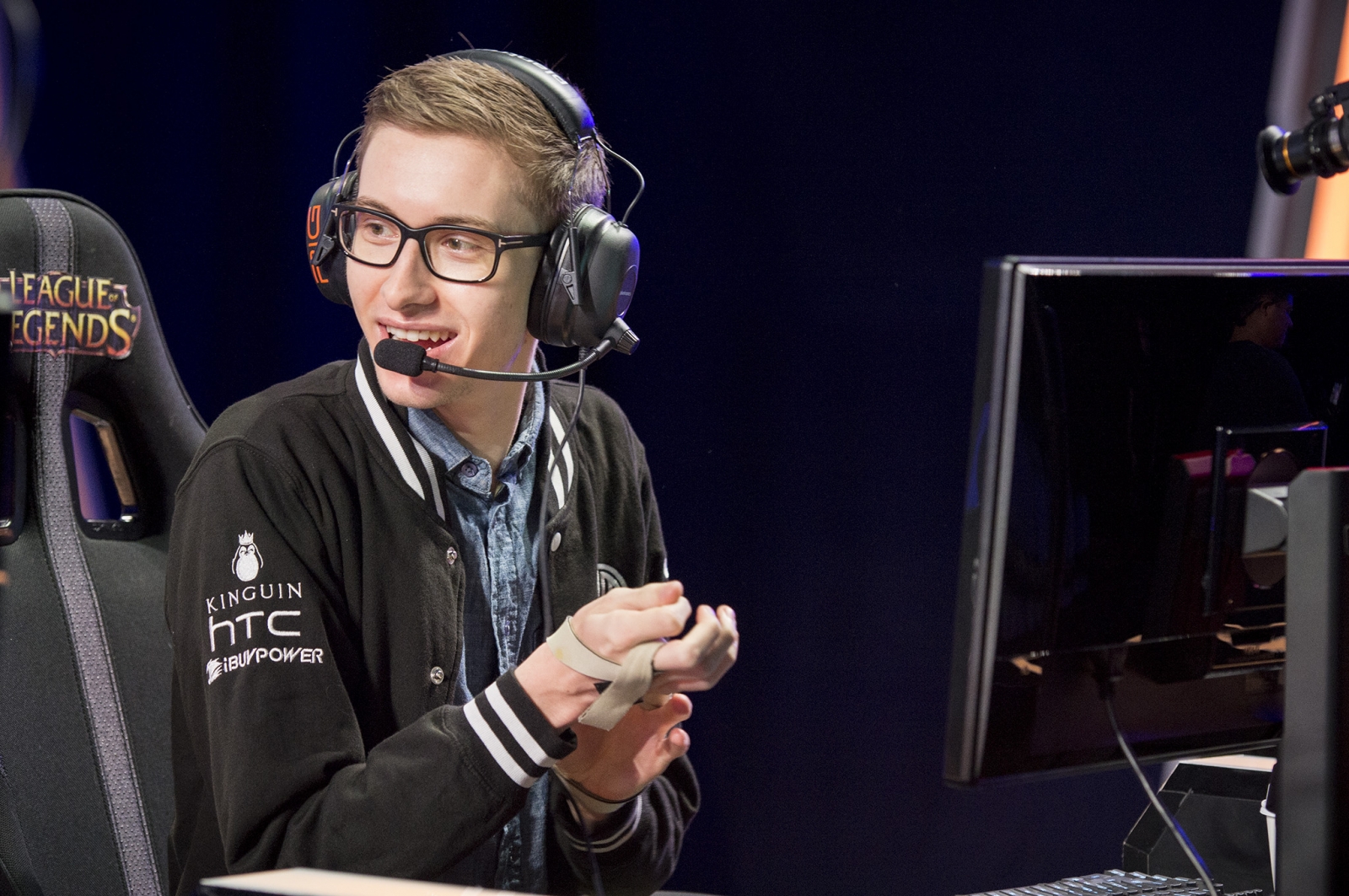 Bjergsen
Bjergsen has consistently proven himself to be the strongest member of Team SoloMid over the course of the year. While in Spring he was given resources and help to carry games, TSM has since moved away from doting on their star mid laner. Nevertheless, he's still performed. Winning his lane and continuing to be a commanding presence throughout games as the team's shotcaller, his superior decision making coupled with his top level mechanics make him an absolute terror in team fights. He may no longer be the focus of every TSM team composition, but he strengthens all of them.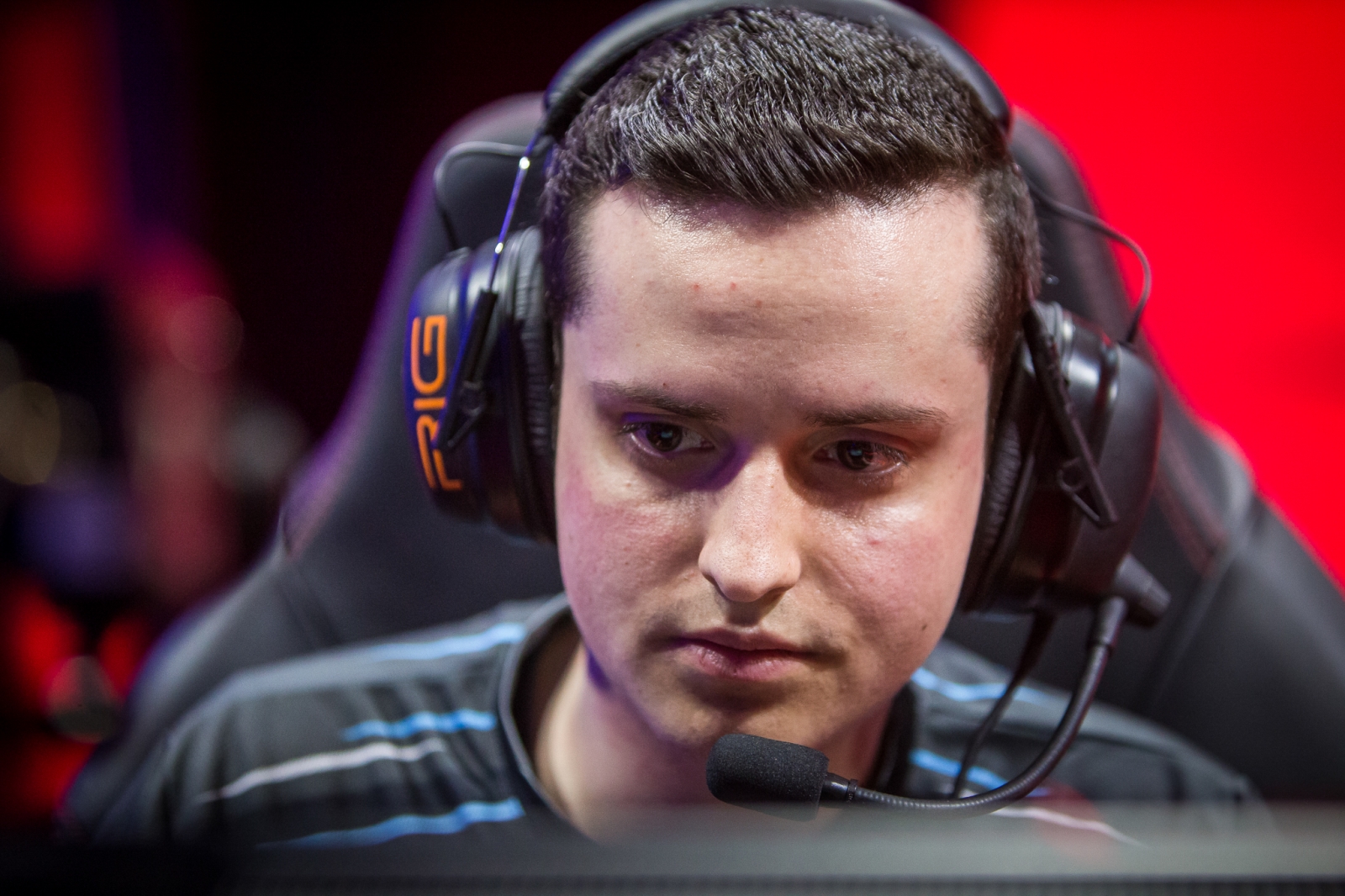 SoaZ
Climbing his way back into the LCS with Origen, SoaZ has continued to develop his top lane talent with excellent play on tanks, mages, and hard carries. The veteran unleashed a devastating Gangplank showcase against Fnatic in the EU LCS Finals, and with the Worlds meta favoring top laners -- not to mention bringing his favored Lissandra back into the mix -- we may get to see a few more surprises from him in Group D.
Wildcards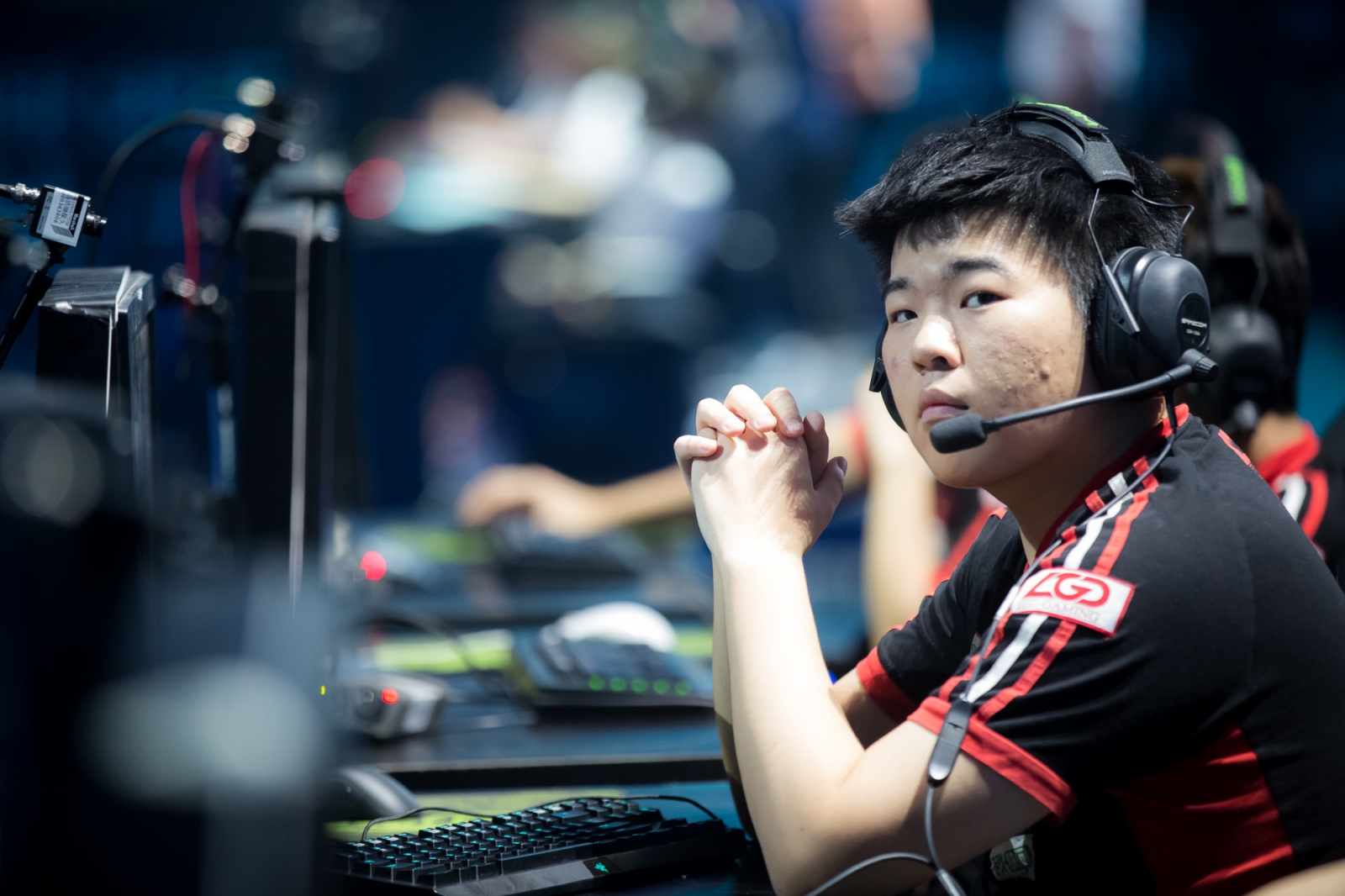 GODV
There's no doubt that GODV can perform well in mid and slay his lane opponents with or without assistance. The flexible player has proven himself to be strong with assassins, control mages, and utility champions, evolving under Pyl's guidance. Oftentimes he'll take a significant lead in lane and use it to his advantage as he roams the map to empower his side laners. GODV is a capable player and one of the best mid laners in the LPL, but he's never performed on the international stage. He's experienced, versatile, and confident, but how will he be able to adapt to this level of competition?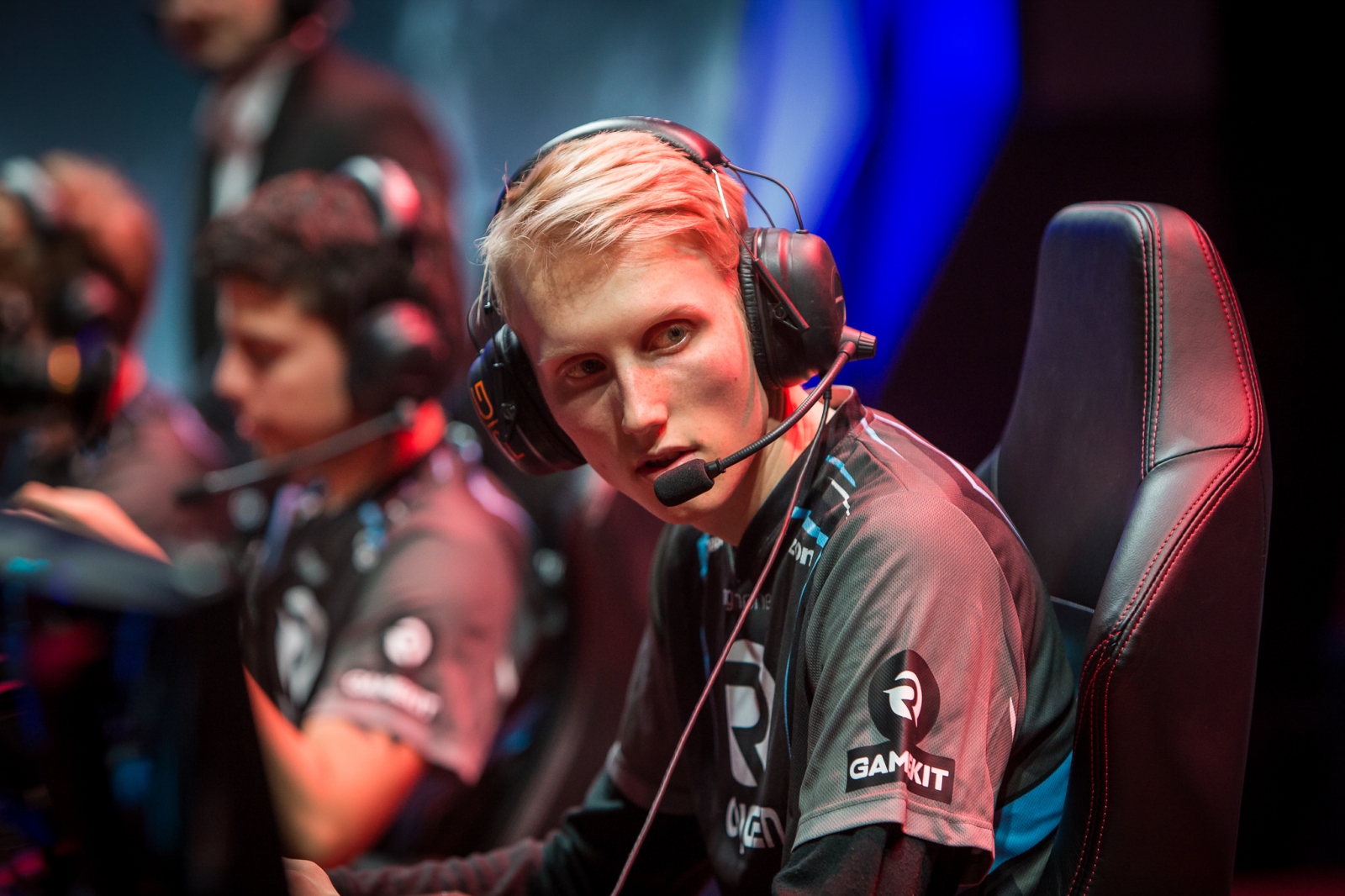 Niels
Niels has only been through one LCS Split and he's already heading to the Worlds stage. While he may get jitters, he didn't seem too nervous in front of a live crowd at the EU LCS Finals in Stockholm when he became a force that Fnatic had trouble keeping down. He's surprised and dazzled throughout his LCS debut, showing he can skillfully play a variety of scaling champions and hyper-carries. Now as he heads to the top level of competition, he'll have to maintain his top-tier form. Luckily he's surrounded by seasoned Worlds veterans who will help him to do so.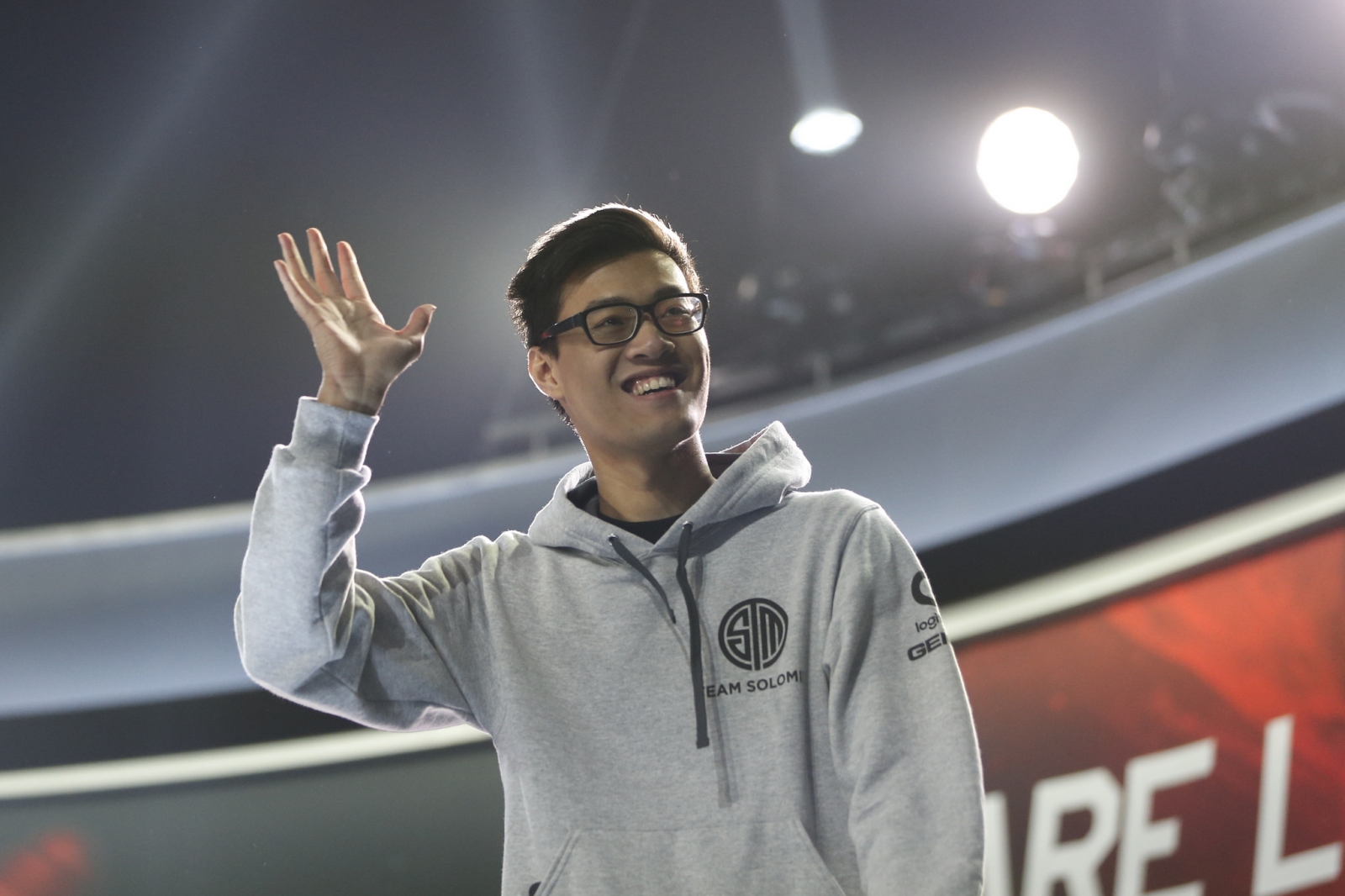 WildTurtle
This year WildTurtle's ridden TSM's unpredictable rollercoaster. At times he's soared, scoring Pentakills and jaw-dropping boss steals. But more often, he's struggled in games, making critical errors and going for inopportune engages. At one point he was even subbed out for his poor performance. WildTurtle's since stepped up, becoming less of a liability for his team. But he's still not known to win his lane and doesn't often become a threat until late game team fights. At Worlds, he needs to shore up his playstyle problems and be careful to not fall too far behind against the dominant AD carries he's up against.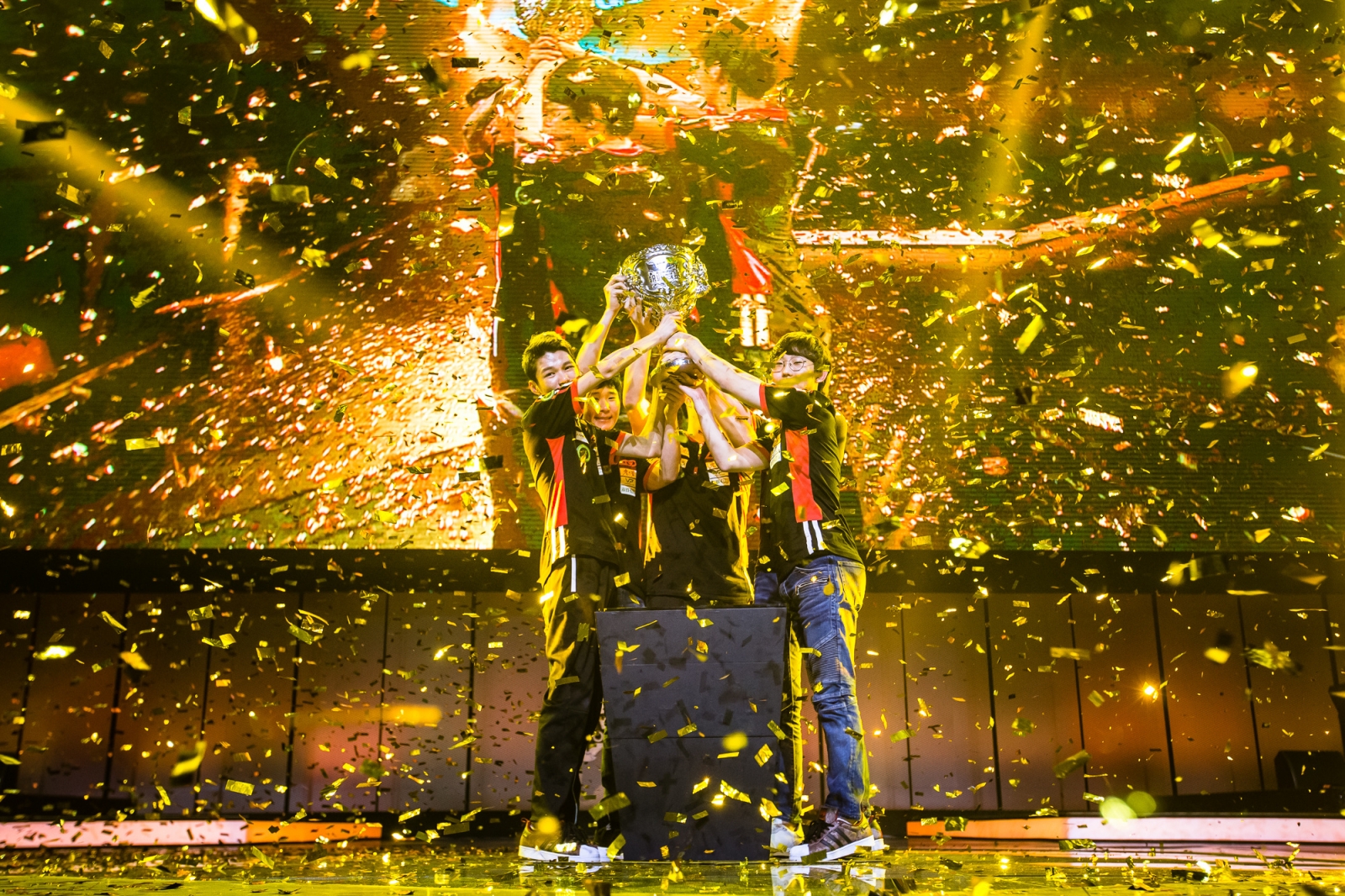 Prediction Time
Based on recent performances, you can think of Group D as you'd think of a sandwich. There are clearer choices for the top and bottom teams, but it's the two in the middle that could go either way.
LGD Gaming is the frontrunner in Group D. imp is hungry to become the first two-time World Champion, and he's just one overwhelming factor on this elite team. Other teams do have ways to gain advantages against LGD, but they will quickly and mercilessly retaliate to take them away. If you kill one of theirs, they will take two of yours. They'll aggressively dissect opposing teams, roaming the rift without hesitation to pick apart the other teams in Group D.
It's much harder to rank the teams in the middle of the stack. But because KT Rolster is so reliant on Ssumday's split-pushing and the vision granted by Piccaboo and Score, Origen can probably shut them down and come out on top. Origen was able to figure out and adapt to Fnatic's early game strategy in the EU LCS Finals in order to exploit them, and they've had plenty of time to scout out KT's staple techniques. It's no secret that Nagne and Arrow fall behind when Piccaboo is locked down, and he and Score can easily be caught out through defensive warding and quick rotations. SoaZ is strong enough to match Ssumday's split-push, especially with Amazing there to back him up. It won't be easy by any means, but if Mithy and the rest of Origen can keep up with vision, they won't get strangled out of the map, and will be able to take hold of 2nd place in the group.
And if Origen can keep up with KT, it's not completely out of the question that Team SoloMid can too. But it's less likely, because getting ahead of any of these teams revolves around a strong early game, and that's something we haven't seen from TSM in a long time. They desire to be a team that takes early advantages and pressures lanes, but the reality is they're reactive instead of proactive. Rather than split-pushing, sieging, forcing fights around objectives, setting up forward vision, or pushing any sort of advantage, they stall. They cannot do this if they want to advance from this rock-solid group. In a similar vein to how Origen can exploit KT, every team in Group D is ready to pounce on the recently passive playstyle of TSM.
1. LGD Gaming
2. Origen
3. KT Rolster
4. Team SoloMid
Now that you've seen our prediction, go make your own with Worlds Pick 'em! If you're looking for more Worlds insight, check out our other Worlds breakdowns of Group A, Group B, and Group C.