Ever wanted to live THE dream and become a professional player, showing off your skills to the whole Philippines at the Pro Gaming Series, making it to the finals stage then eventually representing your country at the Garena Premier League? I bet you do! So what are you waiting for? Form a team now with your fellow aspiring summoners and compete in the all-new Piltover's Finest!
TL;DR
● We've replaced the Challenger Tournaments introduced back in 2014 with the new Piltover's Finest tournaments which keeps the basics of the Challenger Tournament's structure mainly as the qualifying tournament for the Pro Gaming Series through monthly tournaments held at different locations where aspiring teams can get points by placing on them
● What's the difference? We're making Piltover's Finest truly nationwide by holding them closer to you. More accessible venues means more chances for you to go pro!
CLICK HERE FOR Frequently Asked Questions [FAQ]
Piltover's Finest Structure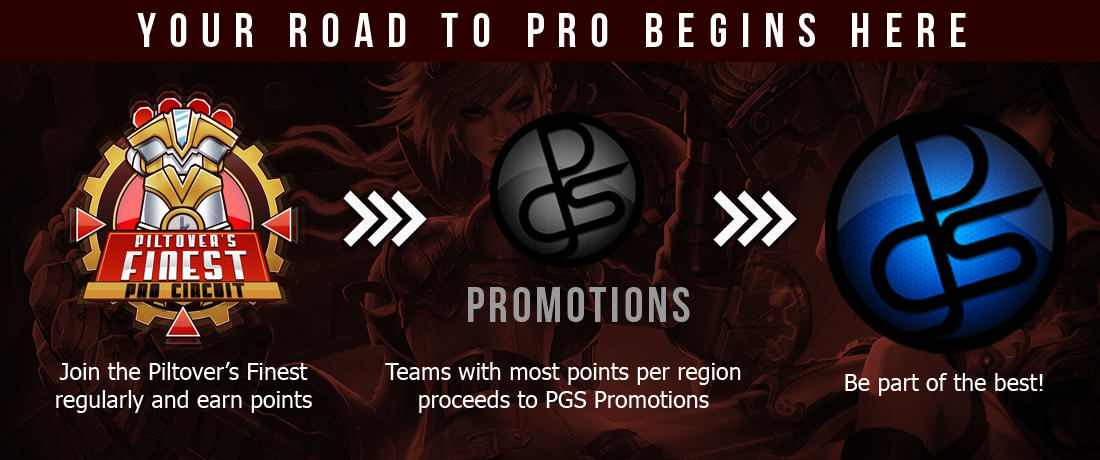 Every month for the next three months , there would be a total of twenty-five (25) onsite tournaments to be held nationwide divided into 5 tournaments each for the five major regions:
● North and Central Luzon
● National Capital Region (NCR)
● South Luzon
● Visayas
● Mindanao
Teams can get Piltover Finest points everytime they join these tournaments. Teams placing on the top four spots of each tournament would get higher points.

Points are non-transferable between different regions (for example: Team A participates in a Piltover's Finest tournament both in South Luzon and NCR and got points on each. The points from each region will not be added together)
Teams with the highest number of points* from each of the five regions at the end of each three-month tournament run (Jan-Mar and Jun-Aug) will proceed to the Pro Gaming Series Promotion Tournament where they can get a shot onto becoming part of the country's top League of Legends competition next split.
*Two teams will proceed from NCR and one for each of the other four regions
**Players participating in the current split of the PGS are not allowed to join the Piltover's Finest
More Chances Online!
Missed out on an onsite tournament or your team needs that extra points boost to make it to the PGS? Fret not as there would be online tournaments, one for each of the five regions, at the end of each month which you and your team can join and get points from as well
Tournament schedules and announcements will be posted at the Garena Philippines eSports Website(calendar), the LoL Website and at Facebook.
Your road to pro begins here!

[FAQ] FREQUENTLY ASKED QUESTIONS
Q: Sir Challenger lang po ba pwede makasali?
A: Kahit anong tier, pwede kayong sumali. Basta meron kayong 5 members.

Q: Pwede po ba mag lagay ng 6th man?
A: Opo, pero ung prizes natin na ballers ay hanggang pang limang member lang.

Q: Paano po mag register?
A: Pumunta kayo sa Cafe address na binigay sa bawat area. Nandun din yung address sa mga announcement nil.

Q: Libre po ba ang pag sali?
A: Magbabayad po kayo ng PHP 250 per team sa organizer para po makasali

Q: Saan po makikita yung mga announcement na tournament para po makasali kami?
A: Nasa Calender ng Garena Philippine esports website lahat ng upcoming tournaments. Click this link -> http://esports.garena.ph/calendar.php
Q: Paano po kapag nakasali na po kami sa tournament nung January, tapos gusto po namin mag palit ng member, pwede po ba namin magamit ung same points namin?
A: Hindi po, kailangan na kung sino yung member niyo nung sumali kayo, sila parin ang kasama mo hanggang sa huli. Pwede kayong mag palit ng team members kapag nasa Promotion series na kayo. Sa promotion series, hanggang 3 member lang ang pwede niyong palitan, kailangan yung 3 main members ay part parin ng team.