Just a few hours ago, Imperium Pro Team went against previous GPL Summer Split champions and 2015 Worlds contenders, Bangkok Titans (TH), and Saigon Jokers(Vietnam) at the Garena Premiere League 2016, where teams all over SEA battle for a spot at the IWCI. After losing against BKT but scoring an explosive finish against SAJ, the Philippine representatives secures their spot to the GPL playoffs with a 3-1 on their current record!
Missed the whole Day 1 and Day 2 action? Check out the recap!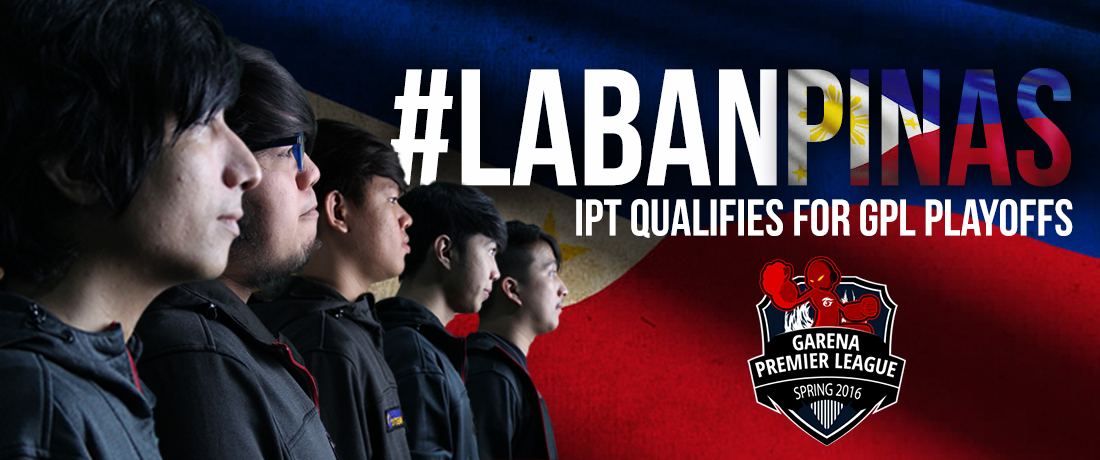 GPL Group Stage - Day 1 Recap
by: IAm Julez
The Pro Gaming Series 2016 Spring Split champions rallied behind IPT Light's stellar performance in both of their initial day one matches. Along with the offensive presence of the rest of IPT, the team dominated both Rigel and KLH with little to no mistakes in both games.
Imperium Pro Team (PH) vs Rigel (SG)
Both teams started out slow early in the game, but a clash in the 13:36 minute mark started the series of action as IPT. Light's Azir got a triple kill in the bot lane with the help of IPT. JLC's Ekko with a good Parallel Convergence to catch RG's champions, 2-5 IPT .There was also another perfect clash in the 19th minute mark after IPT. JLC, IPT. Light, and IPT. H4T3's initiation clash got them 4 kills, increasing their score 3-9 in favor of IPT.
Despite the early dominance of IPT in the early game, RG refused to give up. At the start of 23 minutes they stole a dragon in exchange for 2 of their players. RG also halted IPT's baron attempt 25 minutes into the game. Rigel's response to the Baron attempt was swift, giving them a 2-0 trade advantage. IPT. Light's Azir was enough to give IPT the momentum they needed to end the game after trying again for Baron in 28th minute mark and successfully killing 2 RG members, and getting the buff. IPT ended the game in the 35th minute mark after a successful 4-1 trade in the top lane. IPT. Light and IPT.H4T3 finished the game with an astounding record of 9/0/8 and 7-0-10, respectively.
Imperium Pro Team (PH) vs Kuala Lumpur Hunters (MY)
The picks of IPT in their 2nd game was similar to the first game as Ekko and Trundle were picked up again by IPT. JLC, and IPT. Poysanity. KLH, on the other hand, focused their picks on late game scaling and heavy damage dealers.
IPT snowballed heavily into the early game as IPT. Light's Lissandra got the solo first blood at 3 minute mark. IPT. Light garnered a record of 3-0 in just 8 minutes alone. IPT. JLC also got 2 kills at 12 minutes. KLH tried to stall the game and played carefully to stop the snowball of the IPT's carries. On the 14th minute mark, KLH. Coolkitty's Lucian got a double kill on IPT. KLH also had a flawless initiation at the dragon pit in the 17th minute mark. KLH escaped with a 4-2 trade in favor of them. IPT answered back in the middle portion of the game with a 2-0 kill and a dragon, followed by a Baron with another clash trade, 2-1. A series of failed clashes and poor decision making made it hard for the KLH to come back from the deficit. At the 30th minute mark, IPT got another Baron buff that solidified the pushing power of IPT. The game ended with with a score of 21-9, and 10k gold.
GPL Group Stage - Day 2 Recap
by: IAmBlanky
Imperium Pro Team (PH) vs Bangkok Titans (TH)
Imperium Pro Team has stood their ground against the reigning King of Sea and former GPL 2015 Summer Champions and dominated the early stages of the game with Light taking charge with his aggressive Viktor even scoring a first blood against G4 and overall dominating the mid lane but the Bangkok Titans would not back down so easily as they overpower Imperium Pro Team when they were preparing for dragon ending to a very favourable trade for Bangkok Titans. Lloyd has shown his prowess with Sivir dealing most of Bangkok Titan's damage and with the team's ability to rotate and take control of the map along with their teamwork during teamfights Bangkok Titan dominated the game despite being behind on the early game.
After a baron and an extremely aggressive call from Bangkok Titans they obliterated Imperium Pro Team and took an inhibitor and at this point of the game it is more or less over. With Lloyd's superb ability as an ADC Bangkok Titans defeated Imperium Pro Team earning another win and staying strong on the top of the scoreboards with 4 – 0 proving once again why they are the King of SEA.
Imperium Pro Team (PH) vs Saigon Jokers (VN)
After an action packed game from Imperium Pro Team and Bangkok Titans, Imperium Pro Team played again this time against the Saigon Jokers. Light has been overwhelming with his Ryze and had a very strong early game which forced Saigon Jokers to focus him and his mid lane. Despite being below in kills most of the game Saigon Jokers finds themselves on the lead in terms of gold and smartly punishing Imperium Pro Team at every opportunity they get. Saigon Jokers gets numerous successful picks and takes great control of the map but Imperium Pro Team makes plays of their own with a teleport on Ryze catching the lucian and proceeded with their second dragon which Saigon Jokers aggressively contested and lost the fight. Both teams keep on exchanging blows making plays of their own making it really hard to tell which team is on the lead.
With little time to breathe the action continues as Imperium Pro Team attempts to do Baron with Saigon Jokers aggressively contesting the objective but with Light teleporting late for the teamfight the skirmish ended on Saigon Joker's favor. With the game still very close both teams continues to make their picks and keeps on exchanging blows with each other but after a Quadra Kill from H4T3 Imperium Pro Team took control and got baron and their third dragon buff and seems to be unstoppable at this point. With a baron buff and a very strong Sivir from H4T3 Imperium Pro Team was able to close the game and beat Saigon Jokers ending their day with a 3 - 1 standing only losing to Bangkok Titans earlier on Day 2.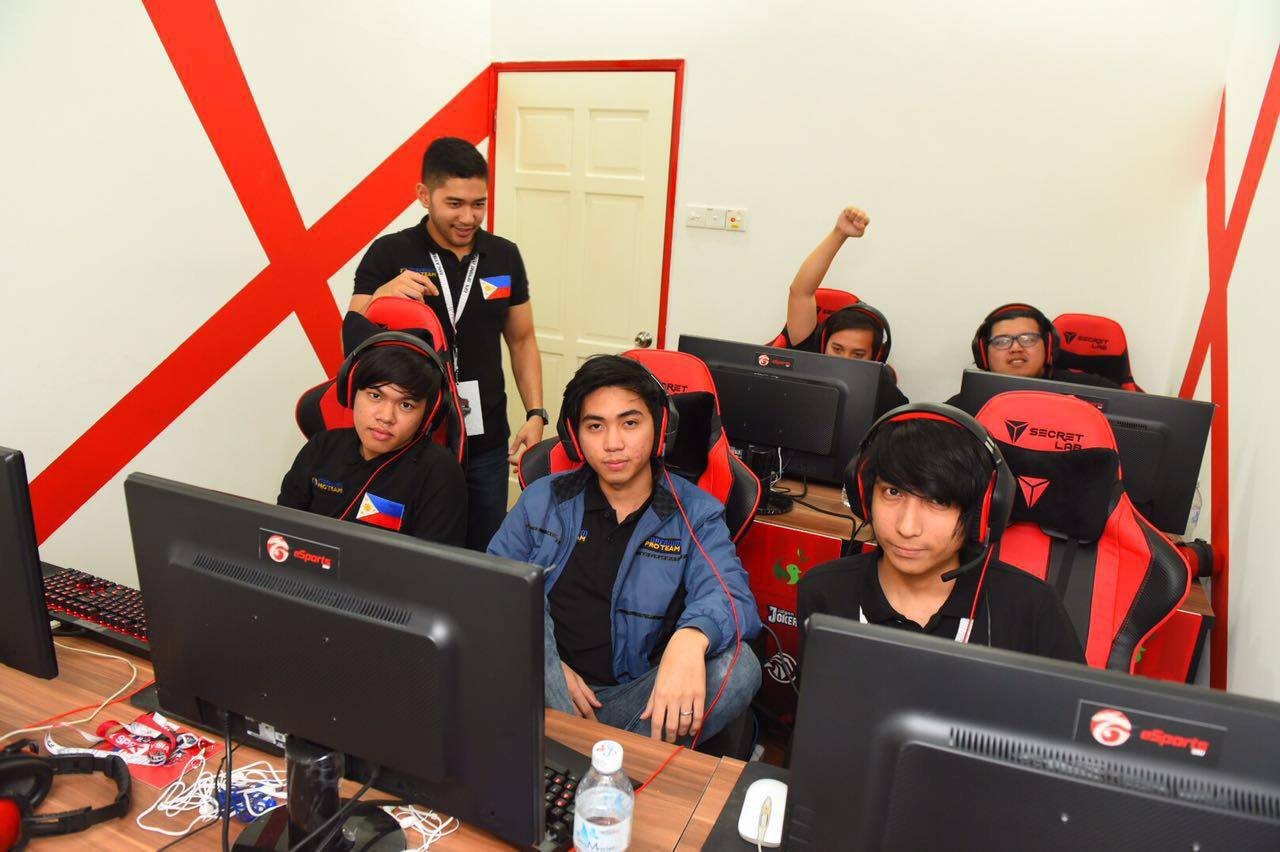 Day 2 ended for Imperium Pro Team with a standing of 3 – 1 after their win against Saigon Jokers. Despite losing to Bangkok Titans, Imperium Pro Team showed the same dominance they had Day 1 and now stands really high on the GPL standings. They will be facing against Kanaya Gaming on Day 3. With their performance Imperium Pro Team looks to finish strong this GPL 2016 Spring. Let us show our support to the GPL representatives of the Philippines Imperium Pro Team and wish them the best of luck on their next games.
GPL Group Stage - Day 3 Recap
by: eSports Executive
Imperium Pro Team (PH) vs Kanaya Gaming (IND)
Day 3 gained our Philippine trumps their fourth victory in the five round group stage against Kanaya Gaming.
After Bangkok Titan's loss against Kuala Lumpur Hunters that blemished the Thailand team's record into a 4-1, Imperium Pro Team stands head-to-head with these former wild card representatives.
With Bangkok Titans still at the first seed, they are to go against the fourth seeded Kuala Lumpur Hunters for a revenge match. Our very own Imperium Pro Team, in the second seed, will then go against Saigon Jokers for the semi-finals.
Watch it live

April 9, 2016

11:00 AM

.
Not familiar with the GPL teams? GGNetwork has got you covered with their GPL preview.
Catch the games live at the Garena eSports channel and like the Garena Philippines eSports Facebook page for more updates!