With the PGS Spring Split and the Piltover's Finest's qualifiers coming to a conclusion, it's that time again to take it a step closer towards the road to pro: The Piltover's Finest Summer Split Promotionals.
But before we go through the details, we'd like to thank the teams, the players and their supporters for participating at the PIltover's Finest so far. Take note that the cut-off for earning points is until April 10, 2016.
Check out the team rankings so far at the circuit here or grind some more points by looking at the upcoming tournament schedules here.
Teams
The 8 teams that will participate in the Piltover's Finest Promotions will be:
- Top 2 from North Luzon
- Top 2 from NCR
- Top 1 from South Luzon
- Top 1 from Visayas
- Top 1 from Mindanao
- LoL Collegiate League Spring Term Champions: Our Lady of Fatima University
Bracket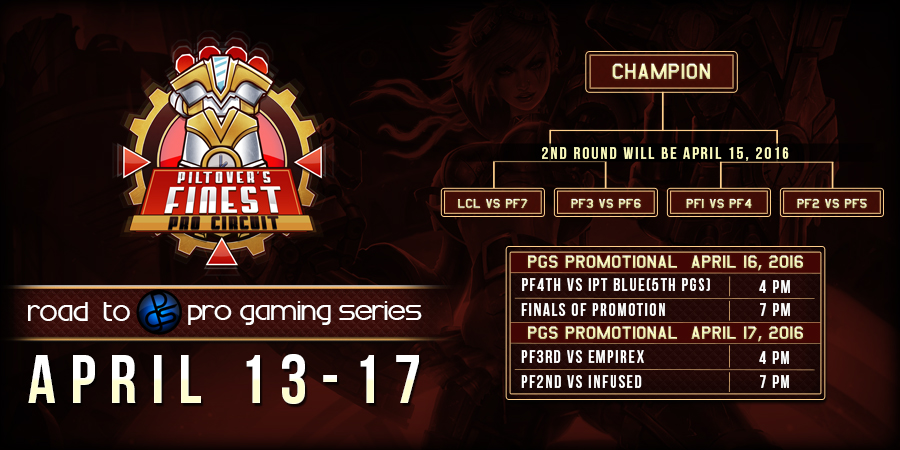 The champion of the promotionals will get an automatic slot for the Pro Gaming Series. Meanwhile, the teams that finished 2nd,3rd and 4th at the Piltover's Finest Promotionals will battle against the 7th,6th and 5th teams from the Pro Gaming Series Spring Split respectively. See the bracket above for reference.
UPDATED BRACKET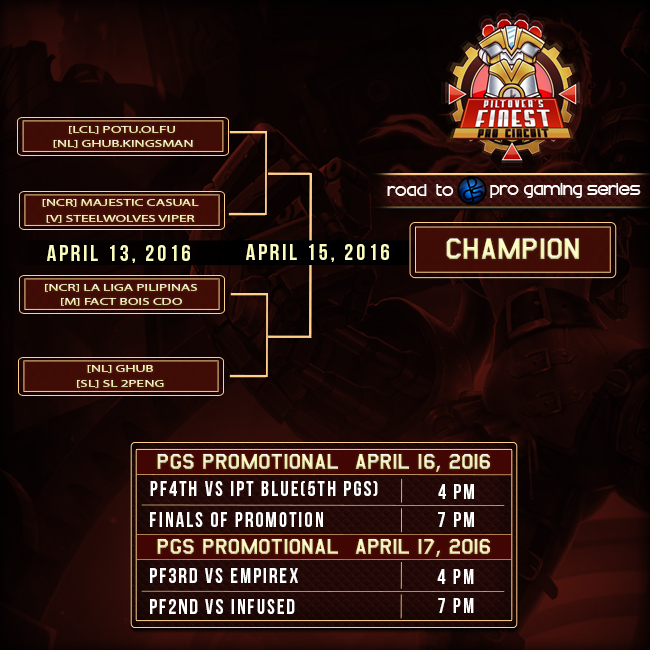 UPDATE::: With the first run of the Piltover's Finest done, here are the official participating teams and players for the promotionals:
Team: POTU.OLFU
Roster:
POTU Wurahhhhh
POTU Hans
POTU Jobim qt
POTU Emperor
Tiktilaokkkkkk
POTU Torchic
Team: Majestic Casual
Roster:
MC Henry
MC Jason
AES Kiddoo MC
Schnitzel
Nickstah
MC Kief
Team: Steelwolves Viper
Roster:
Xeltran Mihawk
Xeltran Ferid
Le4p
Xeltran EdoyQt
Xelrtan Klyde
PX k1n
Team: La Liga Pilipinas
Roster:
WARGODS.LLP Duel
Imba Jang
WARGODS.LLP HIGH
WARGODS.LLP HAZE
WARGODS.LLP MAJO
Wargods.LLP Kush
Team: Fact BOIS CDO
Roster:
Zerxius
FACT BOIS Lidell
FACT BOIS Feenix
FACT BOIS josh
FACT BOIS r3acT
Team: GHUB
Roster:
GHUB Jaoooooo.ARR
GHUB Jajaa.ARR
GHUB Toxic.ARR
GHUB Valbert.ARR
GHUB Coool.ARR
Team: SL 2Peng
Roster:
Sadist
LGCY Aeko
Keokuk
K1215
LGCY Nixsanity
Teams from the Pro Gaming Series waiting to defend their spot at the PGS are Imperium Pro Team Blue, Acclaim EmpireX and Infuzed eSports.
Schedule
The Piltover's Finest Promotions (Online Tournament) will start on April 13, 2016 in a best of 3 format. Keep an eye on updates as the match schedules will be posted here and in the forums as well.
Meanwhile, the Pro Gaming Series Summer Promotionals will be streamed at the Garena eSports channel for everyone to see! Watch the games LIVE at the following times:
April 16, 2016 - Saturday
4:00 PM – 4th place (PF Summer Promotions) VS 5th place (PGS Spring Split)
6:00 PM/7:00 PM -1st place (PF Summer Promotions) VS 2nd Place (PF Summer Promotions)
Whoever wins this bracket will automatically proceed to the Pro Gaming Series Summer Split
April 17, 2016 – Sunday
4: 00 PM – 3rd place (PF Summer Promotions) VS 6th place (PGS Spring Split)
6:00 PM/7:00 PM – 2nd place (Summer Promotions) VS 7th place (PGS Spring Split)
Goodluck, summoners and never falter! You're one step closer to being a professional esports player! Catch up on more Pro Gaming Series on the official PGS website or Facebook page