Originally posted at lolesports.com by Casandra "Requine" Marshall
After battling through their respective regions, eight teams from Wildcard Regions around the world are moving forward to their next test: the International Wildcard Invitational.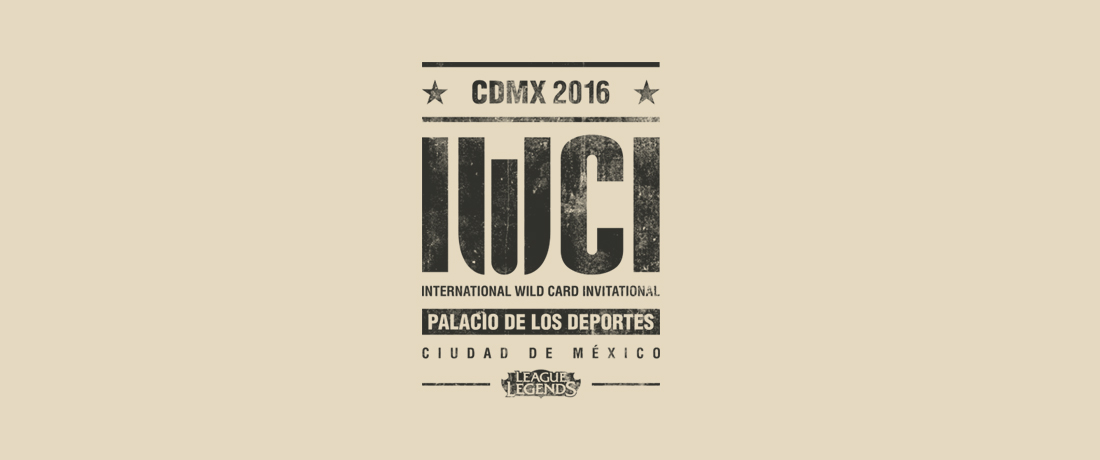 Brazil, the Commonwealth of Independent States, Japan, Latin America North and South, Oceania, Southeast Asia, and Turkey are all going to be facing off for a chance to earn a spot in the 2016 Mid-Season Invitational in Shanghai, China and prove themselves on the international stage. This is an enormous opportunity, and each team will be starving for the win.
WHEN IS THE IWCI?
The International Wildcard Invitational will be hosted from April 16 - 20 at the Riot Games Studios in Mexico City. The 21st will be reserved to host tie-breaker matches. All of this leads to the Grand Finals, held live on Saturday, April 23rd.
The top two Wildcard Teams will go head to head at the Palacio de los Deportes for their ticket to MSI.
WHO'S PLAYING AT THE IWCI?
Meet the eight teams who have the honor of representing their regions:
LAN
LYON GAMING
TOP: Daniel "Jirall" del Castillo
JUNGLE: Marcelo "Thyak" Ramones
MID: Uri "Uri" Schölderle
ADC: Ali "Seeiya" Bracamontes
SUPPORT: Diego "Arce" Arce Chang
This will be LAN's return to the IWCI after their first participation in 2013. Lyon Gaming will have the privilege of representing Latin America North once again -- and if they play their cards right, they'll be moving onto MSI.
LAS
ISURUS GAMING
TOP: Franco "Pride" Sanzana
JUNGLE: Claudio "Clatos" Navarrete
MID: Benjamin "Emp" Ramirez
ADC: Juan "Zeicro" Fierro
SUPPORT: Leandro "Newbie" Marcos
LAS are a favorite heading into the IWCI after their dominant performances in world-class events such as the International Challenge. The heat is on as they enter the ring in one of the most competitive Wildcards yet.
CBLOL
KEYD STARS
TOP: Leonardo "Robo" Souza
JUNGLE: Gabriel "Jungle" Peixoto
MID: Murilo "takeshi" Alves
ADC: André "esA" Pavezi
SUPPORT: Jorge "Verfix" Silveira
Brazil has the most advanced infrastructure of any of the Wildcard Regions, and its representative is heading into the IWCI looking strong. With two performances on the international stage at Worlds under the regions' belt, Keyd Stars is going to be the ultimate test for many of their competitors.
OPL
THE CHIEFS ESPORTS CLUB
TOP: Brandon "Swip3rR" Holland
JUNGLE: Samuel "Spookz" Broadley
MID: Simon "Swiffer" Papamarkos
ADC: Derek "Raydere" Trang
SUPPORT: Bryce "EGym" Paule
The Chiefs have been an Oceanic mainstay, and they'll be looking to prove themselves as a region this IWCI. OPL's unpredictable performances in previous international tournaments may be the key to carrying them to victory.
LCL
HARD RANDOM
TOP: Dmitri "Smurf" Ivanov
JUNGLE: Alexander "pvpstejos" Glazkov
MID: Mykhailo "Kira" Harmash
ADC: Vladislav "aMiracle" Scherbyna
SUPPORT: Kirill "Likkrit" Malofeyev
The Commonwealth of Independent States are a constant at the IWCI, and have either been champions or taken out the champions every year. However, they occasionally get knocked out by a dark horse contender. With a ticket to the MSI on the line, they'll have to fight every team with equal fervor.
GPL
THE SAIGON JOKERS
TOP: Hoàng Duy "Row" PhÆ°Æ¡ng
JUNGLE: Trần Công "Jinkey" Cam
MID: Long Mai "Lovida" Nhật / Đoàn Văn "Warzone" Ngọc SÆ¡n
ADC: Nguyễn Phước "Celebrity" Long Hiệp
SUPPORT: Lê "Tsu" Anh Duy
These dark horses from Southeast Asia will be roaring out of the gate for their shot at MSI. While GPL representatives are feared for their top tier mechanics and aggressive gameplay, they may be stopped by teams who have adapted to a teamwork heavy meta.
TCL
SUPERMASSIVE ESPORTS
TOP: Berke "Thaldrin" Demir, Asım "fabFabulous" Cihat Karakaya
JUNGLE: Furkan "Stomaged" Güngör
MID: Koray "Naru" Bıçak
ADC: Nicolaj "Achuu" Ellesgaard
SUPPORT: Mustafa "Dumbledoge" Kemal GökseloÄŸlu
Turkey has more on the line than an invite to MSI -- they're also the current IWCI defending champion. This region is popular with fans and experts alike due to their solid teamwork and competitive appeal.
LJL
DETONATION FOCUSME
TOP: Yuta "Yutapon" Sugiura
JUNGLE: Yun "Catch" Sang-ho
MID: Kyohei "Ceros" Yoshida
ADC: Shotaro "Zerost" Ikeda
SUPPORT: Han "Eternal" Gi-hun
The youngest region to enter the IWCI, Japan has a lot to prove. Despite struggling in international tournaments in previous years, Japan is determined to beat out the other teams and show themselves to be a competitive region.
WHAT'S THE FORMAT?
The International Wildcard Invitational is divided into two stages: A Best of 1 Round Robin Group Stage and a Bracket Stage. Each team will play seven matches during the four days of this initial Group Stage, from April 16 - 20. The top four teams from Groups will proceed into the Semifinals Bracket Stage and play in a single-elimination Best of 5 tournament on April 20 and 21. The winners will move on to the Finals on April 23, where they'll duke it out in a single Best of 5 match for a spot at the 2016 MSI in Shanghai, China
WHAT'S THE SCHEDULE?
The following times are already converted to Philippine Time(GMT+8)

SUNDAY, APRIL 17
LYON vs ISURUS - 5:00 AM
HARD RANDOM vs INTZ - 6:00 AM
SUPERMASSIVE vs CHIEFS - 7:00 AM
FOCUSME vs JOKERS - 8:00 AM
CHIEFS vs HARD RANDOM - 9:00 AM
INTZ vs LYON - 10:00 AM
ISURUS vs FOCUSME - 11:00 AM

MONDAY, APRIL 18
CHIEFS vs INTZ - 5:00 AM
JOKERS vs SUPERMASSIVE - 6:00 AM
HARD RANDOM vs LYON - 7:00 AM
INTZ vs ISURUS - 8:00 AM
LYON vs FOCUSME - 9:00 AM
ISURUS vs JOKERS - 10:00 AM
FOCUSME vs SUPERMASSIVE - 11:00 AM
TUESDAY, APRIL 19
SUPERMASSIVE vs HARD RANDOM - 5:00 AM
JOKERS vs CHIEFS - 6:00 AM
INTZ vs FOCUSME - 7:00 AM
HARD RANDOM vs ISURUS - 8:00 AM
CHIEFS vs LYON - 9:00 AM
ISURUS vs SUPERMASSIVE - 10:00 AM
LYON vs JOKERS - 11:00 AM
WEDNESDAY, APRIL 20
JOKERS vs HARD RANDOM - 5:00 AM
FOCUSME vs CHIEFS - 6:00 AM
SUPERMASSIVE vs INTZ - 7:00 AM
CHIEFS vs ISURUS - 8:00 AM
HARD RANDOM vs FOCUSME - 9:00 AM
LYON vs SUPERMASSIVE - 10:00 AM
INTZ vs JOKERS - 11:00 AM

WEDNESDAY, APRIL 20 to THURSDAY, APRIL 21
Semis A vs D Game 1 - 11: 00 PM
Semis A vs D Game 2 - 12: 00 AM
Semis A vs D Game 3 - 1: 00 AM
Semis A vs D Game 4 - 2: 00 AM
Semis A vs D Game 5 - 4: 00 AM

THURSDAY, APRIL 21 to FRIDAY, APRIL 22
Semis B vs C Game 1 - 11: 00 PM
Semis B vs C Game 2 - 12: 00 AM
Semis B vs C Game 3 - 1: 00 AM
Semis B vs C Game 4 - 2: 00 AM
Semis B vs C Game 5 - 3: 00 AM

SATURDAY, APRIL 23
The Finals schedule will be revealed next week. Stay tuned!
HOW CAN I WATCH?
This may be a Wildcard Invitational, but none of these teams are joking around. For those who can't make it to historic Mexico City, we have you covered: We'll be showing every second of the action in English live on Lolesports via our official Twitch and YouTube channels.