Get ready for one of the biggest café hosted tournament in the Metro – welcome to the G1 Café's Invasion Series! Filled with cash prizes, in-game rewards and café competitive play, G1 café's take on a net shop tournament is definitely both veteran and beginner players wouldn't want to miss.
Practice on site. Earn points. Qualify.
WHAT IS THE G1 INVASION SERIES?
The G1 Invasion Series is a monthly café tournament starting from May to October with the Grand Tournament on December. To be held on-site at G1 Guadalupe, teams will have to gather battle points that are earned through practicing with your team on-site to qualify for the next monthly series. A total of P 30, 000 total prize pool each for every month with the finale sitting at P 70, 000 of combined cash and in-game items. Prizes are given until 16th place! Teams are encouraged to participate every month to climb the ranks of the G1 Invasion Leaderboards and be one of the Top 8 teams that will proceed to the Grand Tournament!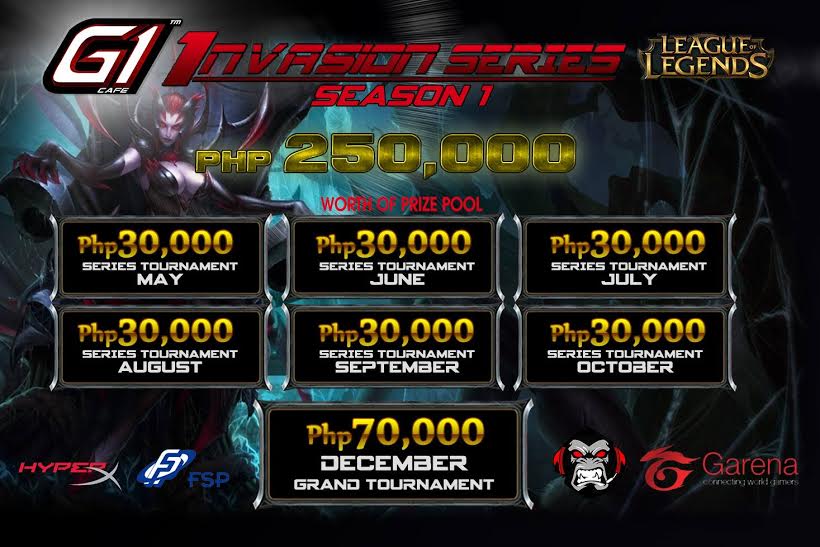 Click to see original facebook post
F.A.Q.
1. How to join the G1 Invasion Series?
Register for a G1 account to play at the café and collect Team Battle Points
Ex. To join May Leg, gather points from April.
2. What are Team Battle points?
Team Battle Points are points earned through playing at G1 café. 1 hour of PC rental is equivalent to 1 point.
3. How do I gather Team Battle points?
Just play at any G1 café to earn points.
4. How many Team Battle points does my team need to qualify for the next leg?
You will need 100 Team Battle Points to qualify. So bring in your teammates to practice on site to gather points faster!
5. How many members should I have in a team?
You can have a total of 6 members per team.
6. How does my team qualify for the Grand Tournament?
A team must gather as much G1 points as they can so joining every leg is recommended to maintain and climb through the Leaderboards. The Top 8 high scoring teams will proceed to the Grand Tournament at December.
7. What are G1 points?
G1 Points are points earned through winning and participating at the monthly Invasion Series from May to October:
Champion – 6 G1 pts
1st Runner-up – 3 G1 pts
All Participants – 1 G1 pts
8. How do I get to G1 Guadalupe?
So gather up and assemble your team to compete at the G1 Invasion Series Season 1 to be the first Invasion Series Champion!! For more information and inquiries, go to the G1 Café Oifficial Facebook Page.