Attention, Troopers!
Get ready for the Point Blank INVASION happening this May 15, 2016 at G1 Guadalupe! G1 will be holding a tournament with P 12,000 worth of prizes! Gather your troops, dominate the battlefield and aim to be champions of this all out shootout on-site tournament!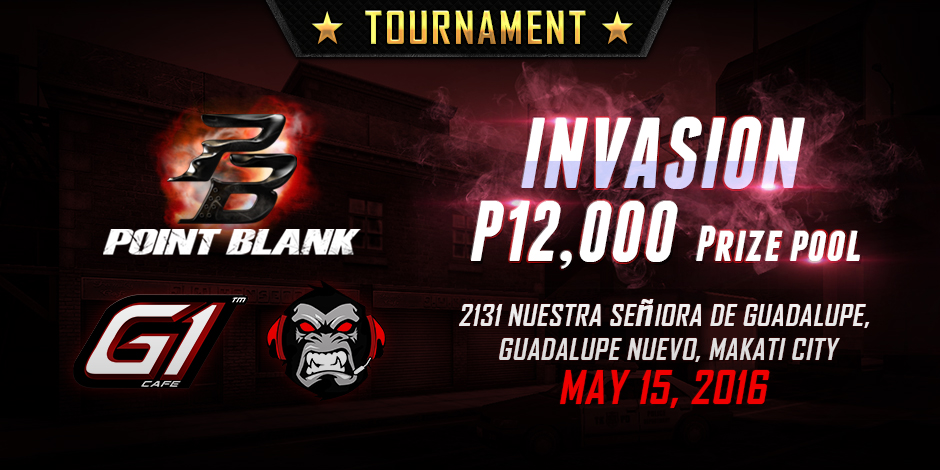 Prizes
Champion
P 6,000 cash + 30-Day Weapons

1st Runner-up
P 2,000 cash + 14-Day Weapons
2nd Runner-up/ 3rd runner-up
P 1,000 cash + 7-Day Weapons

All other participants
3-Day Weapons
How to join?
Simply register your team at the tournament date at G1 Guadalupe. Registration opens at 10 AM with a P 250 fee. This already includes the PC rental time.
Venue
Tournament Rules:
â–¬ Teams must have 5 members and 1 substitute.
â–¬ Game Mode: Bomb
â–¬ Win Condition: Highest number of round wins or Adding method
In case of a draw, M_Station will be chosen for a sudden Death Round
â–¬ Map: Maps will be randomly selected from Luxville, Downtown, Midtown, Sandstorm, Blowcity and Stormtube.
â–¬ Time: 3 minutes per round
â–¬ Tournament Format: Elimination until semi-finals, Finals will be BO3

Weapon Restrictions:
â–¬ WP Smoke, WP Smoke +, Med Kits, and any weapons with a grenade launcher function are not allowed.
Only a maximum of 4 weapons are allowed in the game. Skinned or unskinned weapons counts as one.
Ex. AUG A3 D or AUG A3 inferno is the same.
â–¬ A maximum of 1 sniper rifle is allowed to be used in a team.
â–¬ Players are not allowed to swap weapons with their teammates at the start of the game
â–¬ Players are allowed to pick up the weapons of a dead teammate or opponent.
Grounds for Disqualification:
â–¬ Unable to follow the Weapon Restrictions
â–¬ Once a team is called, they only have a maximum of 15 minutes to setup their gears and settings. If a problem occurs, the players will need to use the default equipment provided by the café.
â–¬ In case of technical problems such as bugtraps and disconnections, matches will continue if ever one of the players have already received damage.
â–¬ Bug abuse and using of cheats.
Reminders:
â–¬ Always observe sportsmanship during the game.
â–¬ Marshals will have the final call.
â–¬ Should there be problems in a match, players should immediately contest it to the marshal. If this is not done, then records will become final.

For more information, check out the G1 Café Facebook post here. Bakbakan na!