Are you a 1v1 lord? Best botlane PH? Challenger galawan as assassin, mage, or fighter? Prove your skill in the biggest proving grounds, Rampage 2016!
Achieve 1v1 supremacy in this deathmatch arcade, open to all players regardless of level, rank, and champion pool (excluding players in the Pro Gaming Series 2016 Summer Split). There will be 1v1 and 2v2 matches for all summoners brave enough to take part in this on-site tournament, and prizes await all who join!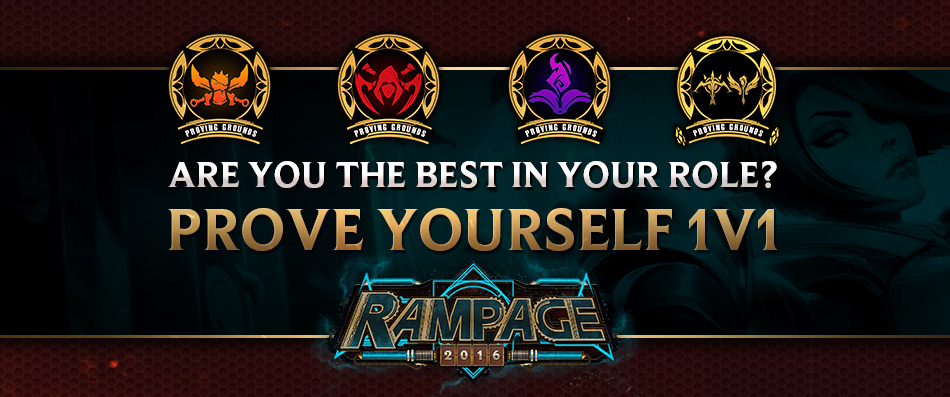 Join the Rampage 2016 Proving Grounds event by lining up and waiting for your turn at the PC Cafe Area. There will be three 1v1 stations for Mage, Assassin, and Fighter roles, and a 2v2 station for the Marksman and Support roles. The tournament will use the Summoners' Rift map and will be blind pick.
In this unique game mode, a player can win a round if they satisfy any of the following conditions before their opponent does:
- First Blood
- First Turret
- 10 CS lead after one player has reached 100 CS
But of course, there are restrictions:
- Each player will only be allowed to pick a champion with the primary role tag of the corresponding tournament category (Fighter, Mage, Assassin, and Marksman and Support).
- No critical chance runes are allowed for any player.
- Surrendering is not an option.
What's a tournament without prizes? For every round, the victorious player earns bragging rights and gets immortalized with a Victorious Jarvan skin and a random skin of their role. Losing players shouldn't feel defeated, because they get a ward skin for participating.
Sounds fun? Well, be sure to join as early as you can, as there will only be limited slots and on a first come, first serve basis. The Rampage 2016 Proving Grounds will be operational from the opening of the event until 7pm. Don't hesitate to join in the fun, and experience competing at Rampage 2016!
---
Be updated with the available tournaments all year round in the Tournament Hub Official Fanpage, Tournament Calendar, and Tournament Listing!